Commentary
Windy City blows away competition for weirdest sports town
New York City? You were the best, but you're done.
No more Isiah Thomas. King George is in semi-retirement. Willie Randolph isn't worth the trouble. We're left with
Joba Chamberlain
pitch counts and reports of
Jeremy Shockey
's
maybe
stiffing the Giants on minicamp. So time for NYC to take the sports buyout and live off the 401(k) money. Boston? Helluva run, my friend.
Helluva
run. I've got so much respect for you, but let's face it, Manny's getting up there in years, the Celtics are likable, and the Patriots can't keep rolling out Super Bowls, supermodels, super spies and wiretaps forever, right?
Liner Notes

Self-disclosure: I live in Chicago. Actually, in nearby Wheaton, former home of Red Grange, Bob Woodward, John Belushi, Wes Craven and Janet Pilgrim (one of only two women to appear in three Playboy centerfolds).
My wife is South Side Irish. Our former preferred place of worship: Cork & Kerry on Western Avenue. Our first date was at Comiskey. We used to rent a place four blocks from Wrigley. I was there for the Bartman Game -- and a couple hundred other ones. My father-in-law is a retired Chicago police commander. We have his helmet and nightstick from '68. Two of my brothers-in-law were career Chicago firefighters. I like Old Style and Goose Island. So, yeah, I'm biased. Sue me, preferably with Rusty Hardin as the lead attorney. --Gene Wojciechowski
Los Angeles? Talk to us when you get an NFL franchise. Until then, you're Sacramento with traffic, Kobe and the
Reggie Bush
investigation. Dallas? Formidable, but you've got some holes in your swing. T.O., Romo and Jessica aren't going to be around forever. Miami? Promising, especially with the Big Tuna and
Jason Taylor
in town, as well as the Heat's Pat Riley, the No. 2 pick and those goofy trade rumors involving
Dwyane Wade
. Phoenix? The midseason Shaq deal and postseason Mike D'Antoni drama were a start, but you're not there yet. San Francisco? When
Barry Bonds
left, so did the vibe. Mike Montgomery to Cal doesn't get it done. Houston? Underrated, thanks to
Roger Clemens
. No, the new and undisputed leader in the sports city clubhouse is none other than Chicago. It has to be. No sports town is more compelling, more exciting, more screwed up than Chicago. Seriously, how can you possibly question Chicago's No. 1 ranking after what has happened here lately? Chicago is now the epicenter of sports weirdness, controversy and dubious achievements. Only Boston comes close.
In the past nine days …
• The Bulls all but hired Doug Collins as coach. Then they didn't.
The official version is that Collins and owner Jerry Reinsdorf mutually agreed to end the courtship. They valued their friendship too much to continue -- or some kind of mush like that.
[+] Enlarge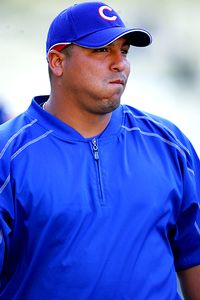 Gary A. Vasquez/US PRESSWIRECubs ace Carlos Zambrano isn't exactly known for his calm demeanor. He lost it after leaving Saturday's game.
It all sounds very Hallmark card-ish, very convenient and very suspicious. You mean to tell me that if Reinsdorf hadn't wavered in supporting general manager John Paxson's choice of Collins that Collins wouldn't be the coach today? Collins got tired of Reinsdorf's stall tactics, however well-intentioned they were. How could Collins stay excited about the Bulls when the Bulls' owner wasn't excited about him? And this stuff about Reinsdorf's not wanting to fire Collins a second time -- and endangering their friendship -- is borderline hilarious. Collins is a career coach. He knows the realities of the job. And Reinsdorf is a career businessman. Since when did he get soft? Anyway, the Bulls are 2-for-2 when it comes to botched coaching searches. First, D'Antoni to the Knicks. Now, Collins back to TNT. But the Bulls, thanks to those 1.8 percent odds, do have the No. 1 pick in the upcoming NBA draft. • The Bears' starting tailback got himself arrested for the second time in five weeks.
Cedric Benson
has been arrested on land (June 7) and sea (May 3). He can go for the trifecta the next time he boards a plane. If you're keeping stats at home (and you can bet Bears GM Jerry Angelo is), Benson has almost as many booking photos in 2008 as he did touchdowns in 2007 (four). And did I mention that linebacker
Brian Urlacher
, the Bears' best player and absolute face of this franchise, could be a holdout if his contract demands aren't met? • White Sox manager Ozzie Guillen threw a hissy fit (again); a local columnist called for his firing (again); and owner Reinsdorf dismissed Guillen's behavior as little more than frustration over a losing streak (again). So what happens? Since Guillen's tirade, the first-place White Sox have won six in a row and given themselves some elbow room atop the AL Central. • Cubs starter
Carlos Zambrano
had another one of his tiresome tantrums in Saturday's loss to the
Los Angeles Dodgers
.
[+] Enlarge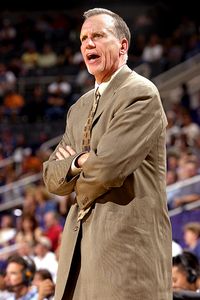 Barry Gossage/NBAE/Getty ImagesDoug Collins was prepared to return to the sideline, until the Bulls dragged their feet.
Zambrano, 8-2, has a long history of losing it -- on the mound, in the dugout, in the tunnel, in the clubhouse. He likes to punch and kick things: water coolers … walls …
Michael Barrett
. The next time he suffers a meltdown on the mound (and he will), I'd love to see manager Lou Piniella simply step out of the dugout, call for a reliever and tell Zambrano the clown act is done for the day -- no matter whether it's the first inning or the ninth, or whether the Cubs are ahead or behind. Maybe then Zambrano would get the message. Intensity good. Public ragefests bad. • And, oh, the Cubs have the best record in baseball. • And
Dallas Mavericks
owner Mark Cuban, who has spent time at Wrigley this season, is intensifying his efforts to bid for the Cubs and its gorgeous senior citizen stadium from doofus owner Sam Zell. (Cuban also is trying to make nice with influential Reinsdorf.) Zell, whose media ventures have some debt issues, would sell Ron Santo and his toupee if he thought he could make a buck. • The No. 2 pick in the 2008 WNBA draft, Sylvia Fowles, lasted exactly five Chicago Sky games before she injured her knee. • Chicago was named one of four finalists for the 2016 Summer Olympics. • A former high school hoops player who has a home in Chicago won a big race. Maybe you've heard of him: Barack Obama. Second City? Not anymore.
Gene Wojciechowski is the senior national columnist for ESPN.com. You can contact him at gene.wojciechowski@espn3.com.
Columnist / College Football reporter
ESPN.com senior national columnist
Joined ESPN in 1998
Author of "The Last Great Game"
SPONSORED HEADLINES
ESPN TOP HEADLINES
MOST SENT STORIES ON ESPN.COM