Commentary
Golf comes up aces: Tiger, Rocco save world of sports
Take that, NASCAR and your two good ol' boy employees who allegedly like to wave more than a checkered flag for fun.
Take that, Tim Donaghy, you radioactive weasel. And you too, NBA, for giving us the tiniest of reasons to listen to him. Take that,
Chad Johnson
and your insufferable bitching;
Chris Henry
and your one-for-the-thumb arrest record;
Jeremy Shockey
and your grudges. You've been replaced. That's because the solar system's best golfer,
Tiger Woods
, and a 45-year-old walking smile named
Rocco Mediate
flipped the switch on the sports garbage disposal Monday. Feel the churn. Gone was the backwash of a $225 million racial and sexual harassment lawsuit brought against NASCAR, as well as the lingering and toxic accusations of refs fixing NBA games. And for at least one afternoon, nobody seemed to care about the usual contract-related and police-blotter player updates. Just when you want to take a grout brush to the caked-on sludge of the daily sports headlines, along comes the improbable hazmat team of the No. 1- and No. 158-ranked golfers in the world. And it all happens at a major. In an 18-hole playoff. On a course so gorgeous Angelina Jolie asks it for beauty tips. Tiger and Rocco. Sounds like two guys who break thumbs for a living. But thank goodness they were around these past few days. Without them, we'd be stuck on the Willie Randolph Pink Slip Watch. Woods won the 108th U.S. Open on Monday and once again was caught cheating on wife Elin. Cameras captured him kissing the USGA's silver trophy. At least it played hard to get: 72 holes of regulation, 18 playoff holes and one sudden-death hole before falling hard for Woods. In the process, we learned a little bit more about Woods, and a lot more about Mediate. Together, they managed to remind us why sports is still worth the effort. I watched 5½ holes of the playoff while waiting near a food kiosk at Fort Lauderdale-Hollywood International Airport. My flight to Tampa, Fla., was delayed, so I sat on the edge of a huge potted plant as Woods' 3-stroke lead morphed into a 1-stroke deficit. But here's the thing: It wasn't just me sitting there. I turned around, and there was a guy crouched below the palm fronds. A woman sat on the floor to my right. A father and son stood to my left. Before long, there were about 20 of us in a semicircle -- businesspeople, tourists, flight crews, ticket agents -- all watching an ancient TV with spotty reception that featured a series of Zorro-like slashes on the picture. A handful of us had to board before it was finished. When I left the TV, Woods was in the fairway on No. 18 and Mediate was in the rough. That's all we knew as they shut the cabin door. "I want Tiger to win," said one of the businessmen who had stood nearby, "but I don't want Rocco to lose." That's how pure the U.S. Open was. You rooted for the underdog and the big dog. You rooted for the guy wearing red, which just happened to be both Woods and Mediate. You rooted for the prodigy going after his 14th career major (and 12th since 2000), and for a middle-aged Open qualifier thisclose to his first-ever biggie. Everybody knows the statistic that counts: Nobody has ever overtaken Woods in a major when he owns the 54-hole lead. The fact has been beaten into us more times than those dumb Lexus TV ads (and Raymond Floyd is sitting in the backseat why, exactly?). But Mediate, a fidgety everyman who leads the Tour in self-deprecating humor, honesty and words per minute, almost made the impossible possible. He would have become the oldest winner of a U.S. Open, ended his 0-for-44 majors streak and earned his first victory in six years.
[+] Enlarge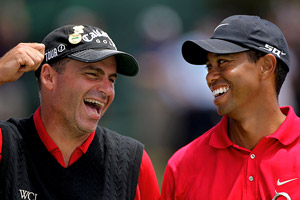 Doug Pensinger/Getty ImagesTiger Woods and Rocco Mediate made the sports world forget its ugly side ... for a while anyway.
Yet when all golf hell was breaking around him, Mediate turned to an NBC on-course announcer and said, "Isn't this fun?" Fun? It ought to get an Emmy for Best Drama. It almost became the third-biggest upset in U.S. Open history. And if it had been anybody but Woods, Mediate might have been the one smooching the trophy at day's end. The 1950s had Hogan, the '60s Palmer, the '70s and '80s Nicklaus and then Watson, the '90s Faldo and then Woods, the 2000s almost all Woods. Seriously, Nike screwed up on its slogans. "We Are All Witnesses" should belong to Tiger, not
LeBron James
. If there is a more compelling athlete than Woods, I'd like to see him. Even if you don't know the difference between a lob wedge and a wedge of lettuce, you watch Woods. He is the leading cause of goose bumps.
Kobe Bryant
? Close, very close, but not there yet.
A-Rod
? He has his moments, but not enough of them.
Roger Federer
? Dominant, but not even a Roger Slam to his credit. So, nope, no one delivers the goods like Tiger. He is the surest thing in sports since $8 concession stand beers. And Monday, he limped closer to
Jack Nicklaus
' record of 18 major victories. Woods, with the help of some painkilling meds, overcame a car trunk's worth of obstacles to win this thing. This one ought to count as 1½ majors. First, there was that surgically repaired left knee of his. No problem. All he had to do was pretend someone wasn't sticking knitting needles in the joint after he reached triple-digit swing speeds. And nothing helps the pain-management process like walking about 37,000 yards or so of Torrey Pines real estate. Anyway, Woods basically won an Open on one leg. Some wuss, eh, Mike Milbury? You name it, Woods survived it. The pretournament buzz surrounding hometown fave
Phil Mickelson
. The pressure. The playoff. The knee. And most of all, Mediate. The moment the plane wheels skidded against the runway in Tampa, you could hear the cell phones powering up. We all wanted to know the same thing: Tiger or Rocco? One of the flight attendants got on the intercom. "Tiger won?" he said, as someone yelled the result. "OK, everybody, Tiger won."
No peanuts or drinks on the flight, but at least we got that.
Gene Wojciechowski is the senior national columnist for ESPN.com. You can contact him at gene.wojciechowski@espn3.com.
Columnist / College Football reporter
ESPN.com senior national columnist
Joined ESPN in 1998
Author of "The Last Great Game"
108th U.S. OPEN CHAMPIONSHIP
18-hole playoff
•
Tiger wins 3rd Open in playoff
|
Watch
|
Scores
•
Forde: Tiger's win was greatest Open ever
•
Harig: Haney puts Open No. 1 on Tiger's win list
•
Wojciechowski: Tiger, Rocco save sports
•
Watch:
North's analysis
|
Reilly's take on Mediate
•
Watch:
On The Tee: Woods had to grind for win
•
Watch:
Woods, Mediate discuss epic playoff
•
Watch:
PTI's Wilbon, Kornheiser talk Tiger
•
Photos:
The playoff
|
Tiger's 14 major wins
•
Sobel, Harig recap Tiger's victory

•
Sobel's U.S. Open blog
|
Harig chat wrap

•
Vote:
Can Tiger overtake Nicklaus?
•
Top performances of athletes play in pain
|
Rank
Fourth round
•
Tiger forces Open playoff
|
Watch
|
Photos
•
Forde: Tiger's mind vs. his knee to decide Open
•
Harig: Mediate finally 'back' on track
•
Westwood odd man out of U.S. Open playoff
•
Watch highlights:
Tiger
|
Mediate
|
Westwood
•
Jason Sobel's round 4 U.S. Open blog
Third round
•
Woods surges into U.S. Open lead
|
Photo gallery
•
Forde: As others faltered, Woods held it together
•
Harig: Uphill battle for Westwood, Mediate
•
Sobel:
A plan for contenders
|
U.S. Open blog
•
Watch:
Rd. 3 analysis
...
Highlights
|
Tiger
•
Watch:
Reilly's take
|
Sunday predictions
•
Watch:
Westwood
|
Mediate
|
Ogilvy
|
Lefty
•
Chip Shots: Floundering Phil cards a quad
•
Bell: Strong mind helps Woods overcome pain
Second round
•
Harig: In a blink, Woods changed everything
•
Appleby up 1
|
Watch: Tiger, Phil highlights
•
Harig: Love has 'major' plans
|
Watch
•
Forde: No. 18 presents risks, rewards
• Watch:
Highlights
|
Best of Rd. 2
|
Rd. 3 preview
•
Watch: Reilly's ode to the Open
|
Photo gallery
• Watch:
On The Tee's second round recap
• Watch interviews:
Phil Mickelson
|
D.J. Trahan
•
3 Up, 3 Down: First-round leaders fade fast
•
Chip Shots: Cabrera makes early exit
•
Sobel: Blog jinx working OT in round 2
• On The Tee:
Is U.S. Open Tiger's to lose?

First round
•
Forde: Circus came to town for opening round
•
Watch: North, Ravech look ahead to 2nd round
•
Watch: Forde, Sobel, Harig on round 1 leaders
•
Watch: Reilly on who's cooler ... Tiger or Phil?
•
Harig: Hicks (68) wants to extend his 15 minutes
•
Opening-round recap
|
Highlights
|
Photos
•
Harig: Red numbers not endangered Thursday
•
Chip Shots: Who needs a driver, right Lefty?
•
3UP, 3DN:
Cabrera on wrong side of the list
•
Jason Sobel's blog: Who got Romo'd?
•
Sobel/Harig discuss unlikely Open leaders

Latest News
•
Heckler tangles with Scott's caddie at No. 9
•
Fans outside ropes to face first smoke-free Open
•
Woods says knee is sore, but he's 'good to go'
•
Woods plays nine, shows no limp
•
Report: Scott nurses broken finger, will play
•
Tiger, Phil paired in star-studded groupings
•
Tiger plays first round since Masters
•
As Open nears, rehabbing Tiger hasn't gone 18
•
Four players win playoffs to make U.S. Open field
•
Round 1, Round 2 tee times
Podcasts
•
On The Tee: Sobel talks to Imada

•
On The Tee: Sobel talks to Okla.. St.'s Fowler

Golf Digest
•
'Philip' Mickelson knows Torrey Pines well
•
6 things to know about Torrey Pines
•
Torrey Pines course map
|
More coverage
USOpen.com
•
Spectator info
|
U.S. Open championship history
•
Player bios
|
USOpen.com
|
Golf blogs