Commentary
Bulls seek new direction with Rose
DEERFIELD, Ill. -- The Chicago Bulls needed a Draft Cam like Kobe needed Shaq to bust rhymes. Have you ever seen mannequins seated at an office table? That was the Bulls' war room.
Liner Notes
John Paxson doesn't strike me as the kind of guy who gets nervous. I always got the idea that cucumbers came to him and asked how to stay cool.
But late Thursday night, after the Bulls had bet their immediate and distant future on a one-and-done college point guard named Derrick Rose, Paxson sat down for his post-draft news conference and he was, well, sweating. Maybe his purple tie was knotted too tight. Maybe the TV lights were like staring into the face of the sun. Or maybe, just maybe, the weight of the moment had caused the perspiration above his forehead. Makes sense. If Paxson screwed up the No. 1 pick, then the Bulls are doomed. If No. 2 pick Michael Beasley becomes the 20-10 guy, and the hometown kid Rose does a United Center belly flop, then Paxson's future as GM also becomes an issue. This was Paxson's fifth NBA draft (the Bulls didn't have a pick in 2005). His first-round choices: Kirk Hinrich (7th overall) in 2003, Ben Gordon (3rd overall) in 2004, Tyrus Thomas (essentially, 2nd overall, acquired in a trade with Portland), and Joakim Noah (9th overall). And now Rose. Hinrich could be traded, though Paxson says he thinks Rose and Hinrich could play in the same backcourt together. Gordon is a restricted free agent. Thomas is ungodly athletic, but wildly inconsistent. Noah is a high energy, but not exactly low-post option just yet. Rose is the key. His progress will determine what Paxson will do with the cast of thousands he has at the guard positions. And nobody could benefit more by Rose's arrival than Thomas. "I think Tyrus Thomas is going to be a better player because of Derrick Rose," Paxson said. Rose this. Rose that. No wonder Paxson said the Bulls have to "manage expectations" when it comes to their new point guard. He meant outside
and
inside the organization. "This was a really good day for the Chicago Bulls in a lot of ways," Paxson said. We'll see. I think Paxson made the right choice, actually the only choice. Rose has a tendency to defer to his teammates, which isn't necessarily always a good thing. But he also has a tendency to win, which is why the Bulls drafted him. Upstairs at the Berto Center, just ouside Paxson's office, is an aquarium. Figures. Both Rose and Paxson are in the fish bowl.
-- Gene Wojciechowski
When they ended the manufactured pre-draft suspense and chose Derrick Rose with the No. 1 overall pick, Bulls general manager John Paxson and his staff applauded like they were at the opera. The reaction was restrained, polite and understated, just like Paxson himself.
But Paxson also has an intensity to him. Paxson knows his franchise's future now rests with two NBA rookies -- a 19-year-old point guard who hasn't played a nanosecond in the league, and Vinny Del Negro, who hasn't coached a nanosecond in the league. Is that a good thing?
Paxson's second-floor office here at the team's facility in north suburban Chicago overlooks a practice court with six NBA championship banners on a wall. Three of those banners have his name on them.
Michael Jordan trusted him enough that it was Paxson who took the game-winning, series-clinching shot in the 1993 NBA Finals. It was Jordan who tried hiring Paxson as coach of the Washington Wizards. Now they share similar missions: to perform reconstructive surgery on their respective franchises, Paxson with the Bulls, MJ with the Charlotte Bobcats.
Paxson has a better patient to work with. The Bulls have a lot of moving parts, and some of those parts are going to be moving to other teams, but theirs is a roster with potential. And with Rose, it might soon become a roster with an identity.
"Let's face it, we haven't had a star player here in a long, long time,'' said Paxson, those six NBA championship trophies located about 20 feet from where he did his post-draft presser. "We're not putting that tag on Derrick, but in building a team we have to be realistic with what happened to us last year … I think Derrick is a type of piece we haven't had, and I think he's going to be terrific.''
Bulls 2007 first-rounder Joakim Noah attended last year's draft wearing a hey-look-at-me seersucker suit and George Will bow tie. That's Noah. He's a certifiable, cognac-drinking goofball, but at least he plays hard.
Rose isn't a cognac man. He's a Gummi Bear man. He's cried after losses and doesn't apologize for the tears. "Not at all,'' Rose said during the Thursday night teleconference. "Not at all. That's something that helped me grow.''
The Bulls need their own growth spurt. They need more offense (they were 18th in scoring), more gimmes (they were last in field goal percentage) and more wins (a playoff no-show after a didn't-see-it-coming 33-49 record). That's why Scott Skiles is now coaching the Milwaukee Bucks, why Del Negro and his allegedly up-tempo, pick-and-roll offense is here, and why Rose was the 1.7 percent miracle lottery choice.
Literally seconds after the Bulls selected Rose, a team PR assistant distributed a three-paragraph bio of Rose to the assembled media. "For Immediate Release,'' it read. They weren't kidding.
So the Bulls didn't screw around. They wanted Rose and that was that. Yeah, they asked the Miami Heat about the No. 2 pick too, but Rose was the guy who mattered. Always has been.
"Very honestly, at the end when we made our decision, it was really unanimous among our scouts and coaches and myself,'' said Paxson. "This was the direction we all wanted to go.''
[+] Enlarge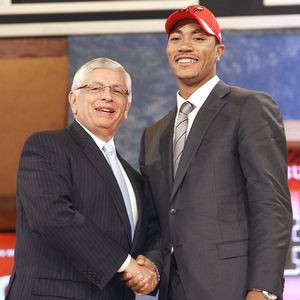 AP Photo/Seth WenigBulls No. 1 pick Derrick Rose was the first player to shake David Stern's hand on draft night.
Rose grew up in Chicago. Played high school ball in Chicago. Won two state championships. And somewhere here there's a concrete court with his knee skin on it.
People keep asking Rose about the weight of returning home, as if coming back to a place you know, to a family that loves you, is some sort of negative. The concerns make no sense -- at least, with Rose they don't. "I just can't wait,'' he said.
He's a teenager, but the Bulls are going to ask him to lead what was the second-youngest team in the league a year ago. That's nice. What else is new?
"Age doesn't really matter,'' he said.
Basketball age does, and Rose is an old soul when it comes to the court. He plays older. If you watched him during his one and only year at Memphis, you saw the equivalent of hoops time-lapse photography. It was caterpillar-to-butterfly stuff.
He can do the same with the Bulls. It will take longer because, let's face it, Memphis didn't play the Celtics last year. But Rose already knows his role.
"I think I can be a leader,'' he said.
Think? Memphis played for a national championship because of Rose. The Bulls will one day play in the postseason because of Rose.
"Of course, it's going to be pressure,'' he said. "I'm kind of used to it.''

Very honestly, at the end when we made our decision, it was really unanimous among our scouts and coaches and myself. This was the direction we all wanted to go.
--John Paxson, Bulls EVP Basketball Operations
He's already chatted with Noah, shooting guard Ben Gordon, and the player whose starting job could soon be his, Kirk Hinrich. Hinrich, chosen by Paxson with the seventh pick of the 2003 draft, hasn't done anything wrong. He's just not Rose. Never will be. Rose will fit in here. He'd fit in anywhere. His ego comes with a guarantee: It will never become overweight. Someone asked him what Bulls jersey number he preferred. You might as well have asked him what sort of lettuce leaf he favors.
"Just give me any number,'' he said. "I'll just go out there and play.''
That's what Paxson wants to hear. It's what his new teammates should want to hear. Unselfishness is a good thing. It was a word missing too often from the Bulls' vocabulary last season.
Rose will throw out the first pitch in Friday's Cubs-White Sox game at U.S. Cellular Field. (Makes sense -- Jerry Reinsdorf owns the Bulls and the White Sox.) The first pitch thing is nice, but Rose the sugar junkie will love what's in the hallway outside the Level 4 stadium suites: a table full of large jars of candy.
So Thursday was Paxson's latest attempt to fix the Bulls. For Rose it was something as corny as a dream come true. First pick … coming home … a possible Snickers endorsement deal.
"You really don't want the day to end,'' Rose said.
It isn't. It's just beginning.
Gene Wojciechowski is the senior national columnist for ESPN.com. You can contact him at gene.wojciechowski@espn3.com.
Columnist / College Football reporter
ESPN.com senior national columnist
Joined ESPN in 1998
Author of "The Last Great Game"
SPONSORED HEADLINES
ESPN TOP HEADLINES
MOST SENT STORIES ON ESPN.COM
2008 NBA Draft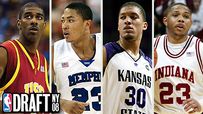 We've got the 2008 draft covered. Who are the top prospects? Check out our analysis, projections, scouting reports and more.
'08 NBA Draft Index
•
Roundup: A rundown of who went where
•
Keeping up with draft day trades
•
Mayo to Memphis, Love to Minnesota
•
Simmons, Ford: Great Draft Debate '08
•
Chad Ford's Mock Draft 7.0: Picks 1-30
|
31-60
•
Chad Ford's Mock Draft 6.1: Picks 1-30
|
31-60
•
Chad Ford's Mock Draft 6.0: Picks 1-30
|
31-60
•
Chad Ford's Mock Draft: Version 5.0
•
Chad Ford's Mock Draft: Version 4.0
•
Chad Ford's Mock Draft: Version 3.0
•
Chad Ford's Mock Draft: Version 2.0
•
Chad Ford's Mock Draft: Version 1.0
•
Draft Machine: Make your picks
•
Who's in, who's out of 2008 draft?
•
Ford's Top 100: Best draft prospects
Chad Ford
•
Draft Watch: How high or low will they go?
•
Draft Notes: Heat trading Beasley pick?
•
Draft Notes: Rose-Beasley rages in Chicago
•
NBA draft strategy: Ranking prospects by tiers
•
Draft Watch: Teams coveting UCLA's Westbrook
•
Draft Watch: Final in/out decisions made
•
Draft Watch: Rush's hot, Arthur's not
•
Draft Watch: International top 15
•
Draft Watch: Alexander's hot, Lawson's not
•
Draft Watch: Miami takes close look at Mayo
•
Draft Watch: Using the measurements
•
Draft Watch: Analyzing combine results
•
Draft Watch: Analyzing official measurements
•
Draft Notes: Who's looking to trade their pick?
•
Draft Notes: Stars come out in Orlando
•
Draft Notes: Beasley, Rose a marked contrast
•
Draft Stock Watch: Forbes taking wing on charts
•
Draft Notes: No. 1 question looms over Paxson
•
Draft Watch: Lawson bouncing back
•
Draft Notes: Rumors, promises and PGs
•
Draft Watch: Orlando hopefuls eye first round
•
Draft Watch: Could Mayo be the No. 2 pick?
•
Draft Watch: Who's No. 1 -- Rose or Beasley?
•
Draft Watch: Mayo's stock is rising again
•
Draft Watch: Judging early entry calls
•
Draft Watch: Nike Hoop Summit buzz
John Hollinger
•
Draft Rater: How will the Euros translate?
•
Draft Rater: Who are the best perimeter players?
•
Draft Rater: Who are the best big men?
•
Draft Rater: Beasley has most pro potential
•
Rating college prospects
More Analysis
•
Katz: Bayless, Gordon survived turmoil
•
Katz: Freshmen could produce record numbers
•
Katz: Draft trade rumors abound
•
Gottlieb: Mayo impresses while others falter
•
Katz: On top 12 picks
•
Katz: Rose's unique passion to win
•
Fraschilla: Who made right choice to return?

•
Katz: Heels win on withdrawal day
•
Katz: Anderson still on fence
Draft Lottery
•
Ford: Beasley-Rose debate rages in Chicago
•
Bulls win lottery; get first pick
•
Ford: Will Bulls take Beasley No. 1?
•
Vote: What should Bulls do?
•
Katz: Lottery projections

•
Fraschilla: Projecting picks 1-14

Podcasts
•
NBA Dish: Paxson on winning lottery
•
Mike & Mike: Paxson on No. 1 pick

•
NBA Dish: Joe Abunassar, NBA trainer
•
NBA Dish: Kevin Love, UCLA
SportsNation
•
NBA Draft polls
Fantasy
•
McKitish: Most freshmen have little impact
•
McKitish: Beasley and Rose as NBA rooks