Commentary
In high-stakes poker vs. Favre, Green Bay can't win
The Packers are playing high-stakes poker with Brett Favre, but it's a game they can't win, writes ESPN.com's Gene Wojciechowski.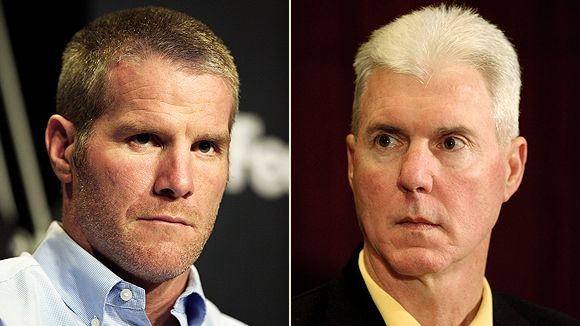 Getty ImagesBrett Favre, left, wants to play again, but Packers GM Ted Thompson won't release him.
The World Series of Poker isn't being played in Las Vegas. It's being played in Green Bay, Wis., and Hattiesburg, Miss. And so far, a very amateurish Ted Thompson is trying to show strength in his hand.
Feel free to laugh the next time Green Bay Packers management, both past and present, starts talking about "preserving" Brett Favre's legacy and cherishing Favre's place in the team's "family." It means nothing.
The Packers are about the Packers, and that's fine, even expected, but at least say so from the beginning. Don't pretend you're genuinely concerned about Favre's standing in franchise lore when, in reality, you're more concerned about damage and image control.
Favre wants to unretire. And yeah, it's a bit of a diva-ish thing to do. Tears in March. Text messages in July.
But Favre has earned his share of diva currency, enough for one Get Out Of Retirement card. He's played hurt. He's played with his heart heavy with grief. And he's played for the moment, not the money. There are bits and pieces of his body all over Lambeau Field.
Thompson, the Packers' general manager, doesn't see it that way. His solution -- and remember, the Packers are the self-appointed guardians of Favre's football reputation -- is to announce that one of the greatest quarterbacks in NFL history, the guy only seven months removed from the NFC Championship Game, can return but may be a second-stringer. Think about it: Favre wearing a baseball cap and holding a clipboard.
Some legacy.
Packers management wants it both ways. It says it wants to protect Favre from himself, but mostly it wants to protect Favre from becoming a free agent, signing with the Minnesota Vikings and possibly kicking the Packers' butts twice in the regular season. That's the reason behind not granting Favre his release -- nothing else.
Management says the "finality" of Favre's retirement prompted the Packers to "move forward with our football team.'' But how can you move forward if Favre is still on the depth chart? If you don't want him as your starter, which is beyond astounding, then why want him at all?
Thompson has mixed a football Molotov cocktail. A short pour of Favre. A long pour of Aaron Rodgers. Topped off by Packers teammates and fans torn by their allegiances. Now light and throw.
Favre could make it easy on Thompson by staying retired. Of course, that's what Thompson is counting on: The great Brett Favre would never come back here as a backup. He wants Favre to fold.
But I'd love to see Favre report to Packers training camp later this month. I'd love to see the beads of sweat form on Thompson's forehead as he realizes he miscalculated the situation. Again.
If Favre shows up, Thompson has created an instant quarterback controversy. And by doing so, he has created the beginnings of a divided locker room. You don't think there are going to be pro-Favre guys vs. pro-Rodgers guys on that roster? You don't think the Lambeau crowd will start chanting No. 4's name the first time Rodgers struggles (and he will -- zero starts, 35 completions and one touchdown throw in three seasons)? You don't think Rodgers, Thompson's very first pick as GM in 2005, will be looking over his shoulder pads every time he makes a mistake?
Favre isn't blameless in this mess. He miscalculated, too. And for that, some Packers followers now consider him a whiner, not worth the trouble. Let's hear what they say if Rodgers bombs.
Thompson doesn't really want Favre back, unless it's for ribbon-cutting ceremonies or 20-year anniversaries. He wants the Rodgers Era to begin as soon as possible, preferably with Favre watching from his living room in Mississippi.
But sometimes you make exceptions for the exceptional. Favre has his faults, beginning with his penchant for changing his mind, but he still gives the Packers the best chance to win. Somehow that's been lost in the chaos. If Thompson wants to honor Favre's legacy, then grant him his release. If he signs with the Vikings and beats you, then that's how it goes. After all, Thompson had first crack at him as the Packers' starter.
Or if Favre truly wants to make this an amicable farewell, then he should tell the Packers he won't sign with an NFC North team. The wink-wink understanding might not be officially allowed by the league, but who has to know, right? The more likely scenario: The Packers could manipulate the trade process by making the price reasonable for, say, AFC teams, but cost-prohibitive for teams such as the division rival Vikings, Chicago Bears and Detroit Lions, or even 2008 NFC opponents Tampa Bay (Sept. 28 road game) and Carolina (Nov. 30 game at Lambeau) -- both rumored landing spots for Favre.
The whole situation is messier than eating barbecue ribs with your knuckles. And it could only get worse.
In the end, Thompson and the Packers are the ones jumping off the cliff without the bungee cord securely attached. They're betting everything on Rodgers' potential and Favre's sense of pride.
I'll bet on Favre. Lesser cards, better player.
Gene Wojciechowski is the senior national columnist for ESPN.com. You can contact him at gene.wojciechowski@espn3.com.
Columnist / College Football reporter
ESPN.com senior national columnist
Joined ESPN in 1998
Author of "The Last Great Game"
SPONSORED HEADLINES
ESPN TOP HEADLINES
MOST SENT STORIES ON ESPN.COM
BRETT FAVRE SAGA: OVER
After pushing and pushing to keep playing either in Green Bay or elsewhere, Brett Favre's storied career will continue in 2008. The unretired quarterback has been traded by the Packers to the Jets.
NFC North blog | AFC East blog
News
•
Favre on offseason saga: 'I knew I wanted to play'
•
Favre unlikely to play in Jets' preseason finale
•
Report: Pack's Favre deal included souvenirs, blog
•
On Day 5 with Jets, Favre says arm feels 'fatigued'
•
Favre finally arrives in New York, meets mayor
•
Rodgers: 'Still following Brett's legacy'
•
Jets introduce Favre in Cleveland
•
Favre era ends in Green Bay with trade to Jets
•
Favre leaves Green Bay, destination unknown
•
Favre: 'This probably isn't going to work'
•
Favre flying under radar in Green Bay
•
Favre: Reinstatement done, Green Bay flight set
•
Favre mulling offer; NFL ruling put off again
•
Favre actively weighing Packers' offer
•
Report: Packers mull dealing Favre in division
•
Team president meeting with Favre, agent
•
Source: Favre files for reinstatement
•
Rodgers takes over as starting QB
•
Favre signs reinstatement letter, waits to send
•
Favre won't report to Packers camp Sunday
•
Sources: Favre, Packers talk trade destinations
•
Favre support muted at shareholders meeting
•
Report: Favre doesn't have team-issued phone
•
Report: NFL security visits Vikings
•
Favre questions likely from shareholders
•
Packers reportedly weigh trade offers for Favre
•
Favre returns to Lambeau Field
•
Packers president supports GM, coach
•
What they're saying about Favre
•
Favre won't apply for reinstatement right away
•
Sources: Packers claim Vikings tampered
•
Favre may show up at camp
•
Favre 'clears it up' in interview with Fox
•
Few fans attend Favre rally in Milwaukee
•
Pack fans rally, calling for Favre reinstatement
•
Pack won't release Favre
•
Sources: Favre seeks unconditional release
•
Favre itching to return to field
Trade Commentary/Features
•
Clayton: History doesn't favor Favre, Jets
•
Chadiha: Packers will be fine without Favre
•
Wojciechowski: Divorce cause? Lack of trust
•
Clayton: Deal is a downer for Favre
•
Scouts Inc.: Jets now a playoff contender

•
Clayton: Questions, answers on Favre trade
•
Fantasy spin: Deal boosts value of many Jets
Other Commentary/Features
•
Clayton: 5 reasons Favre would start for Pack
•
Mosley: Favre is QB turned ringmaster
•
Wojciechowski: Favre and away the best solution
•
Clayton: Favre wins ugly duel
•
Clayton: It's a painful divorce
•
Chadiha: Rodgers unfazed by Favre circus
•
Yasinskas: Favre makes sense for Bucs
•
Wojciechowski: Packers can't win this game
•
Clayton: It's a delicate situation
•
Wright Thompson: Catching Favre's fastballs
•
Wojciechowski: What's the answer, Packers?
•
Williamson: Where could he end up?
•
Seifert: What happens after HOF QBs move on
•
Paolantonio: Favre is overhyped
•
Kiper: 2005 analysis of prospect Rodgers
•
Madden '09 cover boy Favre to stay retired
•
Thompson: Brett, we miss you already
•
Wojciechowski: Worth the price of admission
•
Price of signed Favre items to go up
•
Yasinskas: Rodgers ready to take the reins
•
FB Outsiders: Measuring Favre's greatness
•
Sando: Gunslinger mentality defined Favre
•
Yasinskas: Majkowski on Favre's legacy
•
Clayton: Questions surrounding Favre
•
Clayton: Packers will miss Favre's magic
•
Chadiha: Favre will regret decision
•
Keating: Favre just getting started
•
Hashmarks: Favre fun-loving guy
•
Burning Questions: Is Rodgers ready?
•
Experts: Is Favre the best, or among them?
•
Favre's top 10 moments
•
Forde: Favre's flair for dramatic started in college
•
Favre's rating in Mel Kiper's '91 draft guide
•
Favre's hometown quiet on day of his retirement
•
Sadness, shock envelops Green Bay
•
Wounded Army officer has last ball thrown
•
Around sports: What they're saying
•
Fantasy spin: Rodgers not top-20 QB
•
Scouts: Rodgers has talent to succeed

•
Packers local: Complete hometown coverage
Video
•
Favre traded to Jets for conditional pick
•
Jets GM on trade for Favre, imminent release of Pennington
•
Steve Young on Favre's Jets future
•
Cris Carter on what trade means to Jets?
•
Schlereth: Exciting news for Jets
•
Sal Pal on Favre's move to AFC
•
Rachel Nichols on Favre's pre-trade mindset
•
Favre interview: Part 3
|
2
|
1
SportsNation
•
How will Jets do with Favre behind center?
•
Fans react to Favre's retirement
Photo Galleries
•
Favre flashback
•
Top TD guns
•
Top TD targets