Commentary
After so much summer heat, a much-needed thaw in Green Bay
"Sixteen years after Brett Favre came to the Packers, he is returning for a 17th season."
And with that, Green Bay Packers president Mark Murphy acknowledged Sunday that Favre, with a considerable assist from NFL commissioner Roger Goodell, had outflanked the franchise and its efforts to keep the quarterback retired for good.
Brett Favre 2008 Timeline

The Brett Favre saga in Green Bay might be nearing a conclusion after the unretired quarterback said he and the team might be better off without each other. A look at how the story has unfolded:
Aug. 6:
Traded to New York Jets for conditional draft pick.
Aug. 5:
Left practice facility in the afternoon ... did not practice with the team ... met with Packers officials to discuss trade options ... tells ESPN's Chris Mortensen "the best thing for this team is for us to part ways" ... considers talking to the Buccaneers about a possible trade.
Aug. 4:
Favre reports to training camp and is added to active roster after passing physical
Aug. 3:
NFL commissioner Roger Goodell reinstates Favre
July 31:
Favre offered $25 million to not report to camp
July 30:
Meets with Packers president Mark Murphy in Mississippi
July 29:
Faxes reinstatement request to NFL
July 25:
Favre tells Packers he plans to report to training camp
July 19:
Returns to Lambeau Field to attend Packers Hall of Fame ceremony
July 16:
Packers file tampering charges with NFL against Vikings
July 11:
Packers receive letter from Favre formally requesting release
July 8:
Favre asks for release with understanding he won't be starter
July 6:
Sends text message to Packers GM Ted Thompson
July 2:
Favre says reports of return were "all rumor"
June 20:
Favre tells coach Mike McCarthy he may want to play again
April 9:
Says he might consider comeback if opportunity was presented
April 4:
Agent reportedly contacts teams to gauge trade interest
April 3:
Denies rumors of a comeback
March 6:
Favre conducts retirement news conference
Jan. 20:
Packers lose NFC Championship Game to the Giants in OT
-- Compiled by ESPN Research
If Favre's audacious decision to report to team headquarters had been about money -- about Favre, his family and his agent trying to wring a few million cheesehead dollars more out of Packers management -- then I would have joined the critics of No. 4.
But this was about football, about forcing Packers general manager Ted Thompson to do something, even if that something meant admitting that it's better to have Favre with you, not against you.
"Having crossed the Rubicon once when Brett decided to retire, it's very difficult to reorient our plans and cross it again in the opposite direction -- but we'll put this to our advantage," Murphy said in the statement. I'm guessing Favre wouldn't know the Rubicon if you took him to Italy and dunked him in it. He didn't major in history at Southern Mississippi. But he does know football. And leverage. Favre used that leverage to slip a half-nelson on Packers management and pin it for the count. What a compelling mess. Unnecessary, avoidable, even semi-sad, but compelling. Whoever thought there'd come a day when Favre, who helped give the Packers one of their three Super Bowl championships and who last missed a game when Aaron Rodgers was 8 years old, would have to beg his franchise for a chance to start. But that's where we are, partly because Favre changed his mind about retirement, but mostly because Thompson wasn't completely prepared for the reversal. It's as if he simply couldn't or wouldn't believe Favre would call his bluff. Give Goodell credit for trying to broker a peace deal between Favre and a franchise that refused to budge. And give Goodell extra credit for reinstating Favre to the league. The reinstatement won't become official until 1 p.m. ET Monday, but for all intent and purpose, Goodell attached jumper cables to the Packers and revved his engine. Goodell understands how this looks. And make no mistake, image matters to the NFL. What you had here is a water balloon fight between one of the game's greatest players and one of the league's greatest franchises. It's like watching a brawl in church. So Goodell wisely said enough was enough. He had given the Packers almost a full week to reach a compromise. But the best they could do was dispatch Murphy to Mississippi to offer Favre a 10-year marketing-and-promotions deal worth between $20 million and $25 million. Sort of a gold and green -- lots of green -- parachute. Favre rejected the offer. His first choice is to play football, preferably for the Packers. If he's going to get millions (and the Packers owe him $12 million for the 2008 season) he'd like to earn it in a uniform. Goodell said it himself during an ESPN interview at this weekend's Pro Football Hall of Fame festivities: "Brett's a great player. To have Brett Favre on your roster only makes you a better football team." Exactly. Cut through the lasagna layers of this saga, and you're left with that indisputable truth. In fact, on the team's own Web site are these breathless descriptions of Favre in his official Packers-approved bio: "Among the most exciting players in pro football annals ... Stands as one of the most productive signal-callers ... Will go down as one of the most beloved players of his generation ... [2007 was] one of the most memorable years in his storied career."
[+] Enlarge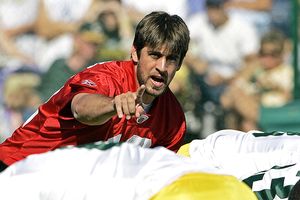 AP Photo/Morry GashAaron Rodgers had earned the opportunity to start, but now that Brett Favre's back in the Packers' picture, there's an entire franchise to think about.
The reference to the 2007 season is the one that matters. Before you rip Favre for unretiring and helping create this daytime drama, ask yourself this simple question: Can he still play? The answer is in the numbers.
Last season, in which he turned 38, Favre threw for more than 4,000 yards, completed a career-best 66.5 percent of his passes, was second in the league's MVP voting, helped lead the Packers to the NFC Championship Game and oversaw an offense that produced the third-highest point total and net yards in franchise history. And yet, this is the quarterback the Packers did not want unless he forced the issue. So, with an assist from Goodell, he unleashed the hounds. How many jillions of times have we heard that football is about competition? The best man plays. You win the job on the field. If you were a veteran player on the Packers, you had to wonder if Thompson was more interested in proving a point or putting together the best roster. They might not have said it publicly, but they were saying it in the privacy of the locker room. Rodgers, by virtue of Favre's retirement announcement in March, had earned the
opportunity
to start. But Favre, by virtue of his reinstatement and a career's body of work, had earned the right to at least compete for his old job. Being the NFL's all-time leader in completions, attempts, yards, victories and quarterback durability should count for something, right? If I'm Thompson, I do what's best for my team, not my pride. And that appears to be what happened. For this, Thompson deserves a small backslap. His roster will be stronger Monday than it was on Sunday. Yeah, Thompson owed Rodgers something. But he also owed his coaches and the rest of his players the best chance to win. And he couldn't have done that without being flexible and nimble enough to allow for Favre's return and, with it, the mother of all quarterback controversies. There was no perfect solution to the standoff. The situation was much like a football itself -- oblong and prone to weird, unpredictable bounces. Favre, whether Thompson liked it or not, bounced into his lap. For now, this beats a trade or an outright release. Are the alternatives any better for Green Bay? Nope. This way the damage done by the Favre-Packers impasse isn't irreversible. Favre gets his second chance. Rodgers gets his best chance, thanks to a full offseason of preparation and a nine-practice head start on Favre. "Frankly, Brett's change of mind put us in a very difficult spot," Murphy said. Difficult, but not disastrous. That would have been the case if Favre's Year 16 hadn't become Year 17.
Gene Wojciechowski is the senior national columnist for ESPN.com. You can contact him at gene.wojciechowski@espn3.com.
Columnist / College Football reporter
ESPN.com senior national columnist
Joined ESPN in 1998
Author of "The Last Great Game"
Nike Men's Home Game Jersey Green Bay Packers B.j. Raji #90 Shop »
MOST SENT STORIES ON ESPN.COM