Commentary
Packers make their choice with Favre; now they can wallow in it
From green and gold to green and white. From, "Go, Pack, Go" to "J-E-T-S." From the NFL's smallest market to the league's largest.
Brett Favre
's life did a 180 late Wednesday night, and it happened because
Green Bay Packers
general manager Ted Thompson didn't trust Favre, and Favre didn't trust Thompson. Drag a razor across this controversy's beard and that's what you'll find under the stubble -- distrust, too much scar tissue and the simple yet mind-boggling fact that Packers management thinks Favre isn't good enough to win. If it thought otherwise, Favre wouldn't be the quarterback of the New York Jets today. Anyway, so much for the Packers wanting to protect Favre's "legacy." Remember that bit of PR fiction? The benevolent, caring Packers would be there to safeguard all things Brett -- that's what they said often in recent weeks. But the protection broke down when Favre decided to unretire and return to Green Bay. Favre is a Jet because Thompson didn't want him to be a Packer. Or a Minnesota Viking. And who can forget that heartfelt "crossing the Rubicon" statement by Packers team president Mark Murphy when Favre was reinstated by NFL commissioner Roger Goodell. Any icier and you could have played hockey on it.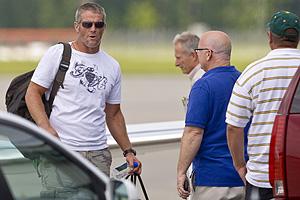 AP Photo/Mike RoemerBrett Favre as he left Green Bay...ultimately for the last time as a Packer.
For all those Favre critics who insist he's a drama queen, remember that he could have stayed in Green Bay, practiced, competed in an open competition with
Aaron Rodgers
and dared Thompson and coach Mike McCarthy to keep him on the bench. But he didn't. He left after several days because he has more respect for the Packers than the Packers have for him. Packers management thought Favre wouldn't push for reinstatement and report to camp, but he did. It thought he would take its $25 million of get-lost money, but he didn't. It thought it could break his will by refusing to release him or trade him to the Vikings, but it couldn't. And nice job on accusing the Vikings of tampering (the Vikes were cleared of any wrongdoing). Plus, wasn't it interesting that someone leaked a story that Favre allegedly called the Vikings on a Packers-issued cell phone (also untrue). If this were a divorce, then Favre would be the one getting the alimony. The Packers were so eager to ditch the NFL's all-time leader in passing yards, touchdowns and victories by a QB that they reduced the bidding war to two teams (the Jets and Tampa Bay Buccaneers). And they settled for a conditional fourth-round pick, which will bump up to a third-rounder if Favre takes 50 percent of the snaps (duh), and a second-rounder if he takes 70 percent of the snaps and the Jets reach the playoffs. Instead of Favre -- who earlier last season helped lead the Packers to the NFC Championship Game and finished second in the league's MVP voting -- Thompson would rather have three quarterbacks on his roster with a combined zero NFL starts. He'd rather have Rodgers than the most durable quarterback in the history of the game.
Brett Favre 2008 Timeline

The Brett Favre saga in Green Bay might be nearing a conclusion after the unretired quarterback said he and the team might be better off without each other. A look at how the story has unfolded:
Aug. 6:
Traded to New York Jets for conditional draft pick.
Aug. 5:
Left practice facility in the afternoon ... did not practice with the team ... met with Packers officials to discuss trade options ... tells ESPN's Chris Mortensen "the best thing for this team is for us to part ways" ... considers talking to the Buccaneers about a possible trade.
Aug. 4:
Favre reports to training camp and is added to active roster after passing physical
Aug. 3:
NFL commissioner Roger Goodell reinstates Favre
July 31:
Favre offered $25 million to not report to camp
July 30:
Meets with Packers president Mark Murphy in Mississippi
July 29:
Faxes reinstatement request to NFL
July 25:
Favre tells Packers he plans to report to training camp
July 19:
Returns to Lambeau Field to attend Packers Hall of Fame ceremony
July 16:
Packers file tampering charges with NFL against Vikings
July 11:
Packers receive letter from Favre formally requesting release
July 8:
Favre asks for release with understanding he won't be starter
July 6:
Sends text message to Packers GM Ted Thompson
July 2:
Favre says reports of return were "all rumor"
June 20:
Favre tells coach Mike McCarthy he may want to play again
April 9:
Says he might consider comeback if opportunity was presented
April 4:
Agent reportedly contacts teams to gauge trade interest
April 3:
Denies rumors of a comeback
March 6:
Favre conducts retirement news conference
Jan. 20:
Packers lose NFC Championship Game to the Giants in OT
-- Compiled by ESPN Research
Why? It isn't just because Favre wanted to unretire. It can't be. It has to be something as fundamental as Thompson (and maybe McCarthy, too) having lost faith in Favre's ability to win games. If so, Thompson miscalculated yet again. Thompson's future now depends on Rodgers. If Rodgers gets hurt, the Packers are done. If Rodgers can't handle the pressure, the Packers are done. And Thompson with them. Of the two finalists for Favre, the Jets actually made the most sense. The Buccaneers already have
Jeff Garcia
, who made the Pro Bowl last season. Meanwhile, the Jets are underwhelmed by
Chad Pennington
, who is minutes away from getting released because of his $6 million salary, and
Kellen Clemens
. The Jets spent $140 million during the offseason on players. They upgraded their offensive line by signing guard
Alan Faneca
, who will fit in nicely on the left side with tackle
D'Brickashaw Ferguson
. They upgraded their defensive line (nose tackle
Kris Jenkins
). They have
Thomas Jones
at running back (1,119 yards last season). They have
Laveranues Coles
at wide receiver. Yes, they're in the same division as the
New England Patriots
. But they're also in the same division as the
Miami Dolphins
and the
Buffalo Bills
. They play Oakland, Kansas City, St. Louis and San Francisco. A nine-win season, maybe a game better, isn't inconceivable. At least, not any more inconceivable than Favre in New York. It will be strange to see Favre in a Jets helmet. It would have been strange to see him in any helmet that didn't have the game's best logo -- that classic G -- on the side. On the Jets' Web site, you can already purchase a Favre replica jersey for $80. There's also a tortured headline that reads, "DO QB-LIEVE IT? BRETT FAVRE IS A JET." No, I don't believe it. Not because he's a Jet, but because Thompson just traded the best quarterback on his roster. "It is with some sadness that we make this announcement, but also with the desire for certainty that will allow us to move the team and organization forward in the most positive way possible," Murphy and Thompson said in a joint statement. Sadness? Thompson never wanted Favre back to begin with. Plus, the Packers got a draft pick out of it, they saved $25 million in bribe money, and they're still selling Favre jerseys for $179.95. So enough already with the fake sadness thing. But if I'm a Packers fan, I fly my team flag at half-mast today. Or better yet, raise a Jets flag. They're only $20 at Jets Shop.
Gene Wojciechowski is the senior national columnist for ESPN.com. You can contact him at gene.wojciechowski@espn3.com.
Columnist / College Football reporter
ESPN.com senior national columnist
Joined ESPN in 1998
Author of "The Last Great Game"
BRETT FAVRE SAGA: OVER
After pushing and pushing to keep playing either in Green Bay or elsewhere, Brett Favre's storied career will continue in 2008. The unretired quarterback has been traded by the Packers to the Jets.
NFC North blog | AFC East blog
News
•
Favre on offseason saga: 'I knew I wanted to play'
•
Favre unlikely to play in Jets' preseason finale
•
Report: Pack's Favre deal included souvenirs, blog
•
On Day 5 with Jets, Favre says arm feels 'fatigued'
•
Favre finally arrives in New York, meets mayor
•
Rodgers: 'Still following Brett's legacy'
•
Jets introduce Favre in Cleveland
•
Favre era ends in Green Bay with trade to Jets
•
Favre leaves Green Bay, destination unknown
•
Favre: 'This probably isn't going to work'
•
Favre flying under radar in Green Bay
•
Favre: Reinstatement done, Green Bay flight set
•
Favre mulling offer; NFL ruling put off again
•
Favre actively weighing Packers' offer
•
Report: Packers mull dealing Favre in division
•
Team president meeting with Favre, agent
•
Source: Favre files for reinstatement
•
Rodgers takes over as starting QB
•
Favre signs reinstatement letter, waits to send
•
Favre won't report to Packers camp Sunday
•
Sources: Favre, Packers talk trade destinations
•
Favre support muted at shareholders meeting
•
Report: Favre doesn't have team-issued phone
•
Report: NFL security visits Vikings
•
Favre questions likely from shareholders
•
Packers reportedly weigh trade offers for Favre
•
Favre returns to Lambeau Field
•
Packers president supports GM, coach
•
What they're saying about Favre
•
Favre won't apply for reinstatement right away
•
Sources: Packers claim Vikings tampered
•
Favre may show up at camp
•
Favre 'clears it up' in interview with Fox
•
Few fans attend Favre rally in Milwaukee
•
Pack fans rally, calling for Favre reinstatement
•
Pack won't release Favre
•
Sources: Favre seeks unconditional release
•
Favre itching to return to field
Trade Commentary/Features
•
Clayton: History doesn't favor Favre, Jets
•
Chadiha: Packers will be fine without Favre
•
Wojciechowski: Divorce cause? Lack of trust
•
Clayton: Deal is a downer for Favre
•
Scouts Inc.: Jets now a playoff contender

•
Clayton: Questions, answers on Favre trade
•
Fantasy spin: Deal boosts value of many Jets
Other Commentary/Features
•
Clayton: 5 reasons Favre would start for Pack
•
Mosley: Favre is QB turned ringmaster
•
Wojciechowski: Favre and away the best solution
•
Clayton: Favre wins ugly duel
•
Clayton: It's a painful divorce
•
Chadiha: Rodgers unfazed by Favre circus
•
Yasinskas: Favre makes sense for Bucs
•
Wojciechowski: Packers can't win this game
•
Clayton: It's a delicate situation
•
Wright Thompson: Catching Favre's fastballs
•
Wojciechowski: What's the answer, Packers?
•
Williamson: Where could he end up?
•
Seifert: What happens after HOF QBs move on
•
Paolantonio: Favre is overhyped
•
Kiper: 2005 analysis of prospect Rodgers
•
Madden '09 cover boy Favre to stay retired
•
Thompson: Brett, we miss you already
•
Wojciechowski: Worth the price of admission
•
Price of signed Favre items to go up
•
Yasinskas: Rodgers ready to take the reins
•
FB Outsiders: Measuring Favre's greatness
•
Sando: Gunslinger mentality defined Favre
•
Yasinskas: Majkowski on Favre's legacy
•
Clayton: Questions surrounding Favre
•
Clayton: Packers will miss Favre's magic
•
Chadiha: Favre will regret decision
•
Keating: Favre just getting started
•
Hashmarks: Favre fun-loving guy
•
Burning Questions: Is Rodgers ready?
•
Experts: Is Favre the best, or among them?
•
Favre's top 10 moments
•
Forde: Favre's flair for dramatic started in college
•
Favre's rating in Mel Kiper's '91 draft guide
•
Favre's hometown quiet on day of his retirement
•
Sadness, shock envelops Green Bay
•
Wounded Army officer has last ball thrown
•
Around sports: What they're saying
•
Fantasy spin: Rodgers not top-20 QB
•
Scouts: Rodgers has talent to succeed

•
Packers local: Complete hometown coverage
Video
•
Favre traded to Jets for conditional pick
•
Jets GM on trade for Favre, imminent release of Pennington
•
Steve Young on Favre's Jets future
•
Cris Carter on what trade means to Jets?
•
Schlereth: Exciting news for Jets
•
Sal Pal on Favre's move to AFC
•
Rachel Nichols on Favre's pre-trade mindset
•
Favre interview: Part 3
|
2
|
1
SportsNation
•
How will Jets do with Favre behind center?
•
Fans react to Favre's retirement
Photo Galleries
•
Favre flashback
•
Top TD guns
•
Top TD targets