Commentary
Few can run, pass, or hide from Ravens
As he demonstrated again in Baltimore's wild-card playoff victory over Miami, safety Ed Reed is otherworldly. So is the Ravens' defense, which Saran Wraps anything that moves, Gene Wojciechowski writes.
MIAMI -- I'm sitting in the Dolphin Stadium baseball press box Sunday, two rows in front of New England Patriots safety Rodney Harrison. Harrison is going to need a restraining order and I'm going to need ear canal surgery if he yells any louder.
"I told you!" he screams after
Baltimore Ravens
safety
Ed Reed
returns a
Chad Pennington
floater for a touchdown. "More pressure! More pressure!" says Harrison, leaning forward in his seat as the Ravens sack Pennington. "Ohhhhhh!" he wails as Reed steps in front of another Pennington pass for an interception. Harrison's behavior is totally unprofessional -- there's no cheering in the press box -- and, yet, totally understandable. You can put Harrison in a suit and tie (he's moonlighting for the NFL Network), but you can't ask him to quit being a professional safety or owner of two Super Bowl rings. "I'm sorry," he says later. "But I know what they're going through. I know their intensity."
No apologies necessary. That's how good the Ravens' defense was during Baltimore's 27-9 playoff jackhammering of the
Miami Dolphins
. You could have used a whisk broom and a dustpan to clean up what was left of Pennington and the Miami offense. "Some days it's your day, some days it's not," said Ravens defensive tackle
Trevor Pryce
. "And today was not their day. Today was ours." It wasn't Pennington's day. He completed 29 of 38 passes -- 25 to Dolphins, four to Ravens. He fumbled once. He was sacked three times. His former
New York Jets
teammate,
Thomas Jones
, would have benched him. "I don't think it's Chad Pennington's fault," said Ravens linebacker
Terrell Suggs
. "It's probably Ed Reed and Rex Ryan's fault."
[+] Enlarge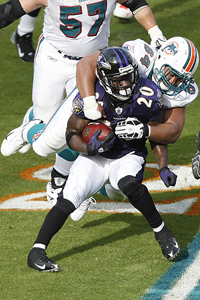 Joel Auerbach/US PresswireWith his two interceptions against the Dolphins, Ed Reed tied the NFL record for the most picks in a player's first three career playoff games (five).
Ryan, who is in play for three head coaching jobs (Rams, Lions and Jets), is the Ravens' defensive coordinator. Reed is the guy who ruined Pennington's day with two interceptions, one that he returned for a 64-yard touchdown. "That's why he's the greatest safety in the game," Suggs said. "Probably the best playmaker that's ever been in this league as a safety," Ryan said. "It's kind of expected at this point," Pryce said. "It doesn't impress us. It's kind of like, 'Oh, Ed got a pick.' It's kind of like Ray [Lewis] makes a tackle, or a head coach saying we have practice tomorrow. It's kind of expected." OK, we get it: Reed is otherworldly. So is the Ravens' defense, which Saran Wraps anything that moves. Pennington had seven interceptions during the entire regular season. He never threw more than one in any single game. Then Reed and the Ravens show up and, as Harrison so eloquently put it, "Ohhhhhh!" The Ravens' defense has scored six touchdowns off interception returns this season. It's a defense that almost thinks like an offense. "We're always trying to score,'' Ryan said. "That's the way we play." Go ahead, try to find a weak spot. The Dolphins couldn't. In fact, during the postgame locker room scene, I heard a Ravens player say, "The one thing [the Dolphins] have better than us is cheerleaders. The one thing." Miami's Wildcat offense made a cameo appearance (two tries, 7 yards) and then vanished. The Ravens held the Dolphins to 52 rushing yards, which means no opposing runner has gained 100 or more yards in the past 36 games. Amazing. So you can't run on them and you can't throw over the top on them. If you do, Reed is almost always there.
Tennessee Titans
in Nashville. "That's what separates us from the rest," Reed said of a Ravens defense that scored only two fewer points than Pennington and his offense. The Ravens remain alive in the postseason because they know the essential truth of January and February: Defense wins games. And because, said Suggs, of "how good our quarterback is." He's right. Rookie
Joe Flacco
completed just 9 of 23 passes for 135 yards and no touchdowns against the Dolphins. His quarterback rating was like the temperature on a fall day in Baltimore: 59.1. But Flacco threw four fewer interceptions than the veteran Pennington, scored on a 5-yard touchdown run and understands the value of a pass thrown harmlessly over the bench. It's a simple equation: No rookie mistakes + the Ravens' defense = end of the Dolphins' season. "When we're playing together, we're scary," Suggs said. Scary good.
Gene Wojciechowski is the senior national columnist for ESPN.com. You can contact him at gene.wojciechowski@espn3.com.
Columnist / College Football reporter
ESPN.com senior national columnist
Joined ESPN in 1998
Author of "The Last Great Game"
SPONSORED HEADLINES
ESPN TOP HEADLINES
MOST SENT STORIES ON ESPN.COM
2008 NFL Playoffs

The road to Tampa for Super Bowl XLIII on Feb. 1, 2009, began Jan. 3 with the wild-card playoff round. Will the Steelers or Cardinals replace the Giants as champs?

Championship Game results: NFC | AFC


COLUMNS/FEATURES
•
Wojciechowski: May the bitter team win
•
Chadiha: McNabb lets good times roll
•
Football Outsiders: Numbers Crunching
•
Sunday Countdown: Predictions and more
•
Clayton: First and Goal
•
Garber: This Philly Story seeks proper ending
•
Clayton: Peaking Steelers should advance
•
Chadiha: Eagles will soar in desert
•
Wojciechowski: Book Eagles for Tampa
•
Football Outsiders: Any Given Sunday
•
Football Outsiders: Quick Reads
CHAMPIONSHIP GAMES (Jan. 18)
Steelers 23, Ravens 14
•
Polamalu's INT return secures win
•
Playoff page
|
AFC North blog
Cardinals 32, Eagles 25
•
Fitzgerald leads Cardinals to first Super Bowl
•
Playoff page
|
NFC West blog
...
East
DIVISIONAL ROUND (Jan. 10-11)
Steelers 35, Chargers 24
•
Walker: The Bus sparks Parker
•
Williamson: Bolts need season-long urgency
•
Recap: Steelers knock out Chargers
•
More
|
AFC West blog
...
AFC North
Ravens 13, Titans 10
•
Graham: Battered Ravens pass physical
•
Kuharsky: Titans failed to answer critics
•
Recap: Turnovers doom Titans
•
Zoom Gallery
•
Fleming: Can anyone stop the Ravens?
•
More
|
AFC North blog
...
AFC South
Cardinals 33, Panthers 13
•
Sando: Desert bloom for Arizona's faithful
•
Sando: No denying Cards' makeover
•
Yasinskas: Carolina's big plans fall apart
•
Recap: Delhomme's 5 INTs doom Panthers
•
Zoom Gallery
•
More
|
NFC West blog
...
NFC South
Eagles 23, Giants 11
•
Wojciechowski: Book Eagles for Tampa
•
Mosley: Giants lost to better team
•
Recap: Defense smothers Giants
•
Zoom gallery
•
Chadiha: Eagles' defense hitting stride
•
More
|
NFC East blog
WILD-CARD ROUND (Jan. 3-4)
Ravens 27, Dolphins 9
•&nbsp
Wojciechowski: Scary Ravens' D
•
Recap: Ravens' defense overpowers Dolphins
•
More
|
AFC North blog
...
AFC East
Eagles 26, Vikings 14
•
Mosley: Eagles' run continues
•
Recap: Westbrook, big plays carry Eagles
•
More
|
NFC East blog
...
NFC North
Cardinals 30, Falcons 24
•
Sando: Cards' winning identity
•
Recap: Strong second half powers Cards
•
More
|
NFC South blog
...
NFC West
Chargers 23, Colts 17
•
Williamson: 5-6 Sproles comes up big
•
Recap: Chargers shock Manning, Colts in OT
•
More
|
AFC South blog
...
AFC West
ESPN FAN SHOP