Commentary
A-Rod, Pettitte honored … but not Roger
Clemens nowhere to be found amid Yankee Stadium's celebration of past, present stars
NEW YORK -- A meat-freezer blast of late October wind swept through the 200 Level of Yankee Stadium on Wednesday, blowing a handful of plastic-encased photos of Yankees legends onto the concrete floor near Ramp 2. I gathered them up and handed them back to George Chiavelli, who co-owns the collectibles booth.
"That didn't work," he said of the photo display. "They're too light."
way
outside -- to a congressional committee on Capitol Hill. You know, that whole steroid "thing." So what must Clemens have been thinking if he watched Game 1 of Wednesday evening's World Series between the
New York Yankees
and the
Philadelphia Phillies
? He had to be watching, right? Perhaps he saw the player introductions and heard the roar of approval for Yankees Game 3 starter
Andy Pettitte
, his former teammate, workout partner and confidant who, according to The Rocket, "misremembered" their conversations about performance enhancers. Pettitte lied initially about his own use of human growth hormone, but later admitted he did the HGH deed. And now he is cheered, as if nothing happened. The same goes for
Alex Rodriguez
, another former teammate of Clemens'. Rodriguez lied for years about his use of steroids before doing a truth U-turn this past spring. Infidelity. Divorce. PEDs. Hip surgery. All has been forgiven of A-Rod -- just as long as he keeps hitting. Meanwhile, Clemens, in virtual hiding, clings to his story of innocence, even if his story has more holes than a bat rack. The man who craved, demanded and expected respect now gets none. "He has been eradicated," said lawyer Richard Emery, who represents Clemens' accuser and former personal trainer, Brian McNamee. "It's like Harry Potter: 'He whose name cannot be spoken.' "This is the ultimate self-inflicted wound. He had to lie about Brian instead of embracing his humiliation like the others did." The others -- Pettitte and Rodriguez, who reluctantly embraced their humiliation -- are idolized and celebrated. Short-term memory is a wonderful thing, especially for Yankees fans.
Cliff Lee
do what Clemens used to do: dominate, exasperate and utterly neutralize a lineup. Except that nobody has ever accused Lee of juicing up. The Yankees dinged Lee for five singles and a double. Otherwise, Lee was virtually unhittable. A 6-1 win. Ten K's. The run was unearned. Even though the Yankees lost, and A-Rod took the oh-fer (three strikeouts) and Pettitte doesn't pitch until Saturday, it had to be strange for Clemens to listen to the adulation given them by the crowd of 50,207. After all, Clemens was on the last Yankees team to reach a World Series (2003) and the last Yankees team to win one (2000). He played with Jeter, with
Jorge Posada
,
Hideki Matsui
,
Robinson Cano
,
Melky Cabrera
,
Johnny Damon
. And A-Rod and Pettitte. "Pettitte was smart right from the beginning," Emery said of Pettitte's public admission. "Everyone else has gone to school on Clemens." Translation: Clemens' public relations GPS was pointed in the absolute wrong direction. Every time he opened his mouth -- to Mike Wallace and "60 Minutes," to reporters, to that congressional hearing -- Clemens sounded more guilty and McNamee, no saint in this ongoing drama, sounded more credible. There are banners and monuments and mementos of Yankees past and present in this place. But during my walk inside and outside this gorgeous stadium, I saw no reference to Clemens. Even in the Yankees Museum, located on that 200 Level, just a sacrifice bunt's distance from Chiavelli's memorabilia booth, there was no sign of the man who won 83 games (20-3 in '01) and pitched more than 1,100 innings for the Yanks. On the Yankees Ball Finder, a touch-screen computer in the museum, you could scroll through the C's and find Pat Clements and Tex Clevenger, even the infamous Godfather of 'Roids himself, Jose Canseco. Maybe it was a coincidence, maybe it wasn't, but the room's Ball Wall of autographed Yankee baseballs didn't include one signed by Clemens. "The ball's in the office," said a museum worker, adding that the wall exhibit wasn't finished yet. As I walked toward the museum exit, the huge projection TV inside the room replayed a highlight of a Yankee hitting his 500th career home run. Several Yankees fans stopped to admire the footage. The player? Rodriguez. No 3-for-$10 bin for him.
Gene Wojciechowski is the senior national columnist for ESPN.com. You can contact him at gene.wojciechowski@espn3.com. Hear Gene's podcasts and ESPN Radio appearances by clicking here.
WORLD SERIES GAME 1: PHILLIES 6, YANKEES 1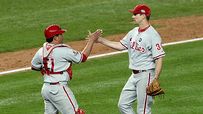 Behind Cliff Lee's gem and Chase Utley's power, the Phillies went into the Bronx and beat the Yankees in Game 1. World Series page »
STORIES
VIDEO
MOST SENT STORIES ON ESPN.COM