Commentary
Saints are Super Bowl-bound unless …
… the Vikings make just as persuasive an argument to win the NFC title instead
I'm 100 percent sure the New Orleans Saints will beat the Minnesota Vikings in Sunday's NFC Championship Game. Other than getting lucky on your wedding night, this is the closest thing to a lock.
Seriously, how can you not pick the Saints? They're the No. 1 seed and have the No. 1 scoring offense in the league.
Big whoop. The Vikings are the No. 2 seed and have the No. 2 scoring offense (29.4 points per game versus the Saints' 31.9), so it's not as if the Saints' O has lapped the field.
OK, I'm 95 percent sure. But did you see what the Saints did to the
Arizona Cardinals
in the divisional-round playoffs? Beat them by 31.
Minnesota beat the Dallas Cowboys by 31, too. Those are the same Cowboys who beat the Saints 24-17.
Fine. I'm 90 percent sure. By the way, did I mention the game is in the Superdome? Ever had 70,149 people "Who Dat"-ing you into submission? They say the Metrodome is loud. Please. The Metrodome is the Omaha String Quartet compared with the Superdome. It's the only stadium that can cause ear bleeds.
Some home-field advantage. The Saints lost their last two home games of the regular season -- to the Cowboys on Dec. 19 and to the crummy Tampa Bay Buccaneers on Dec. 27.
[+] Enlarge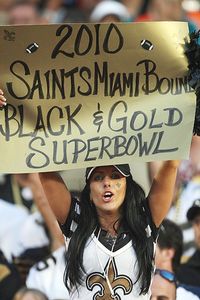 Doug Benc/Getty ImagesPack your bags, Saints fans. Just like her sign says, you're Super Bowl-bound unless …
So? Since Minnesota's bye week, the Vikings are 0-3 on the road. Get them outside Minneapolis, and they melt like snowflakes on a hot plate. Their defense gives up 22-plus more points and 167-plus more yards per game on the road than at home. And three of their four road wins of the season came at Cleveland, Detroit and St. Louis (combined record: 8-40).
Whatever. The Vikings didn't lose a game at home; the Saints lost two.
Look, even if I'm just 85 percent sure, it doesn't change this little statistical gem dug up by ESPN's Stats & Information staff: Since 1966, dome teams are 1-11 in conference championships on the road. Vikings = road dome team = loss to Saints.
Nice try. Of those 12 games, 11 were played outdoors. When the visiting dome team played the home dome team (Atlanta at Minnesota in 1998), the Falcons won.
Was hoping you would miss that. OK, 80 percent. But admit it: You're worried about the knee injury to Vikings defensive end
Ray Edwards
.
You mean the guy who had three sacks and six hurries against the Cowboys? The guy who was Velcro'd to Tony Romo? Vikings coach Brad Childress says Edwards and his MCL sprain should be fine by Sunday.
That's good for the Vikings, bad for the Saints. Still, a 75 percent certainty factor works for me. Plus, the Saints have quarterback
Drew Brees
, the No. 1-rated quarterback in the NFL.
And Brett Favre was No. 2. By 2.4 ratings points. In fact, their numbers are scarily similar (same number of regular-season completions, almost identical passing yardage). Include the divisional playoff games, and Favre and Brees each have 37 touchdown passes this season.
But Favre is 40 and sings "Pants on the Ground."
And Brees is a "Gleek" who watches the weekly mash-ups with his wife. So what?
I'm just saying that Favre is the oldest quarterback to win a playoff game. And he hasn't done too well in playoff games in recent years. Since 1999, he's 4-6 in the postseason, including 0-1 in conference championships.
Brees is 2-2 in the playoffs, including 0-1 in conference championships. And who knows whether it will really matter, but the Saints are one of just five teams without a Super Bowl appearance. Sphincter factor? Favre already has been to two Super Bowls and played in four conference title games.
[+] Enlarge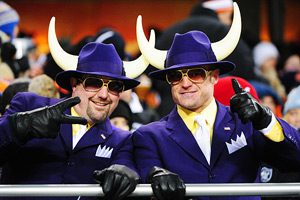 Kyle Terada/US Presswire… these guys have great reasons to book seats to Miami for next month instead.
You're killing me. Let's make it 70 percent sure -- but that's as low as I go.
Don't get me wrong. The Saints are formidable. The smart guys in Vegas have them as four-point favorites.
Makes sense. Did you see what
Reggie Bush
did against the Cardinals last week? He rushed for 84 yards and a touchdown and also returned a punt for a score. Electric stuff.
Electric last week, but what about the previous weeks? In his 14 regular-season games, Bush rushed for 37 or fewer yards in 12 of them. He's dynamic but also inconsistent.
Adrian Peterson
hasn't exactly dominated this season. He has only three 100-plus-yard games. Another telling stat: He has averaged fewer than 4 yards per carry in 10 of his 17 games.
Yeah, you're right; the Vikings should cut him. Hellloooooo. He still had 1,383 rushing yards, 436 receiving yards and 18 touchdowns.
Brees. Bush. Receivers to die for. Depth at running back. Solid offensive line.
And the 25th-ranked defense in the NFL. Gave up 357.8 yards per game during the regular season.
That 25th-ranked defense held Arizona and
Kurt Warner
to 14 points.
The sixth-ranked Vikings defense held Dallas to three points.
Sigh. Sixty percent positive about New Orleans. But remember, the Saints bring the wood.
The Vikings bring Edwards and Jared Allen.
I give up. Fifty percent sure. It's a toss-up.
See? We do agree.
Gene Wojciechowski is the senior national columnist for ESPN.com. You can contact him at gene.wojciechowski@espn3.com. Hear Gene's podcasts and ESPN Radio appearances by clicking here.
Columnist / College Football reporter
ESPN.com senior national columnist
Joined ESPN in 1998
Author of "The Last Great Game"
SPONSORED HEADLINES
ESPN TOP HEADLINES
MOST SENT STORIES ON ESPN.COM
2009 NFL PLAYOFFS: ROAD TO MIAMI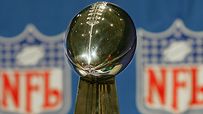 Who will supplant the Steelers as champions? The Colts and Saints will square off in Super Bowl XLIV on Feb. 7 in Miami.
COMMENTARY/BLOGS
CHAMPIONSHIP GAMES
Colts 30, Jets 17
Saints 31, Vikings 28 (OT)
DIVISIONAL ROUND
Vikings 34, Cowboys 3
Jets 17, Chargers 14
Saints 45, Cardinals 14
Colts 20, Ravens 3
WILD-CARD GAMES
Jets 24, Bengals 14
Cowboys 34, Eagles 14
Ravens 33, Patriots 14
Cardinals 51, Packers 45 OT
ESPN FAN SHOP