Commentary
Compton embarks on U.S. Open journey
PEBBLE BEACH, Calif. -- Rule No. 1 in sports journalism: No cheering in the press box.
Rule No. 2: Unless it's Erik Compton.
Compton qualified a week ago for the U.S. Open. He did it the day after shooting a disastrous 82 in the final round of the Memorial Tournament. It took him 36 nerve-racking holes, plus another three-hole playoff, before the USGA punched his first ticket to an Open appearance. Check that -- his first majors appearance.
[+] Enlarge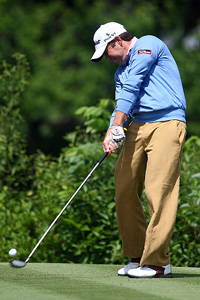 Scott Halleran/Getty ImagesErik Compton will compete in his first U.S. Open, and first major championship, this week at Pebble Beach.
"I would never really change my life, because I've experienced so much," Compton said. "I've been able to drive through things. I just keep plugging away."
Gee, that's nice, you say. But aren't there are a handful of unknowns such as Compton who squirm and squeeze their way into an Open field every June? And don't they all have their little backstories of gutting it out and playing with heart?
Yes, they do. Except that Compton is playing with someone else's heart.
His own heart called it quits when he was 12 years old -- Feb. 26, 1992, to be exact. That's when surgeons at Miami's Jackson Memorial Hospital replaced his diseased heart with one from a 15-year-old donor who had been killed by a drunk driver. Her name was Jannine, and she gave Compton the best 16 years she never had.
In May 2008, Jannine's heart, having done all it could, was replaced with Isaac's heart. Isaac, a University of Dayton volleyball player, was killed by a hit-and-run driver. And yet here they are -- Compton, Jannine and Isaac -- together at gorgeous Pebble Beach in a spiritual and physical way that defies explanation.
"I still think of them as a part of me," Compton said.
He shouldn't be alive. Compton, 30, admitted as much. The cardiomyopathy could have done him in years ago. Or his body could have rejected Jannine's heart. Or the heart attack he suffered in 2007 could have killed him. Or Isaac's heart could have failed.
As it is, Compton's body has more staple scars than a dorm hall bulletin board. His chest has been cracked open like an oyster shell. And he has no feeling in his upper left leg, thanks to the heart/lung machine lines they ran between his groin and thigh.
"I tell my wife, 'It's not a marathon who lives the longest; it's the quality of your life,'" Compton said. "It's not really a race."
That's not exactly true. Compton tries to cram as much quality into his life as possible. We live day to day; Compton lives minute to minute, second to second.
U.S. Open on ESPN, ESPN3.com

Friday
• 1-3 p.m. ET (ESPN, ESPN3.com)
• 3-5 p.m. ET (NBC)
• 5-10 p.m. ET (ESPN, ESPN3.com)
•
Championship Central
Makes sense. This is a guy who has said his final goodbyes to family and friends on more than one occasion. You tend to do that when you know surgeons are going to remove your heart from your chest cavity.
Compton has reconciled life and death because he didn't have any choice. He has asked himself the kinds of questions few people face -- and even fewer people can answer.
For instance: Why does he live, but Jannine and Isaac don't? And always in the back of his mind is the same question: "How long is this heart going to last?"
"I am on my third heart," he said. "My heart was out of my chest. So I've been blessed and lucky to have the stars aligned. … You have to be lucky, and I've been lucky along the way."
Compton has made qualifying runs at majors in the past, but could never put two rounds of golf together. He'd shoot a 66 in the opening 18 and a 79 in the closing round. Part of it was nerves, but part of it was the cumulative physical effects on his body.
Last Monday was different. He was tired (try walking 36 holes under normal circumstances, much less with a transplanted heart and the pressure of Open qualifying), but this time Compton kept grinding away. If he two-putted on the final hole of regulation, he was in. Instead, he three-jacked from 30 feet.
"I went down to the locker room and screamed at myself for a few minutes," he said. "Then I was eerily calm. I knew it was my time. I wasn't going to let anybody take it from me."
A kick-in par on the third playoff hole earned him the final Open spot from the sectional. Five days later he was standing on the No. 1 tee box at Pebble for a nine-hole mini-practice round. He had walked parts of the course years ago, but had never played it -- until this past Saturday.
"Pretty special place, man," he said, not bothering to hide the excitement in his voice.
Will he win the Open? I hope so. So does his wife, Barbara, and his father, Peter, and all the friends and family making the trip to Pebble this week. And so does Isaac's family, who met Compton a year ago at the Memorial (fitting name, eh?).
Compton shouldn't be alive, but he is. He could have wilted during the sectional playoff, but he didn't. He might be defined by Thursday's and Friday's Open scorecards, but he won't -- at least not by me.
U.S. Open tee times
From top-10 players eyeing a victory to amateurs in their first major championship, ESPN.com has all the U.S. Open tee times. Full list
"Greatness is greatness," said Compton, who has relied on sponsor exemptions to play on tour this season. "I told my wife I just want to feel the feeling of greatness. I'd love to feel what those guys feel who win every four, five weeks. Or maybe my feeling of greatness is qualifying for the Open."
He said this as his 14-month-old daughter, Petra, cooed and giggled in the background. Petra was born Feb. 22, but her due date was the 26th -- the same day Compton received his first transplant.
Anyway, there's only one word you can use to describe Compton's story.
Heartwarming.
Gene Wojciechowski is the senior national columnist for ESPN.com. You can contact him at gene.wojciechowski@espn.com. Hear Gene's podcasts and ESPN Radio appearances by clicking here.
Columnist / College Football reporter
ESPN.com senior national columnist
Joined ESPN in 1998
Author of "The Last Great Game"
SPONSORED HEADLINES
ESPN TOP HEADLINES
MOST SENT STORIES ON ESPN.COM
2010 U.S. OPEN

At a U.S. Open that will likely always be defined by failure, Graeme McDowell turned what was a final-day fiasco for just about everyone else into the highlight of a lifetime. Bob Harig | Championship Central
2010 champion:
Graeme McDowell
Course:
Pebble Beach Golf Links
Where:
Pebble Beach, Calif.
Yardage, par:
7,040 yards, par-71
MONDAY
SUNDAY
SATURDAY
EARLIER COVERAGE
GOLFDIGEST.com
USOPEN.com