Commentary
Floundering flatstick does in Lefty
PEBBLE BEACH, Calif. -- The best thing you can say about Phil Mickelson's first round at the U.S. Open is that no children or animals were harmed in its making. And according to the official Lefty post-round analysis, his chances of winning the championship also escaped serious injury.
Mickelson shot a four-over-par 75, a spectacular performance had the wind been blowing hard enough to send Phil's caddie, the 2-iron-thin Bones Mackay, tumbling into Stillwater Cove. But it wasn't windy -- at least, not by Pebble Beach standards. And it wasn't rainy. Or cold. Or anything but Scarlett Johansson gorgeous.
And Mickelson still shot a 75. Not only shot a 75, but recorded his first birdie-less majors round since 2007. Before that, he had exactly one birdie-free performance in his previous 156 majors rounds.
"Obviously I didn't score well," said Mickelson, in a no-duh moment. "But I thought I played pretty well other than putting. I just putted horrific."
Yes, well, I thought I wrote pretty well other than nouns and verbs.
At times it looked as if Mickelson was putting with a broomstick. He missed a 3-footer, two 5-footers and two 10-footers. He had the putting touch of Shrek.
"It's just frustrating," he said. "I came in here prepared. I came in here ready. I hit a lot of good shots today. I gave myself a lot of birdie opportunities and putted terrible."
Mickelson didn't putt particularly well during his practice rounds, but a week ago, while working with putting guru Dave Stockton, he couldn't miss. Then came Round 1 and his putts went lefty and righty on Pebble's poa annua greens.
[+] Enlarge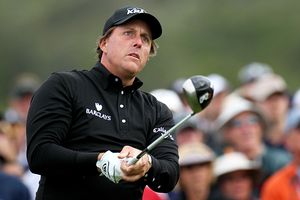 Stephen Dunn/Getty ImagesFor the first time since 2007, Phil Mickelson played a round in a major without a single birdie.
"I think I may have keyed in on it on the putting green," said Mickelson, "but I'll call [Stockton] and talk and see if he saw anything. ... It's just a minor tweak here or there."
Generally speaking, the U.S. Open isn't where you want to do any reconstructive work with your swing or stroke. But if Mickelson says it's nothing more than a setup problem or a minor stroke adjustment, then I believe him.
But Mickelson didn't just putt lousy; he timed his 75 lousy. On a day when the weather and the USGA were in friendly moods, Mickelson failed to take advantage of the conditions and course setup. Pebble had teeth, but they weren't their usual sharpened selves.
Padraig Harrington, who was in the same threesome as Mickelson, said the greens were "quite receptive." In U.S. Open-speak, that means they weren't as hard as Pebble's seawalls. Plus, the pin placements weren't set by Satan and the rough wasn't taller than Tim Clark.
"You would have felt the scoring would have been better than it was," Harrington said.
Mickelson knew it, too. "I thought that the golf course was set up perfectly," he said. "It was very playable. There was some scoring out there if you played well."
Mickelson didn't play well. He played weirdly.
There were the missed putts, of course, but also some other curious swings, like his 5-iron shot on the par-3 No. 17, which landed in the gunk, couldn't be found and required a penalty drop. Hello, bogey.
U.S. Open on ESPN, ESPN3.com

Friday
• 1-3 p.m. ET (ESPN, ESPN3.com)
• 3-5 p.m. ET (NBC)
• 5-10 p.m. ET (ESPN, ESPN3.com)
•
Championship Central
His second shot on the achingly beautiful par-5 No. 18 was a disaster. Situated behind a tree in the fairway, Mickelson tried to hook a ball into a greenside bunker. Instead, it hooked into the seawall, caromed high in the air and then disappeared into the water like a sea lion.
There was also an incident on No. 4, when he left his second shot in a long fairway bunker. After hitting the shot, Mickelson began to smooth over his footprints with his shoe, but then froze midway through the rake job. An official was consulted to determine if Mickelson had violated the rule about testing the condition of the sand.
"I wasn't sure if I was able to do that," said Mickelson of the sand comb-over, "but I was."
So there was the putting. The gunk. The seawall. The foot rake. The birdie-free zone.
It could have been worse. He could have been dressed in all pink like Ryo Ishikawa. Ishikawa looked like he belonged in an Easter basket, not a U.S. Open. Meanwhile, Mickelson went with the full Johnny Cash look -- all black, including dimpled pants.
Mickelson nearly shot his age on his first nine of the day. He turned 40 on Wednesday. He shot 39 in the first nine on Thursday.
"I don't mind making a bad swing here or there, making a bogey here or there -- it's part of the U.S. Open," he said. "I thought going without any doubles [double-bogeys] was good, but I've got to make birdies."
He had his chance Thursday. He had more than a few chances. But one 75 isn't lethal. Mickelson is still within easy viewing distance of the leaders.
"We have three rounds left and I know if I shoot under par [Friday] I'll be right there," he said. "There's no way under par is going to win here, I don't believe. I think over par will win and because of that I'm right there. But I need to play well. Putt well. Score well."
That's all. Play well. Putt well. Score well.
He was 0-for-3 on Thursday. Another oh-fer on Friday and it could be farewell.
Gene Wojciechowski is the senior national columnist for ESPN.com. You can contact him at gene.wojciechowski@espn.com. Hear Gene's podcasts and ESPN Radio appearances by clicking here.
Columnist / College Football reporter
ESPN.com senior national columnist
Joined ESPN in 1998
Author of "The Last Great Game"
SPONSORED HEADLINES
ESPN TOP HEADLINES
MOST SENT STORIES ON ESPN.COM
2010 U.S. OPEN

At a U.S. Open that will likely always be defined by failure, Graeme McDowell turned what was a final-day fiasco for just about everyone else into the highlight of a lifetime. Bob Harig | Championship Central
2010 champion:
Graeme McDowell
Course:
Pebble Beach Golf Links
Where:
Pebble Beach, Calif.
Yardage, par:
7,040 yards, par-71
MONDAY
SUNDAY
SATURDAY
EARLIER COVERAGE
GOLFDIGEST.com
USOPEN.com