Commentary
The doctor knows nothing's certain
BETHESDA, Md. -- The doctor on the other end of the phone knew all about Rory McIlroy.
"I think he's a nice young player," said the man from Oklahoma City. "I watched him a little bit at Augusta when he messed up there at the end. ... That's what happened to me. No matter what you do sometimes, you can't seem to make it happen the way you'd like it."
The man with the Oklahoma twang was Dr. Gil Morgan. Maybe you remember him. If you don't, you should.
Morgan was the first player to reach 12 under at a U.S. Open. He did it at the 1992 Open at Pebble Beach. Eight years later, Tiger Woods did it at Pebble. The difference? Woods won by 15; Morgan didn't. He had a seven-stroke lead after 43 holes, a one-stroke lead after 54 ... and finished tied for 13th.
[+] Enlarge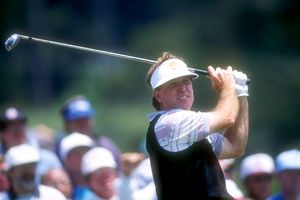 Gary Newkirk/Getty ImagesIn 1992, Gil Morgan became the first player to reach 12 under par at a U.S. Open. A 77-81 weekend saw him drop like a rock at Pebble Beach.
It was a collapse that made Morgan famous. Or infamous. Not as famous as Tom Kite, who actually won the championship, but it's hard to forget Morgan's four-round descent into golf hell:
Thursday -- 66.
Friday -- 69.
Saturday -- 77.
Sunday -- 81.
That's why Morgan takes a special interest in McIlroy, who gagged away a four-stroke Masters lead on the final day. He was McIlroy in 1992. Big lead. Then tiny lead. Then train wreck.
Morgan's collapse came three months shy of his 46th birthday. It happened to McIlroy at Augusta National less than a month before Rory's 22nd birthday. Old guy. Young guy. But same heartache.
"I was really rooting for him at Augusta," said Morgan, who now plays on the Champions Tour. "I thought it would be great for him to win that championship. It was sad he had such a problem in that last round."
McIlroy didn't have a "problem," he had a meltdown. No meltdowns here, though.
During Friday's round he became the first player in U.S. Open history to reach the 13-under mark. Then came 14 under on Saturday. And now he has double the lead he had going into the final round of the Masters. He can't ralph that one away, can he?
"You never know exactly what's going to happen in a major championship," Morgan said. "A lot of things can happen."
A lot of things happened -- almost all of them disastrous -- during McIlroy's Sunday round of 80 at Augusta. But he arrived at Congressional Country Club three months later with new everything: attitude (a little cocky, even golf arrogant), putting guru (Dave Stockton Sr.) and perspective (a recent trip to Haiti took care of that).
He shot 65 here Thursday, then 66, then a smartly played, pick-your-spots-to-be-aggressive 68 on Saturday. He's at 14 under. He would have to get run over by a U.S. Open courtesy car to lose this thing.
It's hard to find any other pros who think he won't win. His nightly dinner mate Lee Westwood, who's at 5 under, reminded reporters of McIlroy's Masters lead and that "he didn't deal with it well."
It was a nice try, but I'm not sure even Westwood believes McIlroy can go back-to-back on majors gags. In fact, fellow Northern Irishman Graeme McDowell, who won last year's Open, said he already has his Sunday post-round plans in place.
"Once I step out on the 18th tomorrow, it's a chance to get a cold beer and watch the wee man do it," said McDowell.
Morgan will be watching too. He can identify with everything McIlroy is going through, except the likely U.S. Open victory.
"I can kind of understand," said Morgan, 64. "When I got to 12 [under] at Pebble in '92, it seemed pretty easy, which is probably how he feels. During that time, for me, it didn't even seem hard at that time. When things are going good it seems pretty simple at times.
"But sometimes when it turns around, there's not anything you can do about it."
Weird. McIlroy, who was 3 when Morgan played Pebble that year, used almost the exact same words after Friday's round. Remember?
"I'm feeling good, feeling very good," McIlroy said. "It's funny to me, you know, it feels quite simple."
It was the same way for Morgan. And then it wasn't.
Unlike Morgan, McIlroy won't have to worry about gusts off the Pacific Ocean. Or 45-year-old nerves. Or beginning the final round with only a one-shot lead. Everything is in his favor.
"His play has been pretty spectacular," Morgan said. "Augusta may have been a learning process for him. He has a lot more chances. I didn't have a lot of chances."
Morgan, who recently shot his age, watched McIlroy play a little on Thursday, saw some of the TV replay Friday, tuned in for Saturday's round, and will watch again Sunday. He loves a good comeback story.
You can't blame him. He and McIlroy are connected by those remarkable double-digit, under-par Open performances. And by the pain of a majors collapse.
Barring the unthinkable, McIlroy will do what Morgan didn't: hoist the Open trophy in triumph. He'll have a fan in Oklahoma.
"I'll be rooting for him," Morgan said.
He won't be alone.
Gene Wojciechowski is the senior national columnist for ESPN.com. You can contact him at gene.wojciechowski@espn.com. Hear Gene's podcasts and ESPN Radio appearances by clicking here. And don't forget to follow him on Twitter @GenoEspn.
Columnist / College Football reporter
ESPN.com senior national columnist
Joined ESPN in 1998
Author of "The Last Great Game"
SPONSORED HEADLINES
ESPN TOP HEADLINES
MOST SENT STORIES ON ESPN.COM
2011 U.S. OPEN
Now that Rory McIlroy owns major championship victory No. 1 at just 22 years old, let the Tiger Woods comparisons commence. Gene Wojciechowski
Championship Central
2011 champion:
Rory McIlroy
Course:
Congressional CC, Blue Course
Where:
Bethesda, Md.
Yardage, par:
7,574 yards, par-71
SUNDAY
SATURDAY
VIDEO
OFFICIAL SITE