Commentary
Tiger Woods won't win, and that's OK
JOHNS CREEK, Ga. -- Twenty years ago, John Daly and his monster mullet pulled into the parking lot at Crooked Stick Golf Club. He was the ninth alternate for the 1991 PGA Championship and nobody knew who he was, how he got there or what he was going to do.
Four days later he left with the Wanamaker Trophy.
Incredibly enough, Tiger Woods is now the 2011 Daly -- but without the Kenny Powers/"Eastbound and Down" mullet. He has become the ultimate golf question mark.
We know who Tiger is, but after 17 years in the national consciousness, we still don't really know him. His doing, not ours.
We know how he got here (four-time PGA Championship winner, top-50 world ranking), but we don't have a clue how much Old Tiger remains in Post-Fire Hydrant Tiger.
[+] Enlarge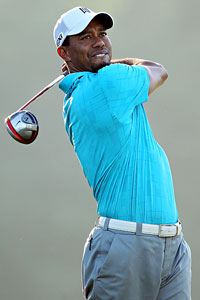 Andrew Redington/Getty ImagesTiger Woods hasn't won a major since the 2008 U.S. Open. Will he turn back the clock this week at Atlanta Athletic Club?
And just like Daly of 20 years ago, nobody, including Woods, knows how he's going to do this week at Atlanta Athletic Club. The Woods-O-Meter ranges from "Misses The Cut" to "Winning Major No. 15."
Asked to describe his realistic expectations for the PGA, Woods said "A W" -- as in a win. "You want me to elaborate? A nice W."
OK, I get it. What did anyone expect him to say, a T-59? This is a guy who has spent his entire life conditioned to finish first.
But realistically, Woods isn't going to leave here only three behind Jack Nicklaus' career majors record. In fact, there's a good chance Woods won't win at all this year, and a decent chance he won't even qualify for the PGA Tour's contrived FedEx Cup playoff system. And given the circumstances, there's nothing wrong with that.
It's time for everyone, including Woods, to use an updated dictionary when defining success for Tiger. And during his Wednesday news conference, Woods actually acknowledged -- in something of a first for him -- that while he wants to win, while he expects to win, that he doesn't have to win for this year to be considered a success.
"It would be nice [to win]," he said. "I mean, that's the goal, is to win every tournament I play in, so that's not going to change. But I think the first thing is I had to get healthy in order to get back to that level. I hadn't been able to practice, hadn't been able to work on my game with [swing coach] Sean [Foley]. I've been sidelined for a long time. It all started with being healthy first, and now I can start playing again."
This is as close as Woods comes to saying that in 2011, a W isn't as important as PF (pain free). It is a significant concession, because it shows just how much knee and Achilles injuries affected Woods.
"As I said, I was always trying to block out pain," he said. "That's not a lot of fun, to play through that. It's nice to have a kind of bounce in my step again and walk around these hills and not have to worry about hills."
Feeling good isn't the same as playing well. But it's a start.
"For all the time he had off, I think he looks pretty sharp," Foley said, as Woods completed nine holes of practice play Wednesday. "It makes it tough when you have all that pain. It takes all your energy from you."
Foley compared athletes' bodies to Indy cars: sensitive to the slightest change, exact, designed and set up for specific races. If that's so, then Woods just got out of the garage from repairs. He played in the recent no-cut WGC-Bridgestone Invitational, but that's about it for full tournament play in the past four months.

Get all of ESPN.com's latest news, highlights and commentary about the world's most talked-about golfer. Tiger Tracker
"He got last week under his belt, which was great to see him back competing again," buddy Darren Clarke said. "And I'm sure this week, if Tiger plays the golf he can play, I have no doubt he can be in contention this week."
But that's the problem when handicapping Woods these days: We don't know what kind of golf he can play anymore. That's not a Steve Williams rip job, but a fact.
Woods says his knee and Achilles tendon are healed and happy. He says his swing is finally back in one piece. He says he's hitting the ball farther and more flush than he has in months. And it's all true.
But the calendar and world rankings speak, too. The calendar says Woods has completed exactly one tournament since the Masters in early April, that he hasn't won a tour event since 2009 or a major since 2008. The world rankings say he has dropped from No. 1 in October 2010 to No. 30 in August 2011.
This week we'll hear from his PGA Championship scorecards.
There is no consensus on Woods' chances. That's because there are so many possibilities. Make cut, miss cut. Contend, fade. Win, watch on TV.
"It would surprise me if he went on and won in the next couple of weeks, just because coming off that injury, personally, for myself was very difficult, and I think everyone's going to feel the same way," said world No. 1 Luke Donald, who overcame wrist surgery in 2008.
"Tiger dominated for so long -- which he can come back," Bubba Watson said. "He was injured, so he could easily come back and dominate again."
Atlanta Athletic Club is lonnnngggg. Driving accuracy, not exactly a Tiger strength in recent years, is an absolute necessity here. It would also be nice if Woods and his putter could get on regular speaking terms.
He doesn't have to worry about the Stevie melodrama anymore; that's pretty much played out. He doesn't have to worry about limping around on one good leg, either.
"Yeah, just go out there and just play," Woods said. "This is a major and this is the fun part."
Fun and Woods? What a concept.
Gene Wojciechowski is the senior national columnist for ESPN.com. You can contact him at gene.wojciechowski@espn.com. Hear Gene's podcasts and ESPN Radio appearances by clicking here. And don't forget to follow him on Twitter @GenoEspn.
Columnist / College Football reporter
ESPN.com senior national columnist
Joined ESPN in 1998
Author of "The Last Great Game"
SPONSORED HEADLINES
ESPN TOP HEADLINES
MOST SENT STORIES ON ESPN.COM
2011 PGA CHAMPIONSHIP
From Johns Creek, Ga. to the shores of Cape Cod, Keegan Bradley's dramatic playoff win at the PGA Championship on Sunday rung true for a multitude of reasons. Gene Wojciechowski
Championship Central
Date:
August 11-14
2011 champion:
Keegan Bradley
Course:
Atlanta Athletic Club
Where:
Johns Creek, Ga.
Yardage, par:
7,467 yards, par-70
Past PGA champions:
Complete list