Commentary
NFL's future stars should pay attention to Vick's plight
Monday, in a federal courthouse in Richmond, Va., Michael Vick appeared before a U.S. district judge and admitted he was guilty of deceit, of depravity, of a multimillionaire's arrogance and of a superstar's ignorance.
The question is, will his peers in the NFL, as well as those players in the college and high school football pipeline, learn from Vick's spectacular mistakes? Can Vick unintentionally do good by providing such a detailed blueprint of what can happen when you do bad?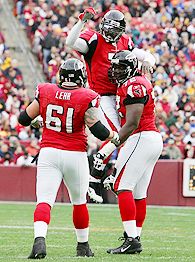 Jim McIsaac/Getty ImagesIt wasn't long ago that Michael Vick was on top of the world.
Vick is more than a cautionary tale; he's a textbook example of why athletes, even the richest and most celebrated, are exactly one galactically stupid decision away from ruin. And yet, they keep making the same errors in judgment, as if they can buy enough Kevlar to make them bulletproof from their own stupidity.
Vick used
Atlanta Falcons
money, or Nike money, or Coca-Cola money, or EA Sports money (hey, everybody loved Mike back then) to bankroll a gambling operation so repugnant that you need a barf bag to watch the footage of what happens when pit bulls are turned into canine gladiators. Even more repugnant is what Vick and the rest of his torture squad did to the dogs that underperformed in the sadistic training sessions. That's when Vick and two others who have entered pleas drowned, hanged or electrocuted the animals. Of course, in the clever, sterile and nuanced language of the plea agreement, Vick's lawyers refer to the killings by the disgraced quarterback and his accomplices as "the collective efforts." Anyway, thanks to the collective efforts of federal prosecutors, the three co-defendants who turned on him, and a Vick legal team that realized its client was toast, Vick made his deal with the government. A month ago he stood in the same Richmond courthouse and lied about his innocence, and then, knowing he was lying, had the audacity to ask for our patience and the chance to clear his "good name." He was an accomplished liar, having denied any wrongdoing to NFL commissioner Roger Goodell about three months earlier. Are you paying attention to this,
Reggie Bush
and
Vince Young
? Are you taking notes,
JaMarcus Russell
and
Brady Quinn
? Is this sinking in,
Darren McFadden
and
Brian Brohm
? You are part of the NFL's future, just like Vick was part of it, an important part of it, until he couldn't lie his way out of the dogfighting conspiracy charges. Now he's radioactive, the isotope 235 of athletes. Everything he touches dies: endorsements, Arthur Blank's bonus money, dogs. There is no such thing as bulletproof sports celebrity. Most players understand this. Spend just 15 minutes with
LaDainian Tomlinson
and you know he understands. The day Tomlinson's name appears on a police blotter is the day I officially give up on athletes. For every Vick, there are 10 Tomlinsons. For every
Pacman Jones
, there are 10
Deuce McAllisters
and
Drew Breeses
. For every
Tank Johnson
, there are 10
Warrick Dunns
,
Peyton Mannings
and
Derrick Brookses
. And yet Vick, by the sheer brutality of his actions, has managed to perform a solar eclipse of the NFL. He had so much in front of him. He had put so much distance behind him. Success seemed to be his best friend. Think about it: Vick was born in the projects of Newport News, Va., the son of a 17-year-old father and a 16-year-old mother. When he was an infant, his teenage father cradled him in his palms as they stood under the stars and, according to The Atlanta Journal-Constitution profile written in 2001, recited the famous line from "Roots": "Behold," said Michael Boddie as he held his child that night, "the only thing greater than yourself." Vick was a sports prodigy. You were rendered speechless by his talent. He was a star in high school. He was a star at Virginia Tech. He was destined to be a star in the NFL. "How can you pass on the guy?"
San Diego Chargers
running back
Fred McCrary
once told a Los Angeles Times reporter. "It's like taking Sam Bowie over Michael Jordan. It's not going to happen."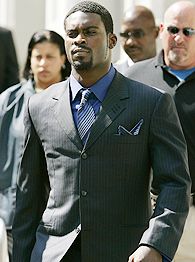 Haraz N. Ghanbari-Pool/Getty ImagesNo star wants to be where Michael Vick is now.
But it did happen. The Chargers traded down from the No. 1 overall position in the 2001 NFL draft to the No. 5 spot. The Falcons giddily took Vick. Dan Reeves, Atlanta's head coach at the time, would later say, "He's a great football player, but he's an exceptional young man who I think will set this franchise up for a long time to come."
A city and franchise rejoiced. Then-team president Taylor Smith received a standing ovation from fans during a draft-day function at Falcons headquarters. Vick was theirs. Meanwhile, the Journal-Constitution profile would later gush over the newly acquired quarterback, noting that on his mother's birthday Vick spent much of the day running in the woods with his dogs as they chased animals. "As much as he loves football," the Journal-Constitution observed, "Vick loves dogs." The Chargers? They made do with their Sam Bowie, a TCU running back by the name of Tomlinson. This was the same Tomlinson unwanted by the Falcons and passed over by the
Arizona Cardinals
at No. 2 (OT
Leonard Davis
), then the
Cleveland Browns
(DT
Gerard Warren
), then the
Cincinnati Bengals
(DE
Justin Smith
). As for Vick, he told reporters, "I feel the Lord has blessed me by sending me to Atlanta." The six-year, $62 million contract helped, too. Behold Vick. On magazine covers. On video game covers. On billboards. On TV. On front pages. On everything. Do you see where I'm going with this
Calvin Johnson
,
Early Doucet
and
Jimmy Clausen
? It can change in a heartbeat. In Vick's case, the last heartbeat of an electrocuted pit bull. One moment you're on the easy-money memorabilia circuit, the talk show circuit, the celeb red carpet circuit. You're buying an Escalade and a house for your mom. You've got that 4.35 speed, that 40-inch vertical, that achingly strong left arm. You make moves that cause veteran teammates to mutter, "Can't coach that." The next moment you're standing in front of U.S. District Judge Henry E. Hudson, your career, your reputation, your good name ... vaporized. Even your estranged father, whose apartment you pay the rent, piles on. This is the lesson Vick offers to the NFL's
Steven Jackson
,
Larry Johnson
,
Frank Gore
and
Willie Parker
. To the elite names on the 2007 draft board, such as
Glenn Dorsey
,
Jake Long
, and
Chad Henne
. To the emerging college stars such as
Tim Tebow
and Myron Rolle. To the 2007 top high school recruits such as
Julio Jones
and
Will Hill
. Vick is speaking to you from Richmond. Listen to every word.
Gene Wojciechowski is the senior national columnist for ESPN.com. You can contact him at gene.wojciechowski@espn3.com.
Columnist / College Football reporter
ESPN.com senior national columnist
Joined ESPN in 1998
Author of "The Last Great Game"
VICK SENTENCED TO 23 MONTHS

Michael Vick was sentenced to 23 months in federal prison and three years' probation for his role in a dogfighting conspiracy. The suspended Falcons quarterback is looking at a scheduled release of July 2009. Story
Update
•
GM: Falcons will attempt to trade Vick
•
Lawyer: Vick might move to halfway house
•
Former Vick estate fails to sell again
•
Vick house fails to sell at auction
•
Vick files for bankruptcy protection
•
Prosecutor: Vick's Virginia trial can wait
•
Vick ordered to repay Canadian bank $2.4 million
•
Judge denies NFL motion to reverse Vick ruling
•
Report: Vick not playing organized football in jail
•
Report: Vick passes time with prison-yard football
•
Vick's state dogfighting trial to begin June 27
•
Munson: Vick yet to enter drug treatment
The sentence
•
Vick sent to Kansas to serve rest of sentence
•
Vick asked judge for leniency before sentencing
•
Vick sentenced to 23 months
|
Document (pdf)
•
Poll: What do you think?
|
What they're saying
•
Clayton: Sentence puts career in jeopardy
•
Munson: Tough sentence by displeased judge
•
Teammates show support at Falcons game
•
Can Vick return to playing in NFL?
•
Pasquarelli: No longer top of mind in Atlanta
•
Last Vick co-defendant sentenced
•
Podcasts

:
Cossack

|
Schlereth

|
Munson/Naqi

|
Pasquarelli

•
Chat wrap: David Cornwell
Post Plea
•
NFL wants court to reverse Vick bonus ruling
•
Victory for Vick: QB can keep $20 million bonus
•
Fifth defendant in Vick case receives probation
•
Vick's house for sale for $1.1M
•
Some Falcons to visit Vick in prison
•
PETA unveils new e-card
•
Former Virginia estate fails to sell at auction
•
Out of Falcons' sight, almost out of mind
•
Judge's casework offers look at possible sentence
•
Remaining dogs placed with rescue groups
•
Source: Feds may push judge to up sentence
•
NFLPA argues Vick should not lose roster bonus
•
Vick co-defendants get 18, 21 months in prison
•
Vick agrees to put up almost $1M for dogs' care
•
Vick given April trial date on state charges
•
Vick surrenders to begin serving sentence early
•
Home at center of Vick dogfighting scandal sold
•
Vick fires one of his lawyers in dogfighting case
•
Man who sold Vick pit bull pleads guilty
•
Man connected to Vick dogfight ring pleads guilty
•
Third bank sues Vick, claims he defaulted on loan
•
Arbiter: Falcons have right to reclaim bonuses
•
PETA: Vick had class on animal cruelty
•
Evaluations show 48 of Vick's dogs placeable
•
Vick tests positive for marijuana
•
Vick supporters turn out for town meeting
•
Vick's apology notes fetch $10.2K at auction
Vick's Plea/NFL Suspension
•
Vick pleads guilty to federal dogfighting charge
•
The plea
(PDF) |
Statement of facts
(PDF)
• Vick's statement:
Watch it

|
Read it
•
Roger Cossack explains plea deal
•
Poll: Vick should be banned
•
Va. Tech, Beamer continue to support Vick
•
Vick supporters drown out protesters
•
NFL suspends Vick indefinitely
|
Goodell
(PDF)
•
Chris Mortensen on Vick's suspension
•
Vick files plea agreement admitting to dogfighting
Indictment
•
Marbury's about-face: Vick 'is 100 percent wrong'
•
National NAACP: Vick 'not a victim'
|
Audio

•
Atlanta NAACP: Vick should be allowed to return
•
Falcons come to terms with 'ex-teammate'
•
Vick timeline
|
What they're saying
•
Helyar: Even Atlanta turns against Vick
•
Goodell: Vick not overshadowing season
•
Vick co-defendant pleads guilty to charges
• Tony Taylor:
Summary of Facts
|
Plea agreement
•
Hometown residents stand by Vick
•
Falcons had planned to suspend Vick
•
Commish tells Vick to avoid camp
•
Vick indicted
|
The indictment (pdf)
|
Civil arrest warrant (pdf)
Town Hall meeting
•
Town Hall chat wrap: Chadiha
Previous columns/analysis
•
Munson: Q&A on Vick reporting to prison early
•
Munson: Looking at Judge Hudson
•
Vick's high school learning lessons
•
Bryant: Confounded by race issue
•
Munson: Q&A about local indictment
•
Munson: Next focus for Vick is length of sentence
•
Schlabach: Vick an afterthought on VT campus
•
Chadiha: Vick not running from truth
•
Hill: Coverage means bigger issues ignored
•
Wojciechowski: Pay attention to the fallen star
•
Bryant: Vick's plea deal comes with baggage
•
Bryant: In failing Vick, NFLPA fails itself
•
Munson: Vick plea means surrender
•
Forde: Vick's epic fall
•
Pasquarelli: Major blow for Falcons
•
Chadiha: Lots of lessons to be learned
•
Wojciechowski: Punishment with teeth
•
Easterbrook: Little sympathy?
•
Clayton: Vick's NFL future might be bleak
•
E-Ticket: A history of mistrust
•
Chadiha: Vick's bad choices
ESPN FAN SHOP