Commentary
A confident KJ will take his seat as Sacramento mayor
Updated:
August 6, 2009, 5:26 PM ET
By
Mark Kreidler
| Special to ESPN.com
Ten days before the vote on his first campaign for public office, former NBA guard Kevin Johnson stopped by City Hall in Sacramento, Calif., and, during a quick private tour, decided to sit in the mayor's chair to see how it fit. When no one but his aides were listening, he predicted a double-digit victory against his two-time incumbent opponent, though polls showed his lead only in the 4- to 8-point range.
And on the subsequent night of his resounding election as mayor of his hometown, Johnson rose to declare victory -- before his opponent had conceded -- and promptly compared himself with the next president of the United States, Barack Obama.
"Obama and myself, we ran on the promise and the theme of change," Johnson said. "No more business as usual."
[+] Enlarge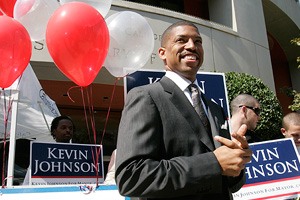 AP Photo/Rich PedroncelliKevin Johnson, appearing in Sacramento in September, linked himself to Senator Barack Obama after unseating two-term incumbent Heather Fargo.
This just in: A professional athlete's confidence is not necessarily confined to the field of play.
On Tuesday, Johnson, 42, won the most expensive mayoral race in Sacramento's history, a distinction that wasn't terribly difficult to earn considering the post wasn't a full-time job until about six years ago.
But when Sacramento voters opted for the change that an unproven Johnson represented, they also raised a national profile the likes of which their erstwhile sleepy local government has never known. They got Johnson the potential leader, but also Johnson the jock, a man who has lived most of his adult life in the public eye.
From the beginning, Johnson was unafraid to trumpet that. His campaign, though rooted in core concerns like improving school systems and fighting crime, seldom shied from his celebrity. Johnson's rallies featured current and former NBA stars Shaquille O'Neal, Charles Barkley and Magic Johnson. His personal wealth and far-flung fundraising ability (Warren Buffett, among others, contributed to the campaign) allowed him to outspend his opponent by nearly 3-to-1 in a race that cost nearly $2 million total.
On Tuesday night, that opponent, Mayor Heather Fargo, appeared almost flabbergasted as the returns rolled in and she faced the magnitude of her defeat to the first African-American mayor-elect of the city. Sacramento voters overwhelmingly went for Johnson despite his never having served on a city council or a municipal committee; his lead was put at 57 percent to 43 percent, with absentee ballots expected to tighten the final numbers only somewhat.
More from ESPN Radio

The road to victory was a long and difficult one for Kevin Johnson, who talked about getting some help from friends like Magic Johnson and Charles Barkley. Podcast

But Johnson, the former Cal star who spent most of his NBA career in Phoenix, expected the outcome. From the start, he campaigned as if he were trying to bring home a victory in the fourth quarter, not stage a comeback. He campaigned from a position of confidence.
He also promised to use his celebrity for good, tapping his national resources -- and his ability to get cameras rolling wherever he shows up -- to elevate Sacramento's public profile and end its tenure as a mere stopover between San Francisco and Lake Tahoe.
"We should be a destination place," Johnson said.
Whether Johnson can deliver on any such promise during a time of fiscal crisis remains to be seen; among other things, Sacramento is projecting a $40 million budget deficit for the coming year. But Johnson does bring celebrity to a position in which a little celebrity probably doesn't hurt.
Californians are familiar with this script. They elected a governor, Arnold Schwarzenegger, with a worldwide following and no governmental experience. And like Schwarzenegger, Johnson comes with the baggage that a life lived in public view would suggest.
Despite his enormous popularity among likely voters in his hometown, Johnson had to brush off several issues and survive a few mini-dramas en route to election. He was dogged by complaints that he had inappropriate relationships with teenage girls in both Phoenix and Sacramento, though Johnson, who strongly denied the claims, was not charged in either incident, and the allegations were not proved.
More recently, Johnson's St. HOPE community development corporation, which among other things runs a charter high school, was found by the AmeriCorps agency to have misused federal funds, paying workers to run Johnson's personal errands and wash his car. Johnson said several times he has done nothing wrong, but the St. Hope Academy and a former administrator have been placed on a list of those suspended from receiving federal funds.
And just last week, Johnson found himself in controversy again for sitting in the mayor's chair during that tour of City Hall. The private, after-hours tour violated city policy but broke no laws -- but the private security guard who let Johnson in was fired by his company.
Sacramento voters were willing to look past those issues in favor of a future in which a more high-profile mayor might make a difference. For sports fans, that particularly means Johnson might succeed where his predecessor roundly failed: bringing to fruition the development of a new arena for the NBA's Kings.
For months, the league has been heavily involved in the negotiating and planning of a new facility, with commissioner David Stern even actively lending a hand. But in a time of financial turmoil and limited civic ability to contribute to construction, Johnson will face a significant challenge in moving the arena plan forward.
Johnson was typically upbeat on that and other issues Wednesday morning, as he awoke to the reality that he'll be sworn in Nov. 25 as mayor of Sacramento. Saying it was time to "roll up our sleeves and get to work," the man who grew up in the long-neglected Oak Park section of the city appeared ready to begin grappling with the city's budget issues.
And that security guard, the one who let Johnson sit in the mayor's chair 10 days before he was elected mayor?
"He doesn't have to worry by any means. He'll be taken care of," Johnson told The Sacramento Bee. "With all these people that raised me so much money, we'll make sure he gets a high-quality, high-paying job. All he was trying to do was help his city."
Mark Kreidler's book ""Six Good Innings," about the pressure of upholding a small-town Little League legacy, is in national release. His book "Four Days to Glory" has been optioned for film/TV development by ESPN Original Entertainment. A regular contributor to ESPN.com, Kreidler can be reached at mark@markkreidler.com.

Page 2
Regular contributor to ESPN.com
Author of "The Voodoo Wave" and "Six Good Innings"
Radio host, "The Rise Guys Show," Sacramento
COVERING THE 2008 ELECTION
The 2008 presidential election yielded the nation's first black president in Barack Obama (who relaxed by playing pickup basketball on the day of his election). But a number of sports-related stories were sprinkled throughout the country.

•
Munson:
What change is coming under Obama?
•
Kreidler:
Kevin Johnson a confident new mayor
•
Katz on playing basketball with Obama

•
McNabb, other NFL players savor Obama's win
•
LeBron: Obama's election 'uplifting'
•
Oregon State's Robinson sees brother-in-law become president
•
Sports winners: Kevin Johnson, Shuler, Wyche
•
Obama could boost Chicago's 2016 bid
•
ABCNews.com:
Complete coverage
---
Obama, McCain with Berman
Presidential candidates John McCain and Barack Obama spoke with ESPN's Chris Berman during halftime of Monday Night Football the night before the election.
•
Watch:
Obama
|
McCain
|
Story
|
Transcript
---
Previous coverage
•
"OTL:"
Obama's bench strength
|
Watch
•
"OTL:"
Watch: Palin talks high school hoops
•
"OTL:"
Pro sports donors
•
"OTL:"
Candidates Q&A
•
"OTL:"
Sports figures shy on politics
•
"SportsCenter":
Obama talks with Stuart Scott
•
McCain and Bob Ley
•
"E:60":
Cindy McCain takes the wheel
•
"E:60":
Love starting for Obama
•
Reilly:
Can Obama pick a fantasy team?
•
Watch: Ditka for president
MOST SENT STORIES ON ESPN.COM