Commentary
An answer to Andy Reid's QB quandary
Eagles coach's choice is clear after Kolb's sad debut, Vick's near-salvage job
PHILADELPHIA -- The Kevin Kolb era began much the same way as the Donovan McNabb era did 12 seasons earlier: with boos as thick as the low, gray clouds that hung over Lincoln Financial Field on Sunday afternoon. They were the kind of boos that made Philly fans famous.
But not even McNabb, discarded in the offseason for a pair of non-first-round draft picks, had a
Philadelphia Eagles
starting debut like this. Kolb got booed, got a concussion and got replaced.
Michael Vick
, the guy who replaced the guy who replaced McNabb, almost -- almost -- got the win. And because of it, the Eagles have an instant quarterback controversy -- or not, depending on the severity of Kolb's concussion and the level of commitment of Philly coach Andy Reid. What a bizarre, strangely compelling game this was. Just when you wanted to nod off, the Eagles made it interesting for us and way too interesting for the
Green Bay Packers
. What had been a 17-point Packers lead midway through the third quarter somehow morphed into the Eagles having the ball and a chance to tie the score in the final two minutes. It didn't happen. On fourth-and-1 at the Packers' 42, Vick was stuffed like cheesesteak into a roll. Green Bay got the ball, and
Aaron Rodgers
genuflected three times before the clock ran out. The Packers left with a 27-20 win, but it wasn't anything Rodgers is going to put on his Facebook page.
Clay Matthews
drove him into the turf like a tent stake. He completed 5 of 10 passes for 24 yards and was sacked twice. Had it been McNabb, he would have gotten a higher volume of quality boos. "I feel real bad for the guy," said Eagles wide receiver
Jeremy Maclin
. "He was more excited than anybody to go out there and play. … We still have faith in him." Kolb wasn't in a chatty mood afterward. As reporters approached his locker, an Eagles official made the universal hand gesture for, "He's not talking." But had Kolb talked, he would have been asked about the concussion, his future availability and, more importantly, why in the world he was allowed to return briefly to the game after the concussion. In fact, both Kolb and Eagles linebacker
Stewart Bradley
re-entered the game after suffering concussions. Bradley's return was especially strange, given that he had collapsed on the field like a punch-drunk boxer immediately after his injury.
Washington Redskins
uniform now and has yet to rip his former team. Airing dirty laundry has never been his style. But here's guessing he felt a certain satisfaction, a tinge of sadness and possibly a sense of relief. This is Kolb's team now. At least that's what Reid said after the game. Asked point-blank whether Kolb was still the starting quarterback (if healthy), Reid answered, "Yes." The Eagles and Reid have so much invested in Kolb that they almost don't have a choice but to stick with him. After all, Eagles management chose Kolb over McNabb. It wasn't so much that the Eagles didn't want McNabb. It was more that they didn't need him. They had younger Kolb fueled up and ready to go. And behind Kolb, they had Vick, the left-handed safety net/reclamation project.
Leonard Weaver
to a torn ACL. So gruesome was the injury that Eagles players had to look away when it was shown not once, but twice on the stadium big screen. They lost center
Jamaal Jackson
to a torn biceps and Kolb and Bradley to concussions. And they lost a game. "I think we all had a piece of this [defeat]," Reid said. "And like I mentioned before, I need to make sure that I put all of them in the right position." Here's an idea for the Week 2 game at Detroit: Put Vick in the starting quarterback position. After watching him Sunday, it's the only right thing to do.
Gene Wojciechowski is the senior national columnist for ESPN.com. You can contact him at gene.wojciechowski@espn.com. Hear Gene's podcasts and ESPN Radio appearances by clicking here.
NFL WEEK 1 COVERAGE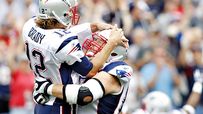 COMMENTARY/BLOGS
STADIUM TOUR
FOLLOW US ON TWITTER