Commentary
Grisly truth: Bears are lucky (if not good)
Chicago's painful-to-watch shutout of Miami latest win for Lovie's 'opportunists'
MIAMI -- No matter what happens between now and Sunday night, the Chicago Bears are going to be tied for the first- or second-most number of wins in the NFC.
I repeat, the Bears. Not only that, but at the very least, they're going to be tied for the division lead and need maybe two, possibly three more wins to lock down a playoff spot. But why stop there? The way things are going for the Bears, I can see them running the table on their schedule, capturing Osama bin Laden and brokering an airport pat-down compromise. A Super Bowl is a given. Bears fans, buy your plane tickets to JerryWorld now -- non-refundable. If you want to win Lotto, hang out with the Bears. If you want to find gold doubloons at the bottom of Lake Michigan, hang out with the Bears. They have become the official NFL sponsor of rabbits' feet, four-leaf clovers and rainbows. The Bears won their seventh game of the season Thursday night. Beat the
Miami Dolphins
16-0. It wasn't so much a game as it was a three-plus-hour colonoscopy. "We're winning games," Bears linebacker
Brian Urlacher
said. "That's all that matters to me."
Olin Kreutz
said. "What people are saying -- people are always going to say that. We went through '06, where we were 15-3 and every game we played … we sucked the whole year. So we ended up in the Super Bowl. We ended up NFC champs. For some reason, sometimes it's like that." The Bears are really, really OK, but they're not elite. Not yet. They have those seven precious victories, but I still can't put them on the same bookshelf as the NFC's
New York Giants
,
Philadelphia Eagles
,
Green Bay Packers
,
Atlanta Falcons
or
New Orleans Saints
. But if there's a break to be had, the Bears have gotten it. And more important, they've taken advantage of it. Every single one.
On Thursday evening at Sun Life Stadium, they took advantage of a Dolphins team that featured an emergency third-string center (Richie Incognito) snapping the ball to a third-string quarterback (Tyler Thigpen). The Dolphins' Pro Bowl wide receiver (Brandon Marshall) missed the entire second half with a hamstring injury. The Dolphins' Pro Bowl offensive tackle (Jake Long) played with a shoulder harness apparently borrowed from farm oxen.
So the Bears did what they were supposed to do: They showed zero mercy. Thigpen spent much of the evening running for his life or peeling himself from the turf. The Bears recorded their first shutout in four seasons.
Peyton Manning
or whether it's Tyler Thigpen," Bears linebacker
Lance Briggs
said. Thigpen wasn't Manning. He wasn't even Olivia Manning. The Bears' defense made him look terrible, but seriously, how do you judge the performance against a Miami offense decimated by injuries? It got so bad, I thought the Dolphins were going to ask Hall of Fame center Dwight Stephenson, who was part of a pregame and halftime ceremony, to suit up.
Jay Cutler
was sacked three times, was intercepted once (and it could have been more) and threw for only 156 yards. But he did just enough. Everybody did. The Bears are blessed. They beat the
Detroit Lions
in the season opener, but needed a
Matthew Stafford
injury and a bizarre, last-second nullified touchdown to do it. They beat the spectacularly underachieving
Dallas Cowboys
on the road for their second win. On the week they lost Cutler to a concussion, the schedule gods gave them the
Carolina Panthers
-- and a win. Carolina is 1-8 this season.
Buffalo Bills
. And they didn't even have to play the Bills in Buffalo. Instead, they faced them in Toronto. They got Win No. 6 against a
Minnesota Vikings
team that can't stand its coach and is without its best wide receiver. And then they threw a shutout against the Dolphins, who converted just one third down, had the ball nearly 16 fewer minutes than the Bears and saw
Ronnie Brown
and
Ricky Williams
rush for a combined 11 yards. The Bears have six games remaining, supposedly the toughest stretch of their schedule: Philadelphia Eagles, at Detroit,
New England Patriots
, at Minnesota,
New York Jets
and at Green Bay. I'm not buying it. The way things are going for the Bears,
Michael Vick
will quit football to write his best-selling autobiography, the Lions will forfeit,
Tom Brady
will skip the Bears game so he can compete in a hair-off with
Troy Polamalu
, the Vikings will stage an anti-Chilly boycott, Rex Ryan will suffer an M&Ms overdose and
Aaron Rodgers
will injure himself while doing the Lambeau Leap. Anything is possible with the Bears, including another visit to Dallas, this one in February. "That's what we're saying," Kreutz said. "That's what we're saying now: 'Why not us?'." You know what? Why not?
Gene Wojciechowski is the senior national columnist for ESPN.com. You can contact him at gene.wojciechowski@espn.com. Hear Gene's podcasts and ESPN Radio appearances by clicking here.
NFL WEEK 11 PREVIEW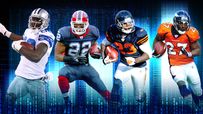 POWER RANKINGS
PICKS
FINAL WORD
TOM BRADY VS. PEYTON MANNING
HOT READ: VIKINGS' CIRCUS
THURS. NIGHT: Bears 16, Dolphins 0
COMMENTARY/BLOG POSTS
MNF: Broncos at Chargers, 8:30 ET
FANTASY FOOTBALL
NFL BLOG NETWORK
FOLLOW US ON TWITTER