Commentary
Outrage at HOF voting baseless
Changes in MLB culture, punditry since '95 don't mean voters should ditch precedent
Updated:
January 8, 2010, 10:46 PM ET
By
Howard Bryant
| ESPN.com
From the overheated outrage expressed by baseball fans, the blogosphere and, most embarrassingly, the ostensibly objective journalists over the fact that Andre Dawson was the only player elected to the Hall of Fame in 2010, it seemed as though voters who didn't choose Roberto Alomar had reduced the sum total of his spectacular accomplishments to being on par with the feats of, say, Marty Barrett, and that Barry Larkin's wonderful career was just slightly better than Gene Larkin's.
But in a stunning development, the sun came up following Wednesday's Hall of Fame induction announcement, the same way it had following every other election. What has changed isn't the voting but the baseball culture surrounding it. The reaction was unnecessarily noisy and -- surprise! -- completely lacking historical perspective.
[+] Enlarge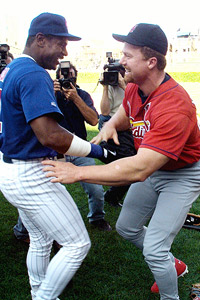 Jeff Haynes/AFP/Getty ImagesBaseball's culture was shifting when Sammy Sosa and Mark McGwire chased the single-season home run record.
Neither Alomar nor Larkin reached the golden threshold this year, yet little evidence exists that either will forever be refused induction. Alomar, who received 74.2 percent of the vote on his first attempt, will almost certainly be inducted next year. Larkin, who received 51.6 percent, has a tougher road but at some point over the next 14 years should be enshrined.
Two pivotal, fundamental changes in baseball culture have surrounded and smothered the process, however, and the result this year was faux anger that suggested a great injustice had been done to Alomar, when in fact voters behaved in a manner consistent with that of their predecessors.
The difference isn't the voting but the times. The way baseball has sold and marketed itself to the public since 1995 makes the 1994 strike a pivotal moment. Before the strike, players were seen as unfortunate obstacles to the owners' making money. After, players, management and the commissioner's office did not want to risk ever losing the public again, and the industry underwent a sea change of ceremonial orchestration: Moments were celebrated, milestones acknowledged.
Baseball did not waste a chance to inflate and commemorate its stars, as evidenced by its highest (lowest?) points:
Sammy Sosa
racing in from right field to hug
Mark McGwire
during the game
after McGwire had hit his 62nd home run in 1998; the Marlins and Yankees
stopping the game
during the 2003 World Series to give a retiring
Roger Clemens
a standing ovation, even though he would play four more years. Celebration was now in. Dissent, even if for one year, was out. After years of neglect, baseball had joined the memories business.
The second change is that the voting process has been hijacked by technology, with greater statistical analysis as well as the preponderance of opinions available on the Internet. The messengers, once less partisan, now are activists. The blogosphere, almost by definition, is not objective but rather reactive, comprised of Web sites whose origins are rooted in recognizing the mainstream media as the enemy, incompetent or both. The mainstream media -- which still includes many of the Hall of Fame's voters, often in need of a group hug or weary from constant abuse -- panders in turn.
HALL OF FAME REACTION
ESPN has 12 voters among its contributors. Roberto Alomar and Andre Dawson each got 92 percent (11) of their votes.
• Olney: Writers should drop vote


• Caple: Blyleven gains ground »
• Law: Dawson lowers bar for entry


• Neyer: '10 voting surprised everyone »
• How ESPN contributors voted »

Statistical analysis is cyclical, and thus players who produce certain figures -- the great OPS-ing of the Hall of Fame ballot -- get greater consideration, lest voters incur the wrath of the numbers people. Along with hundreds of blogs, Major League Baseball's content -- broadcast by its own network -- produces a tsunami of thought that at worst can intimidate and at the very least can influence voters.
Yes, Edgar Martinez joins Rogers Hornsby, Lou Gehrig, Babe Ruth, Ted Williams and Stan Musial as the only players to have a .300 batting average, 500 doubles and a .400 on-base percentage, but would anyone in his or her right mind actually choose to start a team with Martinez over any of those players?
The culture of instant gratification, combined with the institutional momentum toward promoting celebration and the constant bombardment of numbers and punditry, has had its clear effects on the Hall of Fame voting, too. Not only are voters pressured to induct more and certain players -- Martinez had advocates; Albert Belle did not -- but there also is more pressure for first-ballot and, inevitably, unanimous inductions.
Milestones that never before provided a free pass -- Harmon Killebrew hit 573 home runs and Early Wynn won 300 games, but both were inducted on their fourth tries -- now are viewed as cause for automatic election.
Such boosterism of the players, even the game's greatest, is only a decade-old phenomenon. From 1942 to 1947, the baseball writers did not elect a single player into the Hall. In 1962, Bob Feller became the first player elected on the first ballot since the 1936 original class.
Of the 109 players elected into the Hall of Fame by the Baseball Writers' Association of America, only 39 since that first class have been chosen on the first ballot. Of those 39, more than a third -- 14, to be exact -- have been selected since 1995. In 1999, with baseball still in the rapturous throes of the Sosa-McGwire race, the Hall voters for the first time elected three players -- George Brett, Nolan Ryan and Robin Yount -- who appeared on the ballot for the first time. Brett and Ryan received two of the largest vote totals in history. Ryan (who had never led the league in wins, had never won a Cy Young, hadn't won 17 games in a season over his final 16 years in the big leagues and, as a pitcher, was never considered in the class of Sandy Koufax, Bob Gibson, Pedro Martinez and Greg Maddux) nevertheless received 98.8 percent of the vote, tied with Tom Seaver for the largest vote percentage in history.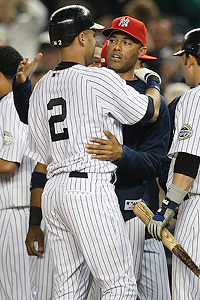 Mike Ehrmann/Getty ImagesIn-game celebrations of player milestones, such as Derek Jeter's 2,722nd hit as a Yankee, are now expected.
Those results were the break from baseball's history. Instead of horrible injustice or gross negligence, Alomar fared no worse and much better than other great players. Here, for posterity, is a short list of players not elected on the first try: Cy Young (511 wins), Joe DiMaggio, Eddie Collins (3,315 hits), Jimmie Foxx, Whitey Ford, Eddie Mathews, Rogers Hornsby, Robin Roberts and Roy Campanella. Yogi Berra (67.2 percent in 1971) was not a first-ballot inductee.
Alomar cannot claim superiority over anyone on that list. Each was eventually inducted, and the free world survived.
If baseball did engineer a victory from the cacophony over the falsely injured Alomar, it is that the game once again elbowed its supposedly more important, more popular rivals to the floor. During college football's biggest week, the start of the NFL playoffs and the week of the Winter Classic, the hottest topic in sports was the Baseball Hall of Fame and who would be worthy of enshrinement. There was noise and interest, the hot stove restored.
And this debate is specific to baseball, for it is the only Hall of Fame whose voters are such a large group of outsiders (539 ballots cast this year). Football relies on a much smaller committee of 44 writers and a more secretive vote. Basketball's and hockey's halls of fame are largely inside jobs in which voting requirements and voting membership are so vague that the public barely cares.
Alomar might have lost Round 1 of a fight he has already won, but the game won big, even if it needed to create a straw argument to do so.
Howard Bryant is a senior writer for ESPN.com. He is the author of "Shut Out: A Story of Race and Baseball in Boston," "Juicing the Game: Drugs, Power and the Fight for the Soul of Major League Baseball" and the forthcoming "The Last Hero: A Life of Henry Aaron." He can be reached at Howard.Bryant@espn3.com or followed on Twitter @hbryant42.
Senior Writer
Senior Writer, ESPN.com and ESPN The Magazine
Author of "The Last Hero: A Life of Henry Aaron"
Author of "Juicing the Game"
MOST SENT STORIES ON ESPN.COM