Commentary
Richard Williams deserves attention
USTA should bridge gap with Venus' and Serena's father and learn from his experience
He's been vilified, ridiculed and all but exiled for his brash words, his eccentricities -- for simply being Richard Williams. He's practically a pariah in the sport he helped revive when he fathered, molded and nurtured his daughters into two of the greatest tennis players ever.
It shouldn't have come to this, though I'm not surprised it did. Most sports don't embrace interlopers or outsiders, especially those who come charging in with no regard for tradition or decorum. (Unless they're owners. See: Mark Cuban.)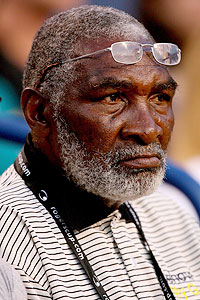 Matthew Stockman/Getty ImagesRichard Williams has not been afraid to buck the establishment.
And that interloper would be Richard Williams.
From the moment he arrived from the courts of Compton with Venus in tow, spouting that baby sister Serena was even better and that together they were going to be the best in the world -- well, since then Williams has been a Taser in the neck of the USTA.
He's unapologetic, stubborn and a whole lot of other things that make the tennis establishment's strings pop.
From the beginning, he eschewed the sport's traditional pathways for his own ways. No one could tell him how to train or when to play his girls.
And you certainly couldn't tell him how to act or what to say.
Heaven help you if you tried.
When his girls were young, he plucked them from the sport's junior training programs and set up his own in Florida. He held them out of junior tournaments because, he said, he didn't want his girls to get hurt or burned out like he'd seen happen to so many other precocious talents.
He held up signs at their matches. Drawing television cameras. "It's Venus' Party and No One's Invited," read one he held aloft at Wimbledon in 2000 to celebrate his oldest daughter's first victory there. At Wimbledon!
He's ignored almost every rule, ridiculed the sport's decorum ("I don't think crowds should be quiet.").
And, of course, he's called tennis racist, oh, about a zillion times.
If Richard Williams wanted to be an insider, if he wanted to change the game from the inside, he certainly didn't act like it. And tennis accommodated him, all but saying Richard was best not seen, not heard.
[+] Enlarge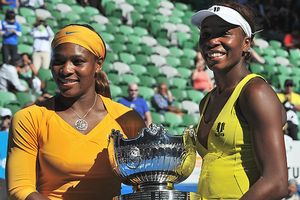 Paul Crock/AFP/Getty ImagesThere's no way to argue with the Williams sisters' success, including a doubles title at the Australian Open this year.
That's too bad, because the sport could use a dash of Richard Williams.
In time, probably not until the Williams sisters have each exchanged their racquets for designers' scissors, tennis' caretakers will see that Williams was crazy like a fox and that maybe his ways were the right ways. Or at least worth listening to.
Rather than keep him at arm's length, they should have brought him into the fold and channeled his mad genius. Not doing so has been one of the USTA's biggest mistakes of this era.
But it's not too late to fix.
Richard Williams, by his own admission, is tired. "I'm too old to spend every day picking up balls," he told the New York Daily News nearly two years ago. He's nearly 70 now, and not nearly the bombastic force and presence he once was. Baby daughter Serena battled her way into the Australian Open finals, in fact, but Richard was invisible and silent.
It's time for Gordon Smith, the USTA's executive director and COO, to file the past and sit down with Williams. Pick his brain. Listen to his ideas. Smith wouldn't have to incorporate any of them, of course. But to not reach out to the man who has perhaps influenced tennis more than anyone since Arthur Ashe and Billie Jean King is, at best, shortsighted. At worse, petty.
Beers with Richard. If nothing else, it would certainly be fun.
Roy S. Johnson, a veteran sports journalist and media consultant, is the editor-in-chief of Men's Fitness. His blog is Ballers, Gamers and Scoundrels.
Contributing writer, ESPN.com
Contributing columnist for ESPN.com
Former Asst. Managing Editor, Sports Illustrated
Hosts "Ballers, Gamers and Scoundrels" blog