Commentary
Kevin Durant deserves MVP votes
LeBron James was NBA's best this season, but don't discount thunderous rise
Updated:
April 16, 2010, 4:11 PM ET
By
Jemele Hill
| ESPN.com
I don't want to give LeBron James the Michael Jordan treatment.
Meaning, I don't want to take LeBron's immense talent for granted. I want to remain in awe of the fact he's a walking triple-double and appreciate that he has such a rare combination of physical abilities that it's almost like he was made in a lab.
[+] Enlarge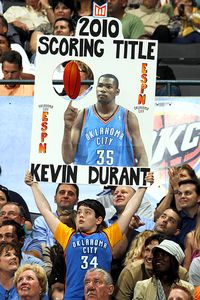 Layne Murdoch/NBAE/Getty ImagesKevin Durant scored enough points and, more importantly, wins to earn at least a few MVP votes.
When Karl Malone and Charles Barkley won MVPs during the Jordan era of the NBA, there was a strong sense Jordan lost only because voters were fatigued. They had tired of giving him the award.
I don't want to punish LeBron like that, but I'll be perfectly honest: What Kevin Durant did this season for the Oklahoma City Thunder was more impressive than what James did for the Cleveland Cavaliers.
Before you cough up a hair ball, let me say that I voted LeBron as my MVP in the ESPN.com postseason award picks. I backed LeBron because he had a superb season -- an MVP season -- and has guided the Cavs to a second straight 60-win season and a No. 1 seed in the East. LeBron put up outrageous numbers, averaging 29.7 points a game, 8.6 assists and 7.3 rebounds.
I have zero problem with LeBron's winning his second straight MVP. What I don't like about this year's MVP race is that the media has supported LeBron by such an overwhelming margin that even the mere mention of voting for Durant is considered absurd. In fact, several writers have mused that LeBron might be the first player to win unanimously.
In other words, if someone doesn't vote for LeBron, that person has the IQ of carpet.
Now I chose LeBron because, frankly, I think he's a better player than Durant, who is still a blossoming talent. But by no means was it an easy choice.
Any voter who selects Durant for MVP shouldn't be ridiculed because he made a strong case. Durant revitalized the Thunder, taking them from a basement NBA team to a serious threat in the difficult Western Conference. OKC improved over last season by an astronomical 27 wins behind Durant. He not only won his first scoring title in just his third season but also went through a stretch in which he scored 25-plus points in 29 consecutive games. He was, without a doubt, the most prolific scorer in the NBA this season.
I'm not trying to belittle what the Cavaliers have accomplished, but what was more unlikely: the Thunder winning 50 games or the Cavs finishing with the best record in the NBA? What was more surprising: James putting up the numbers he did or Durant winning the scoring title?
[+] Enlarge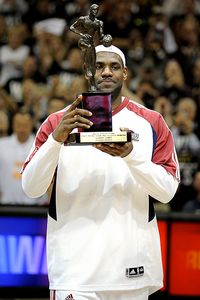 Gregory Shamus/Getty ImagesLeBron James received the 2008-09 MVP trophy, and there would be no injustice in a repeat this season.
Hands down, the Thunder and Durant.
I get that LeBron's overall numbers were better than Durant's, but the MVP criteria aren't strictly limited to pretty little box scores. Besides, LeBron probably always will have a significant edge on a stat sheet because of the type of player he is. But there's one voting point that's an even playing field: whether a player helped his team reach a new plateau.
As spectacularly as Kobe Bryant played during the 2007-08 season, he didn't deserve the MVP. Chris Paul did. Paul, the Hornets' point guard who led the NBA in steals and assists, took a team that won 39 games and didn't make the playoffs the previous season to its best record in franchise history (56-26) and a division title. Kobe, however, should have won the MVP for the 2006-07 season instead of Dirk Nowitzki. The Lakers won only 42 games, but Kobe got them to the playoffs in the tougher conference despite playing with Kwame Brown, Smush Parker and Brian Cook. Among the highlights that season, Kobe scored 81 points in one game. He had clearly separated himself as the best player in the NBA.
I'm not making the case against LeBron's winning the MVP, because he does deserve it, and I realize that without him, the Cavs would be 20 or 30 wins lighter and there's no way they would regularly compete for a championship.
But it's not fair to marginalize the MVP campaigns of other players because picking against LeBron has somehow become unfashionable. Certainly there was some truth to Orlando coach Stan Van Gundy's statement that LeBron could win the MVP every year. But the other truth is, if he keeps it up, so could Durant.
Jemele Hill can be reached at jemeleespn@gmail.com.
ESPN.com, ESPN The Magazine
Co-host of ESPN2's "Numbers Never Lie" and His and Hers podcast
Columnist for ESPN.com
Columnist for Orlando Sentinel (2005-06)
Writer for The Detroit Free Press (1999-2005)
MOST SENT STORIES ON ESPN.COM