Commentary
LeBron James shouldn't go to New York
Free-agency decision will broadcast whether superstar cares about cash or titles
Now that the regular season is over, the coronation of LeBron James can begin.
Assuming everything goes as planned, we will witness the Chosen One leading the Cavs past the Bulls and Celtics, overthrowing the Orlando Magic for the East crown in six, and then defeating the dragon -- also known as Kobe Bryant -- in the Finals, thus finally earning the title King James.
At least for one season.
And then, sometime after the last piece of confetti has been swept from the land, James will hold a news conference -- attended by Woody Allen and filmed by Spike Lee -- announcing he is off to New York.
Actually, this departure is the dream sequence regardless of how the Cavs finish.
And why not?
We can debate whether New York is the greatest city on Earth, but there is no doubt that no other NBA city has the basketball history, energy and overall awe-inspiring stature of the Big Apple. For a player looking to rule a kingdom, New York's not too bad … if he doesn't care about winning championships.
Yeah, that's right, I said it.
If LeBron wants to be rich and famous, he signs with the Knicks.
If he wants to be rich and famous with rings, he re-ups with the team that just became the ninth in history to post consecutive 60-win seasons.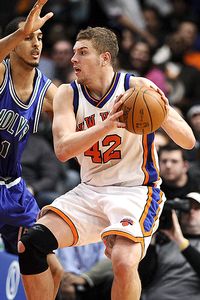 Jeff Zelevansky/Icon SMIDespite his production, David Lee is expendable if the Knicks can land another superstar.
I don't have anything against New York. I love New York. And I love the idea of James in New York, from a business perspective. He is already pulling in about $25 million annually in endorsements but could become a billion-dollar brand sooner if he were playing in the No. 1 media market in the world.
However, leaving the Cavs for the Knicks doesn't make sense basketball-wise. To me, that franchise is still crippled by an inability to shop wholesale and separate the wheat from the chaff. Chasing James or Dwyane Wade or Chris Bosh in free agency is the easy part. Getting the pieces around them to build a dynasty is where it gets murky.
Take current Knick David Lee. Only three guys averaged 20 points and 10 rebounds this season, and he's one of them. (The others are Bosh and Zach Randolph.) And because no one considers Lee a max guy, he'll likely be the cheapest of the three next year. Yet the Knicks are willing to let him go in free agency in the hope they can spend much more money on Bosh. Remember, I said "hope."
I like Bosh, but he hasn't led the Raptors to the playoffs in two years and is too lithe to guard big men one-on-one in the paint, not necessarily the hallmark of a max power forward. And even though he's more athletic than Lee, he was outperformed statistically in the two games in which they both played this season. (The Raptors still won both.) I'm not saying Bosh isn't better than Lee. But is Bosh worth millions of dollars a year more?
No.
And what about this year's lottery pick, Jordan Hill, the player New York selected immediately before ROY candidate Brandon Jennings and Toronto's high-flying DeMar DeRozan? Hill couldn't crack the lineup and was sent to Houston in the cap-clearing Tracy McGrady trade.
McGrady, by the way, is saying James isn't coming.
"To me, in my honest opinion, I don't see it happening," he told the New York Daily News. "It's set for him right now."
Nice.
I spoke to a handful of NBA execs about this summer's free-agent class, and they believe that the max guys are all going to re-sign with their current teams, with the possible exception of Bosh, and they believe that Atlanta's Joe Johnson is the second-tier All Star most likely to move.
"Guys are not going to leave all of that money on the table," one East president said. "They're just posturing to get as much as they can from the team they're on."
People like to blame all of the Knicks' woes on Isiah Thomas (and he was awful) but the truth is the franchise was a shambles before he got there -- $100 million contract for Allan Houston, anyone? And let us not forget, despite a great brand and courtside star appeal, the Knicks haven't won a title since 1973. This is despite the presence of some of the game's greatest players (Patrick Ewing, Mark Jackson) and minds (Larry Brown, Pat Riley, Lenny Wilkens) and a total disregard for the luxury tax. They've had some great teams, but not enough great moments.
Could LeBron bring them back to glory? Who knows.
[+] Enlarge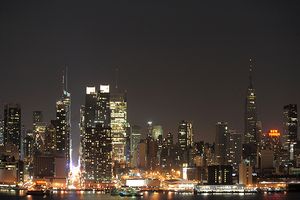 Michael Loccisano/Getty ImagesThe bright lights of the city aren't as pretty if there are no shiny rings involved.
But any time part of the plan to turn things around is to tank for two years, one wonders just how much the owners care about winning. I understand that sometimes a franchise has to take a step back in order to leap forward, but whose 2008 business plan for a multimillion-dollar corporation is based solely on the decisions a couple of 20-somethings might make in July 2010? I'll tell you who: startup investors. Taking chances while rebuilding or creating something new is fine, but why would a 25-year-old MVP who has already been to the Finals want to invest his prime athletic equity in a startup that's run by a bunch of guys who, quite frankly, have yet to prove they know how to get over the hump?
The CEO (James Dolan) has never presided over a team with a winning record, let alone a champ. The president (Donnie Walsh) has more than 30 years of NBA experience and has only one NBA Finals appearance -- and no ring -- to show for it. The head coach (Mike D'Antoni) has never made it even that far despite having a two-time league MVP (Steve Nash) plus two other all-NBA players (Amare Stoudemire, Shawn Marion) on the team. If being in the playoffs and winning a few division titles is James' basketball goal, then sure, he should go where he can make that happen.
But if his goal is to supplant Michael Jordan as the greatest of all time, then staying put -- or, in a highly unlikely move, working out a blockbuster sign-and-trade deal to another contender -- is a much better option.
I'm sorry, but the Knicks franchise isn't full of proven leaders with a piece missing from the puzzle. It's a franchise looking for a savior.
LeBron may be king. But he ain't God.
LZ Granderson is a senior writer for ESPN The Magazine and a regular contributor to ESPN.com. He can be reached at lzgranderson@yahoo.com.
Senior Writer, ESPN The Magazine
Edited NBA and tennis for ESPN The Magazine
Columnist at The Atlanta Journal Constitution
Fellow at Hechinger Institute, Columbia University
SPONSORED HEADLINES
ESPN TOP HEADLINES
MOST SENT STORIES ON ESPN.COM