Commentary
Mike Singletary, 49ers tottering
Updated:
September 19, 2010, 9:46 AM ET
By
Mark Kreidler
| Special to ESPN.com
Right, let's review. In a relatively short period of time, the 49ers have:
1. Watched their GM bolt the organization with virtually no explanation;
2. Gone from an 8-8 mediocrity last season to out-and-out favorite to win the NFC West, without the benefit of actually having played another game;
3. Had a second-year running back walk out of camp and retire on the spot;
4. Seen arguably their top two receivers engage in a shouting match so out of control that they had to be removed from the practice field and taken into the locker room for a cool-down session;
5. Traveled to Seattle and laid the biggest egg of opening weekend, a 31-6 loss to the Seahawks;
6. Blamed the defeat on lousy communication all the way around, up to and including a postgame rant by coach Mike Singletary that was so unfocused he had to redeliver it to the team after its plane landed back in San Francisco.
Good thing this isn't the kind of situation in which anyone is inclined to panic early.
Oh, wait: This is the NFL.
[+] Enlarge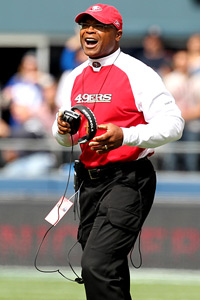 Otto Greule Jr/Getty ImagesNo one questions Mike Singletary's passion, but it can sometimes confuse his message.
Panic ensues. Isn't it remarkable what a single four-quarter performance can do to a team's public perception? Heading into their 2010 inaugural, the 49ers were being fitted for the divisional title based upon an assumed improvement and the general cruddiness of the rest of the NFC West.
One game later, the question is whether Singletary can hang on to his team. And it's as valid a question as any other.
With the defending Super Bowl champion New Orleans Saints coming to Candlestick Park on Monday night, things could get worse for the 49ers before they get better. But the open rifts on display in Singletary's locker room -- and perhaps even within the coaching and administrative ranks -- suggest deeper issues, bigger cracks. The job just got tougher.
It is actually instructive to see how much latitude Singletary is being given to put it all back together, considering the stakes. The 49ers have been down for so long, going all the way back to the York family's brutal decision to whack Steve Mariucci in January 2003 without having a Plan B in place, that the level of belief in Singletary -- dynamic, forceful, perpetually trying to move forward -- is constantly in danger of being out of proportion with the reality of any one man's abilities.
Singletary took over from Mike Nolan midway through the 2008 season and finished it respectably, going 5-4 down the stretch. The 49ers' 8-8 record last year was, perhaps incredibly, the best the team has compiled since Mariucci was fired. Add the Seattle loss last weekend, and Singletary is .500 in his brief tenure as a head coach.
But the loss to the Seahawks is more notable for its details than for its effect on Singletary's career record. The 49ers went down with a whimper in Seattle, finger-pointing blame back and forth after a shoddy effort. Quarterback Alex Smith, clearly feeling the pressure in what is his last shot to establish himself as an NFL front-liner, said the plays were often agonizingly slow in arriving to him, causing him to burn through his team's timeouts in critical situations. (Smith still threw a lousy, game-changing pick on his own, but that's another story.)
[+] Enlarge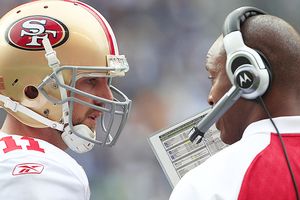 AP Photo/Elaine ThompsonAlex Smith used up three timeouts in the first half last week and later said he was having trouble getting the plays.
Singletary blamed the problem on headset and wireless issues and vowed to take corrective measures, even if that meant bringing second-year offensive coordinator Jimmy Raye down from the booth to send in the plays directly from the sideline. But the coach woke up two days later to a Yahoo! report that suggests Raye is just plain reluctant to pull the trigger on calling plays, doesn't always use the precise terminology required and may not have the confidence of the people around him.
Singletary's response? "To me, that's a rat," he told reporters Thursday. "That's a coward and a rat."
What else? Well, the week before the season started, tight end Vernon Davis had so little use for Michael Crabtree that he shouted Crabtree down during a practice with such aggressiveness that Singletary eventually had to usher the two off the field. Running back Glen Coffee abruptly quit during training camp, saying he had made a mistake by entering the NFL in the first place. Scot McCloughan disappeared as GM in March, only to resurface with the Seahawks by midsummer.
Singletary is suddenly a coach putting out all fires all over the place. And his habit of speaking with straight-up emotion, which served him so well during a Hall of Fame career as a fire-breathing linebacker for the Bears, is killing him now.
Several times, Singletary has had to back off his heated original comments and return with a more coherent or instructive set of thoughts. His theatrics certainly can have their effect -- go back to his '08 debut as coach, when he famously sent Davis to the locker room in the middle of the game rather than watch Davis' act on the field any longer -- but more often, they simply confuse the issues.
Perhaps the signature moment of the 49ers' Week 1 implosion came well afterward, when Singletary surprised the team by calling a second postgame meeting once its plane had returned to the Bay Area. The coach later explained to reporters that some of his players had made it clear they didn't understand much of what Singletary was getting at during his locker-room rant, when the coach reportedly went off on Smith, Crabtree and the offensive line, among others.
"I wanted to make sure everybody was on the same page and didn't leave here having conversations in the parking lot, having conversations in the bathroom, and not fully understanding what I was saying," Singletary said.
A miscommunication, in other words. Just one game into the 2010 season, there's a lot of that going around the 49ers' camp. And in the NFL, it is never too early to start worrying about the fallout. Whatever the magnitude of the job Mike Singletary thought awaited him this season, it just doubled.
Mark Kreidler is a longtime contributor to ESPN.com. His most recent book, "Six Good Innings," was named one of the Top 10 Sports Books of 2009 by Booklist. Reach him at mark@markkreidler.com.
Page 2
Regular contributor to ESPN.com
Author of "The Voodoo Wave" and "Six Good Innings"
Radio host, "The Rise Guys Show," Sacramento
SPONSORED HEADLINES
ESPN TOP HEADLINES
MOST SENT STORIES ON ESPN.COM
NFL WEEK 2 PREVIEW
POWER RANKINGS
PICKS
MNF: SAINTS AT 49ERS
HOT READ
NFL BLOG NETWORK
COMMENTARY/BLOG POSTS
FANTASY FOOTBALL
STADIUM TOUR
FOLLOW US ON TWITTER