Commentary
Even shorter tennis season would help
Updated:
October 22, 2010, 4:34 PM ET
By
LZ Granderson
| ESPN.com
After defeating Novak Djokovic in the semifinals of last week's Shanghai Rolex Masters, Roger Federer reclaimed the No. 2 spot from the Serb in the latest ATP ranking.
What's that, you thought tennis was over?
Ha!
Hardly.
[+] Enlarge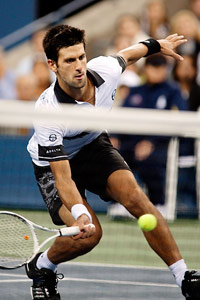 Susan Mullane/US PresswireNovak Djokovic may play tennis year-round in 2010. Will he have any legs left next season?
Fed's already in the quarters of another tournament in Stockholm, and there are five other tournaments being played the rest of this month alone. There are two more top-tier events in November, and the finals for the top eight players. Poor Djokovic may also have to play in the Davis Cup final in December before he attempts to capture his second Australian Open title in January.
In Major League Baseball, the season makes for a long year (with at least three months off). In tennis, the season is a year. Even if NFL owners and players agree to add two more games to the schedule, there will still be a clear, offseason light at the end of the tunnel that leads to the Super Bowl. In tennis, the light isn't as clear, the end isn't as defined.
Nearly 60 tournaments have been played since January but the top eight in the rankings remains unsettled. This feeling that the tennis season never ends is just one of the reasons the tour should stop shortly after the U.S. Open. Keep the year-end tournament in which the top players face off as a tennis all-star game (in September), but eliminate this ongoing jostling for ranking, which is too exhausting for anyone other than a die-hard to keep up with.
Heck, I'm a die-hard and I need a break.
Which is why I applaud the ATP Board of Directors for considering shortening the season by two to three weeks in 2012. Players such as Federer, Rafael Nadal and Andy Roddick have all lobbied for such a move for years because of the mental and physical strain caused by an extended season, and corporate sponsors have also expressed concerns about the duration.
Of course, even with the best intentions, the transition to a true offseason will be complicated, Justin Gimelstob, a player rep on the ATP Board, notes.
"I believe it is 100 percent in the best interest of the players to shorten the season," he said. "But it's not easy to figure out how. There are a lot of guys who are dependent on those late-season tournaments for ranking points and money. I used to be one of those guys. How do we protect our product, which is the players, without hurting the product?"
ATP Schedule
This year, the calendar after the U.S. Open included events in Metz, France; Bucharest, Romania; Bangkok; Kuala Lumpur, Malaysia; Beijing; Tokyo; Shanghai; Stockholm; Moscow; St. Petersburg, Russia; Vienna; Monpellier, France; Valencia, Spain; Basel, Switzerland; Paris; and London.
| Year | ATP Events |
| --- | --- |
| 1990 | 77 |
| 1991 | 78 |
| 1992 | 81 |
| 1993 | 86 |
| 1994 | 86 |
| 1995 | 82 |
| 1996 | 81 |
| 1997 | 78 |
| 1998 | 77 |
| 1999 | 68 |
| 2000 | 67 |
| 2001 | 67 |
| 2002 | 63 |
| 2003 | 64 |
| 2004 | 64 |
| 2005 | 64 |
| 2006 | 64 |
| 2007 | 63 |
| 2008 | 63 |
| 2009 | 62 |
| 2010 | 62 |
Bill Oakes, tournament director for the 1-year-old Atlanta Tennis Championships, said that selfishly he doesn't have a problem cutting the tour by a couple of weeks because that wouldn't affect U.S. tournaments, which are all played before October. But he said the players who complain about the season's length are the ones who can afford to take time off and do so.
"When you talk about eliminating tournaments you have to also look at the surfaces that are being eliminated, the continents that may lose some tennis and the fans in the region that want to support the sport," he said.
Those challenges noted, change is necessary for the long-term vitality of the sport, especially in the United States.
In 1993, when one fifth of the top 100 players were American, there were 86 ATP tournaments. Today there are only five Americans in the top 100 and 62 tournaments scheduled. A thoughtfully reconfigured schedule might revitalize domestic interest, especially among young athletes.
And that becomes more imperative as North America loses the ATP event in New Haven, Conn. Pilot Pen is dropping its sponsorship, and tournament directors have decided to become a WTA-only event in 2011. (Tennis also shoots itself in the competitive foot by scheduling Miami, one of its better tournaments, during March Madness and the U.S. Open on NFL opening weekend.)
Maybe the drop in the number of tournaments is a sign that the market is correcting itself in these new economic times (hockey salaries had to be adjusted and the NBA and NFL laid off employees). Fortuitously, a shorter season is also the right step from a marketing perspective.
With so much emphasis placed on the four Slams, to continue playing after the last one of the year is not only anticlimactic but also weakens the demand for the sport. And it's demand -- not quantity -- that drives popularity.
It's hard to miss something that never goes away. NBA commissioner David Stern is quick to point out that one of the reasons why the NFL is the most popular sport in the country is because there are only 16 games, with most teams playing on a single day. Fans who miss that one day have to wait a whole week before there is another opportunity, and there are not a lot of opportunities.
That's also the secret behind the March Madness frenzy: limited games and dates with high stakes, one and done, as opposed to a series or round-robin play. This sense of urgency not only adds pressure to the athletes but also tension to the fan experience, as well.
[+] Enlarge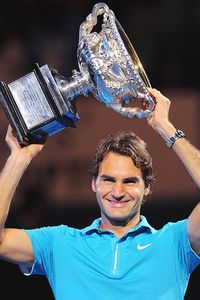 William West/AFP/Getty ImagesHere's a reminder in case you can't remember the start of the season: Roger Federer's the defending Australian Open champ.
Again, condensing the schedule and capturing that intensity in a sport that spans the globe and calendar, will not be easy. Pete Holtermann, media director for the tournaments in Houston and Los Angeles, foresees potential complications, even for U.S. events.
"You try to wedge all of this stuff in and now you are looking at weeks where there are three tournaments happening at the same time which could thin the field," he said. "We already have that problem. We need our big-name players in our tournaments to draw interest but they may be playing in another country chasing more money.
"Maybe for tennis to solve this problem we'll have to take a modified golf tour approach where there's the Asian tour, European tour and the American tour and then they get together for the Slams."
Now there's an idea -- especially if you can guarantee the level of talent for each tour remains high.
Instead of zigzagging across the globe all year, the players could tackle one region at a time, much in the same way the tour tends to tackle one surface at a time. And any tournament that doesn't make the cut could become a challenger's event hybrid where players -- in the position once occupied by Gimelstob -- could still try to earn money but ranking wouldn't be impacted so the better players wouldn't be punished for being better players. As long as the purse remains the same, there will be talented players in pursuit of it.
And then in New York, with the last chance to earn points and a Slam on the line, tennis could finally have a defined and proper end to its season. It doesn't matter whether you're a sports fanatic or a casual observer, everyone understands this: When a player or team is out of tomorrows, what they do today becomes much more exciting. And with a long winter to think about revenge, January gets that much more interesting, as well.
LZ Granderson is a senior writer for ESPN The Magazine and a regular contributor to ESPN.com. He can be reached at lzgranderson@yahoo.com.
Senior Writer, ESPN The Magazine
Edited NBA and tennis for ESPN The Magazine
Columnist at The Atlanta Journal Constitution
Fellow at Hechinger Institute, Columbia University
MOST SENT STORIES ON ESPN.COM