Commentary
NFL injury talk obscures PED problem
Updated:
November 10, 2010, 5:18 PM ET
By
Howard Bryant
| ESPN.com
Another Sunday in the National Football League, another signature car crash. Indianapolis Colts receiver Austin Collie lay unconscious on the Philadelphia turf after being creamed by Eagles defensive backs Quintin Mikell and Kurt Coleman before being taken away on a stretcher. And the battle lines between players and commissioner Roger Goodell harden over an issue that cannot be won by either side without significant, history-altering changes to the NFL's rules and its culture.
[+] Enlarge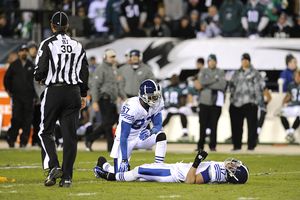 AP Photo/Miles KennedyAustin Collie suffered a concussion Sunday and will not play this week.
With Collie immobilized on the field, Jim Nantz, the CBS broadcaster whose network paid the league roughly $4 billion to broadcast the NFL, admonished the players (and outside critics) embittered by increased fines and threats of suspension. Nantz appealed to his national audience, saying the game is a hard one but football players should also be allowed to "have a life" after the whistle blows.
Even though his voice-over sounded like a person having a public moment of clarity, Nantz sent the same message the league is frantically, futilely sending to fans, to parents, to insurance companies and, indirectly, to Congress: In 2010, the Year of the Concussion, the league takes its bone-crushing hits seriously, and if players played within the rules, the sport would somehow be less dangerous.
At halftime of Monday's Steelers-Bengals game, Goodell reiterated his message, which was about as accurate relative to the actual problem from which football suffers as overthrowing a receiver by 20 yards. "One of the things you always strive for is to make sure the players understand the rules," he said. "The rules haven't changed, but there's a greater emphasis on safety and we have to make sure we make the game as safe as possible and we have to do everything we can to educate the players. … We didn't make a drastic change. All we did is said if you violate that rule for safety reasons, we're going to increase discipline."
The next day, whistle-stop campaigning on an issue Goodell knows the NFL must win, the league released a previously confidential e-mail to the players explaining its guidelines on excessive hits. As if following a rulebook would make players less aggressive, devastating hits more tolerable because they are "legal," brain injuries less likely, and the diminished life expectancy of offensive linemen (roughly 17 years less than that of the average American male who is not a professional athlete) less egregious.
NFL HEAD INJURIES
Number of players listed with either "concussion" or "head" on Friday NFL injury report for first nine weeks of the season.
| Year | Total players |
| --- | --- |
| 2010 | 56 |
| 2009 | 33 |
| 2008 | 38 |
Source: ESPN Research
In other words, while the sport is being brought to its knees by the kind of escalating violence produced by the inevitable combination of bigger-faster-stronger and the institutional cultural encouragement -- which is to say football was always heading down this grisly road -- Goodell and his players have spent the past few weeks dithering over rule interpretations.
The truth the league does not want to face was illustrated last week by former NFL quarterback Jim McMahon, who didn't make a distinction between legal and illegal hits, simply alluding to the violence inherent to the game, when describing the toll of playing.
"Back then, it was just tape an aspirin to your helmet and you go back in," McMahon told the Chicago Tribune last week. "I've worked with some neurosurgeons and it's a very serious thing, man.
"My memory's pretty much gone. There are a lot of times when I walk into a room and forget why I walked in there. I'm going through some studies right now and I am going to do a brain scan. It's unfortunate what the game does to you."
In a way, it makes sense. Each year, the sport grows more obviously grotesque, the debilitating injuries to world-class athletes so appallingly routine -- Is any professional athlete more disposable than an NFL running back? -- that the league must give the appearance of concern for the safety of its players, especially as it attempts to increase the length of the season. The NFL's public position is that it has increased scrutiny on hits with higher fines and potential suspensions because the players haven't accepted the league's current approach as a deterrent. Advanced measures are necessary.
[+] Enlarge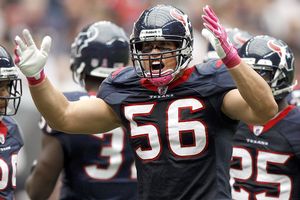 Bob Levey/Getty ImagesBrian Cushing initially fought his positive test, attributing it to overtrained athlete syndrome.
"I know that one of the recommendations, or the strongest one, has been that since the money does not seem to be a deterrent, then it has to be more than that," Giants coach Tom Coughlin told ESPNNewYork.com."Always, it is quite frustrating, to be honest with you, if a player is forced to leave a game because of an illegal hit and the other player continues. … That doesn't really seem right. I'm sure there will be stronger measures taken."
But where Goodell's and the NFL's facade of the importance of creating deterrent collapses is in the one area it seemed to have escaped for all these years: performance-enhancing drugs.
If the league is convinced that its rulebook is not a deterrent for big, violent, illegal hits, it must also conclude that its drug policy, consistently and inaccurately hailed as a beacon for professional sports, has hardly been a deterrent to steroids and other performance enhancers.
In 2007, the NFL appeared before Congress and agreed to strengthen its drug policy to include blood doping and other methods previously used to beat testing. The league, union and owners patted themselves on the back for being the responsible professional sport -- unlike that other one, the National Pastime.
The NFL program was so effective that, the next year, an estimated 14 players were banned for violating the game's PED policy (the NFL doesn't release official numbers on PED violations). This year, nine players already have been suspended -- one, free agent Hollis Thomas, for eight games -- and it isn't even Thanksgiving yet.
Like elite athletes in track and cycling and baseball and the Olympics, Pro Bowl level players (Shawne Merriman, Shawn Springs, Deuce McAllister, Julius Peppers) have been caught using PEDs, as have rising stars who ostensibly have grown up in the PED culture and should know better (NFL Defensive Rookie of the Year Brian Cushing) as well as Hall of Fame-level players (Deion Sanders tested positive before rejoining the league in 2005).
NFL players have been caught using BALCO (Bill Romanowski) and the services of dirty doctors (Carolina Panthers PED scandal). An NFL coach was suspended after receiving PEDs through the mail (Wade Wilson). Attempting to appear as the responsible child, the league routinely volunteers to testify before Congress, but it is all an empty campaign for, despite the talk, the NFL PED suspensions haven't declined dramatically yet the penalties for PEDs haven't increased.
[+] Enlarge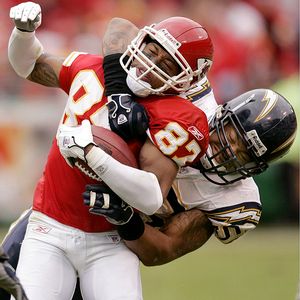 Sean M. Haffey/The San Diego Union-Tribune/Getty ImagesShawne Merriman returned from his suspension in 2006 with a vengeance.
The league, to be sure, has had plenty of help: from a Congress that ostensibly shamed baseball as a public health issue but has been patently disinterested in the health of football players outside of taking a scientific but not condemning approach to brain injuries; from a public that has made its emotional peace with football as the gladiator sport of real men, accepting the implausibility that players that big could run that fast naturally; from a media world that covers the requisite four-game suspension for violating the league's PED policy the same way it does a player returning from a routine hamstring injury.
Football players clearly are willing to risk losing 25 percent of the season because the real loss -- the credibility of one's name -- is not at stake. There is, in football, no public shame for using performance enhancers. Rodney Harrison, who admitted to using human growth hormone, holds a plum position as a "Sunday Night Football" analyst. Popular ESPN radio host Mike Golic openly discussed his steroid use as a player during the news cycle for accusations about other athletes such as Roger Clemens and Barry Bonds. In 2006, Merriman was suspended for PEDs, then not only was welcomed back without comment but resumed his position as a leading candidate for NFL Defensive Player of the Year.
The NFL is running for its life over helmet-to-helmet hits not because the players are not heeding the rules as deterrent, as Goodell likes to state, but because it is the one issue on which the league must, for the first time in years, actually respond to pressure. Curiously absent from the concussion conversation is that logical link between PEDs and the impact of hits, which are occurring more fiercely and violently than ever at the same time the league is filled with players bigger, faster stronger than ever with many aided by performance-enhancing drugs.
Simply because the league doesn't face public pressure over PEDs doesn't mean the NFL does not have a major problem or should not voluntarily increase its penalties. Doing nothing only adds to the illegitimacy of the NFL's position, another example of the shifting sand under its feet.
Howard Bryant is a senior writer for ESPN.com. He is the author of "The Last Hero: A Life of Henry Aaron," "Shut Out: A Story of Race and Baseball in Boston," and "Juicing the Game: Drugs, Power and the Fight for the Soul of Major League Baseball." He can be reached at Howard.Bryant@espn.com. He can be followed on Twitter at www.twitter.com/hbryant42
Senior Writer
Senior Writer, ESPN.com and ESPN The Magazine
Author of "The Last Hero: A Life of Henry Aaron"
Author of "Juicing the Game"
SPONSORED HEADLINES
ESPN TOP HEADLINES
MOST SENT STORIES ON ESPN.COM
NFL WEEK 10 PREVIEW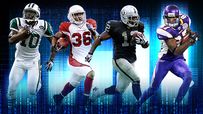 POWER RANKINGS
PICKS
FINAL WORD
MIDSEASON REPORT
HOT READ: NEW QB WAVE
FALCONS 26, RAVENS 21
COMMENTARY/BLOG POSTS
MNF: Eagles at Redskins, 8:30 ET
FANTASY FOOTBALL
NFL BLOG NETWORK
FOLLOW US ON TWITTER