Commentary
I just can't hate Duke anymore
Updated:
March 18, 2011, 10:29 AM ET
By
Vincent Thomas
| Special to ESPN.com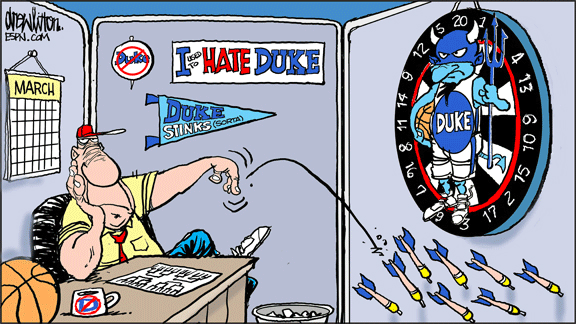 Drew Litton/ESPN.com
Two years ago, Scottie Reynolds and Villanova humiliated Duke in the Sweet Sixteen with a 77-54 beatdown, and I felt nothing.
Here was Duke, embarrassed on a national stage, and I derived not even a modicum of glee. The numb (even moderately empathetic) reaction to Duke failure was brand-new emotional territory since, for about two-thirds of my life, most of my spring was incomplete until a dour, red-faced Coach K led slump-shouldered Dukies off the court with towels over their heads to hide the tears.
But there I was, startlingly apathetic that Duke, for the fifth straight season, exited the NCAA tournament with no trip to the Final Four. To make matters more personally confusing, Duke won the NCAA championship the next season (2010), snatching defeat from poor mid-major Butler, and I couldn't even muster a full minute of resentment. I watched with a group of guys who all "used" to hate Duke, but didn't care much anymore, either. "We should be breaking furniture right now," I remember saying, to knowing nods.
[+] Enlarge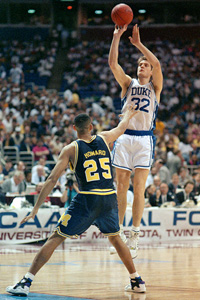 Jonathan Daniel/Getty ImagesOther than Duke fans, who didn't want to throw things at the TV when they saw Christian Laettner?
Maybe you haven't noticed, but Duke just doesn't hover over college ball the way it used to. It's less dominant, less smug and without a classic Fab Five-type anti-hero squad to help polarize the nation. Duke might not be worth your hate anymore.
As I reflect on how Duke no longer gets under my skin, I think back to the origins of that feeling. Georgetown was the first college program I actively rooted for. I was too young to really dig the Patrick Ewing/Eric Floyd/Michael Graham Hoyas, but by the fall of 1988 I was tuned in to the Hoyas, especially given the excitement surrounding incoming freshman Alonzo Mourning, "the next Ewing." That freshmen class at other schools featured Billy Owens, the great Chris Jackson … and Christian Laettner.
Laettner went to high school at Nichols School in my hometown Buffalo. Us public school kids all thought of Nichols as a smarmy, elitist, private prep school for a bunch of brats. Laettner, we misguidedly thought, was just some 6-foot-11, prep school buster with floppy bangs going to play for some white-bread school. (Cliff Robinson, Richie Campbell and Marcus Whitfield -- our public school heroes -- had gone to UConn, been kicked out of UNLV and never made it to Syracuse, respectively).
It just so happened that Laettner, Danny Ferry and crew knocked off my Hoyas in the Elite Eight that spring. Let the hate begin. Two years later, in '91, the Blue Devils ruined UNLV's undefeated season in the Final Four. Then they knocked off my favorite college team of all time, the Fab Five-led Michigan, the following year.
Did you see ESPN's 30 for 30 documentary about that team? When Jalen Rose, Jimmy King, Juwan Howard and Ray Jackson recalled their feelings as teens about Duke and its players, they said words you don't use around your mother, fighting words.
I can understand why. During this time, a commentary motif appeared and lasted for well over a decade: Duke as the "angels" and their Brash Opposition as, ironically, the "devils." LJ and the Runnin' Rebs and the Fab Five were bad guys; Duke was lionized. The 1990s was filled with apocalyptic talk. The game was being ruined, too much trash talk, kids leaving early, no fundamentals -- doomsday. Duke, it seemed, was held as some sort of beacon. Coach Krzyzewski's teams played the right way. When Duke won, an "idea" won.
[+] Enlarge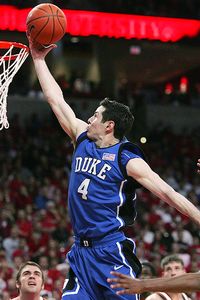 Win McNamee/Getty ImagesJ.J. Redick was one of the last in the long line of Duke players opposing fans loved to associate with the school's mascot.
But I didn't subscribe to that "idea."
Well, basketball and culture has gone through a gradual homogenization in the past 10 years. AAU basketball has practically every blue chip playing in the same vein, whether he is from the city, suburb or farm. And Generation Y features a far more monolithic culture than Generation X. You won't find the same defiant, rebellious, semi-subversive attitude from today's college squads that you saw from the Fab Five or UNLV or Allen Iverson. There isn't a counterculture in today's NCAA, so there are no anti-heroes for Duke to conquer. Kyrie Irving is basically Jacob Pullen and Duke is basically Ohio State.
What used to set Duke apart was "winning." When the Blue Devils beat Michigan in '93, they had back-to-back championships and a sixth Final Four appearances in seven years. That's dominance, hegemony -- the kind of success that'll make opponents and opposing fans seethe. If you can't beat 'em, ya know, hate 'em. Sometime during the first half of the '90s, Duke went from darlings to devils.
The smug Cameron Crazies didn't help matters, either. A bunch of winning really emboldened them, made Duke even less likable. So, unlike the Yankees or Lakers or Cowboys -- teams that have fan bases that are, at least, as rabid, loud and large as their haters -- it seemed that most of the country began coalescing around a general dislike for the Blue Devils, knocking them off the consensus public-appeal pedestal.
The 1992 title was the high point of unified opposition. Since losing to Arkansas in the '94 title game, Duke has been to (for them) a paltry four Final Fours, fewer than North Carolina or Michigan State.
[+] Enlarge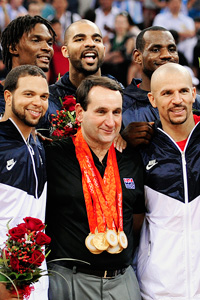 Bob Donnan/US PresswireIt's become harder to cheer against Coach Mike Krzyzewski. He helped the U.S. team reclaim the gold in the Olympics.
Although college ball's one-and-done transience hasn't crippled the Duke program because of Coach K's reticence to recruit suspected short-timers, it has affected the Blue Devils' talent pool. The last team remotely resembling a Duke juggernaut lost to 4-seed LSU in the 2006 Sweet 16.
That '06 team was also the last squad that featured a Duke villain in J.J. Redick. Redick was good. He knew he was good. And he knew you he knew was good. He was like Laettner in that way. (Not every Duke villain was super-good. Steve Wojciechowski wasn't all that dominant, just annoying.) Kyle Singler is not a villain.
So I ask, outside of ACC fans and maybe UNLV and Michigan alumni, can you still really gin up authentic hate, rage, antipathy and rancor for Duke? I can't. The Duke worth hating, the Duke worthy of hating -- you know, Laettner-chest-stomping, Woj-floor-slapping, always-in-the-Final Four Duke -- that Duke is resting in peace.
And it doesn't matter what Duke does this spring. Yep, I'll be that guy emoting nothing whether Duke loses in the first round or beats Kansas in three weeks.
Vincent Thomas is a SLAM magazine columnist and a frequent contributing columnist and commentator for ESPN. He can be reached at vincethomas79@gmail.com or @vincecathomas on Twitter.
SPONSORED HEADLINES
ESPN TOP HEADLINES
MOST SENT STORIES ON ESPN.COM