Commentary
Roger Federer's greatest match ever
Roger Federer has won 772 matches.
He has 67 titles, 16 of them majors.
In his most recent match, he beat a guy who hadn't lost since 2010.
But without a doubt, if Federer beats Rafael Nadal in the 2011 French Open final, it will be the biggest win of his career.
That's saying a lot for a player that has done a lot. But Nadal has only lost one match at the French Open in the seven years he's played, and it wasn't to Federer. No, Federer has only won three sets in four battles against Nadal in Paris. In the 2008 finals, he was bagled once and only won four total games.
[+] Enlarge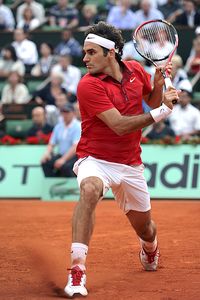 MIGUEL MEDINA/AFP/Getty ImagesRoger Federer was winless against Novak Djokovic in 2011, but Friday he won and advanced 7-6 (7-5), 6-3, 3-6, 7-6 (7-5)
For six years he was the second-best clay court player on tour.
But whenever Federer played Rafa at the French, it was clear the distance between Nos. 1 and 2 was great. A win Sunday won't rewrite that history, but it will go a long way in addressing that one nagging question dangling over Federer's head: Can he truly be the greatest ever, if his biggest rival owned him?
Not just matched up well against, but owned. Nadal is 16-8 against Federer and hasn't lost to him in a Grand Slam since 2007.
Federer completed his Career Slam with a win at the French in 2009 because he didn't have to play Rafa. Meanwhile Nadal's Career Slam, in part, came at Federer's expense.
Nadal won the famed greatest match ever played in four hours and 48 minutes on the grass at Wimbledon, Federer's favorite surface. Nadal gave a defeat so crushing at the 2009 Australian Open that Federer was left crying uncontrollably afterward. (There's nothing wrong with emotion, but that was a bit much, even for him.)
Defeating Novak Djokovic, a man who was chasing his own bit of history, on Friday was perhaps Federer's most improbable win in quite some time. Defeating the man who snatched the No. 1 ranking -- along with the air of invincibility -- on that man's favorite court would be so much sweeter.
Now for the reality check. Conventional wisdom asks, if Federer in his prime couldn't beat Nadal on clay, how likely is he to do it 29 years old? And less than two days after playing Djokovic for nearly four hours?
Federer is probably asking himself those very same questions. Which only adds to the significance of a win here. For the other 16 majors, he was the favorite heading into the final. To tell you the truth, I can't even name half of the men he faced to win them. But getting the title here at this moment, against his biggest rival would be more than an upset; it would be a miracle.
[+] Enlarge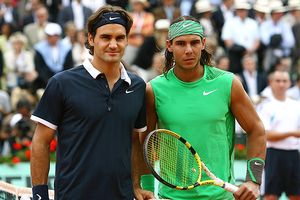 Julian Finney/Getty ImagesRoger Federer and Rafael Nadal played for the French Open title in 2008 (pictured), 2007 and 2006. In 2005, Nadal eliminated Federer before the final.
Now the mistake would be to think all the pressure is on the favored Nadal because at this stage, a fifth straight French Open loss to Rafa would not impact how Federer's career is viewed. We sort of expect him to lose to Rafa at the French. But that expectation glosses over how much Federer has to gain, which applies its own insidious pressure.
This is his first Grand Slam final in over a year.
Federer has talked about recapturing the No. 1 ranking, but he knows that's not going to happen if he doesn't start winning majors again. That's not going to happen if he leaves Paris 0-3 for the season against Nadal. That's not going to happen with just one tournament win under his belt this year through June.
No, if he's serious about being the best player in the world again, it needs to start now, at the French, against, well, the best player in the world. At least for a little while longer. I doubt going 43-1 is going to shake No. 2 Djokovic's confidence, so chances are the Serb is eventually going to get there this year. But if Federer wants to continue to be a factor in this discussion, he's going to have to do what he's not very good at, beat Nadal.
Easier said than done, of course.
But then few athletes would point to an easy win and deem it their greatest. They need personal adversity, a great challenger and a championship on the line. They need what Sunday holds.
The stage is set for Roger Federer's greatest win ever.
All he has to do is the impossible.
LZ Granderson is a senior writer for ESPN.com. He can be reached at lzgranderson@yahoo.com.
Senior Writer, ESPN The Magazine
Edited NBA and tennis for ESPN The Magazine
Columnist at The Atlanta Journal Constitution
Fellow at Hechinger Institute, Columbia University
French Open 2011

2010 champions
Women's singles:
Francesca Schiavone
Men's singles:
Rafael Nadal
Women's doubles:
Serena and Venus Williams
Men's doubles:
Daniel Nestor and Nenad Zimonjic
Mixed doubles:
Katarina Srebotnik and Nenad Zimonjic
Courtcast: Scores & chat
Slam Central »
Follow us on Twitter »
Watch: ESPN3.com
Day 15
Day 14
Day 13
Day 12
Day 11
Day 10
Day 9
Day 8
MOST SENT STORIES ON ESPN.COM