Commentary
The Derek Jeter backdrop: No winners
Even with conversations, does the old shortstop fit into the new-look Yankees?
Originally Published:
December 1, 2010
By
Howard Bryant
| ESPN.com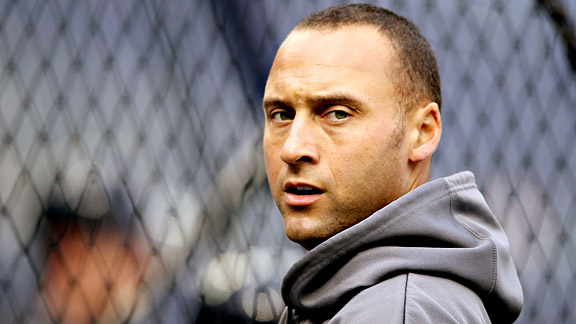 Al Bello/Getty ImagesThis contract negotiation is new turf for the Yankees captain. The footing has been treacherous.
History is littered with wars which everybody knew would never happen.
-- J. Enoch Powell, British politician and historian
Since spring training and through the regular season, as Derek Jeter was playing out the last year of his contract, it was so impossible to even contemplate the Yankees shortstop not wearing pinstripes that the Jeter narrative didn't waver even as his average dropped and his age climbed: He isn't going anywhere. A new contract is a formality. He is and will always be a Yankee.
But the Year of the Pitcher battered his average to .270, down from .334 in 2009. On Tuesday, the Yankees and Jeter spent nearly five hours talking in Tampa but no deal came of it.
If Jeter leaves, one of the greatest Yankees ever will have departed over money, a commodity never in short supply in the Bronx. Should he accept the Yankees' current offer, he will risk the perception that he was muscled by his employer -- something he's never had to experience as a professional.
[+] Enlarge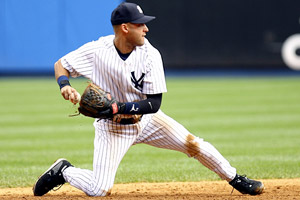 Al Bello/Getty ImagesHe won the Gold Glove this year despite criticism of his range at shortstop.
None of this should be a shock. The only surprise is that it has taken this long to realize that Jeter is just like every other superstar athlete to come 'round this bend, even as a member of the Yankees' so-called 'Core Four' with Mariano Rivera, Jorge Posada and Andy Pettitte.
Derek Jeter is, at long last, a mortal.
He is 72 hits away from the magic milestone of 3,000, and is, as of today, a certain first-ballot, A-list Hall of Famer. But a little historical perspective suggests that doesn't guarantee he will be playing in Yankee Stadium next year.
In December 1956, the Brooklyn Dodgers not only traded Jackie Robinson, but traded him to the Giants. If that can happen, it isn't impossible that we could see Jeter playing for the Los Angeles Dodgers -- or even the Boston Red Sox.
Months after breaking the all-time home run record, the Atlanta Braves traded Henry Aaron to the Milwaukee Brewers. Two years earlier, in May 1972, the San Francisco Giants traded Willie Mays to the New York Mets.
In football, another great Core Four -- the San Francisco 49ers of Joe Montana, Jerry Rice, Roger Craig and Ronnie Lott -- were all let go by the organization that made each player famous and was made famous by them.
The Chicago Bulls won the 1998 NBA title and then said goodbye to Michael Jordan, Scottie Pippen and the coach, Phil Jackson, who has won five more titles (so far) since he left the Bulls.
[+] Enlarge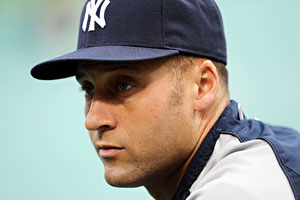 Stephen Dunn/Getty ImagesJeter has been a model citizen. How much is that worth to the Yankees?
Bobby Orr, the greatest hockey player who ever lived, was traded from the Boston Bruins to the Chicago Blackhawks. The only other player to challenge Orr for hockey's throne as the best ever, Wayne Gretzky, played for four teams.
Jeter's agent, Casey Close, has compared his client to Babe Ruth in terms of significance to the franchise. Yet when the Yankees decided it was time to part company with Ruth, they did so coldly: Ruth never worked for the organization again.
All of those circumstances are different, and yet each case contains an important similarity: At a late stage of the player's career, the organization held the leverage that age and time had stripped from the athlete.
Jeter finds himself caught in the middle of a perfect storm comprised of three components: 1) the balance between paying a player for what he has done versus for what he will do; 2) the death of George Steinbrenner; and 3) an increased reliance on statistical analysis by the Yankees' front office.
Of those three elements, only one -- what Jeter has done for the organization -- lies in his favor. He is truly one of the great baseball players of all time, a championship athlete who never shrank during championship moments. He is one of a handful of players in an era overstuffed with artificial offense whose defining moment on the field can be chosen from almost any of the tools he brings to the game:
• His bat (his home run that won Game 4 of the 2001 World Series in extra innings).
• His athleticism and intelligence ('The Flip' in Game 3 of the 2001 Division Series against Oakland ).
• His defense and toughness (leaping into the stands against the Red Sox in July 2004 or in the Division Series against Oakland in 2001).
• Or his legs (the countless times he beat the shift by stealing an uncovered third base).
In an era of cartoonish slugging, Jeter is something far greater: a baseball player.
[+] Enlarge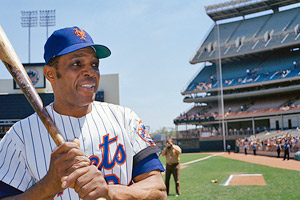 AP PhotoIt was unthinkable that Willie Mays could play for anyone but the Giants.
The game of late has been too often shamed by dishonesty, but Jeter has never embarrassed himself off the field either with performance-enhancers or by his numerous high-profile romances. Through 16 seasons, he has not once been involved in a controversy that distracted or cost his team. He has captained with honor.
And yet, this moment of confrontation has been building for years. As early as 2006, as both statistics and the eye test suggested he was slowing defensively, members of the Yankees' front office were mulling the Jeter question: What to do about another contract when he was slipping with the bat or in the field or both. If Jeter represented himself as the ultimate Yankee on the field, he has always been somewhat divisive off it, his value difficult to determine because of his special circumstances of being far more than a statistical creation. He has been criticized -- curiously and more than a bit unfairly -- for his defense by the Sabremetrics crowd, which points out that Jeter is not a great, or perhaps even very good, defensive shortstop these days. But that same crowd has a difficult (impossible) time quantifying what that actually means in terms of how Jeter negatively affects the Yankees in games won and lost.
He has also been put at a disadvantage for not being a power hitter in an era of power-hitting shortstops, though history has revealed that at least some of the power from two of his peers, Alex Rodriguez and Miguel Tejada, was a steroid creation. As a pillar of their respective franchises, he far outlasted his rival in Boston, Nomar Garciaparra.
He plays on the richest team in the history of sports, surrounded by superstars nearly every season, another factor that undermines any attempt at an accurate assessment of his own contributions. And Jeter has also been penalized, Joe Montana-style, by the perception that he has been a winning postseason ballplayer because he played in the right system on a team that always appeared in the playoffs.
The Yankees no doubt hoped that when the time came, Jeter would do the right thing, or what their version of the right thing is, by accepting a significant pay cut, changing positions, or both, rather than be an immovable Gibraltar, past his prime but too powerful to remove easily from the most important defensive position on the field.
[+] Enlarge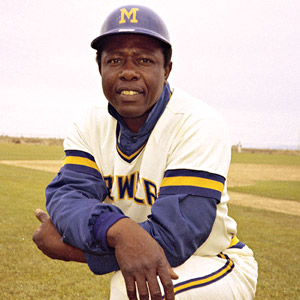 AP PhotoHank Aaron as a Milwaukee Brave, yes. But as a Milwaukee Brewer?
So far, Jeter has opted to do neither. And now, with the signing of Mark Teixeira and the emergence of Robinson Cano, he is locked into shortstop, where his detractors have forged the best statistical case against him.
If The Boss were here, in his prime, it is likely that Jeter would have never even become a free agent, likely that it wouldn't have ever come to this. More than any owner in baseball history, Steinbrenner understood box office over Value Over Replacement Player. He knew that the Yankees -- and sports in general -- are about selling memories, intangible concepts that have no price tag. The Steinbrenner Yankees used money to sign players, not to come between them and a player the Boss wanted.
Only twice did Steinbrenner noticeably falter with players he considered "true" Yankees. He let Reggie Jackson go the year after he signed Dave Winfield in 1981, and he let Pettitte go to Houston via free agency following the 2003 season. For the other 34 years he owned the team during the free agent era, the Yankees always got their man.
But now, the Jeter free agency story seems less about the star shortstop than about the dawn of a new age in which the Yankees are pouring the foundation of the post-Boss front office. Randy Levine, the club's president, is a powerful, uncompromising voice, unafraid to remind the world (Jeter included) that the Yankees brand is bigger than any individual player.
Levine's public comments are designed to send the message that the Yankees have already compensated Jeter for his glorious past, and both sides benefited. Close, the agent, however, seems to be negotiating with the Yankees as though the Old Man were still alive.
[+] Enlarge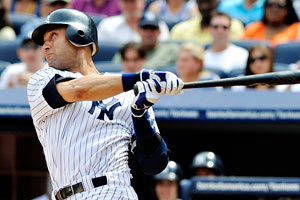 AP Photo/Henny Ray AbramsHe hit .270 this year, his lowest batting average by far in his 15 full seasons.
If anything, Brian Cashman is a sort of hybrid, aware that statistics matter but appreciative that heart does, too, which is why the Yankees GM hates to be considered "One of Them," a bloodless disciple of the Bill James school of talent evaluation who doesn't understand that a play like The Flip doesn't show up on the printout. Joe Torre pinned the characterization on him -- that Cashman values the analysis columns over people -- for the world to see in his farewell parting shot, the book "The Yankee Years," when Torre told Cashman that he'd "changed." The Sabremetricians (for his entire career, Jeter's biggest critics) have Cashman's ear; and this is not to be underestimated, for Jeter's declining quantitative arc and Levine's muscle -- valid factors, each -- are the twin obstacles to Jeter receiving a deal on his terms.
The issue, though, is that the game is not one of science, but one of human behavior and passion. Nobody, really, is worth the money the game generates or spends; everyone is overpaid. The problem is the consequence of war, when both sides allow ego and slight and anger to cloud their best interests. Never underestimate a player who has something to prove; and Jeter, Carlton Fisk-style, might just be wounded enough to take his remaining skills elsewhere, as the Yankees, rightly, might harden their stance that a $45 million contract is fair in any universe for a player who will turn 40 years old by its end.
The Yankees and Jeter do not seem to be at that kind of bitter standstill just yet, and neither side -- nor the fans -- will benefit if Jeter leaves. Yet it seems a real and unnecessary possibility. The impossible suddenly seems possible.
Howard Bryant is a senior writer for ESPN.com. He is the author of "The Last Hero: A Life of Henry Aaron," "Shut Out: A Story of Race and Baseball in Boston," and "Juicing the Game: Drugs, Power and the Fight for the Soul of Major League Baseball." He can be reached at Howard.Bryant@espn.com. He can be followed on Twitter at www.twitter.com/hbryant42
Senior Writer
Senior Writer, ESPN.com and ESPN The Magazine
Author of "The Last Hero: A Life of Henry Aaron"
Author of "Juicing the Game"
SPONSORED HEADLINES
ESPN TOP HEADLINES
MOST SENT STORIES ON ESPN.COM