Commentary
Brett Favre allegations: serious matter
There are easy parallels to the Tiger Woods story if the accusations are true
Originally Published:
October 12, 2010
By
Jemele Hill
| ESPN.com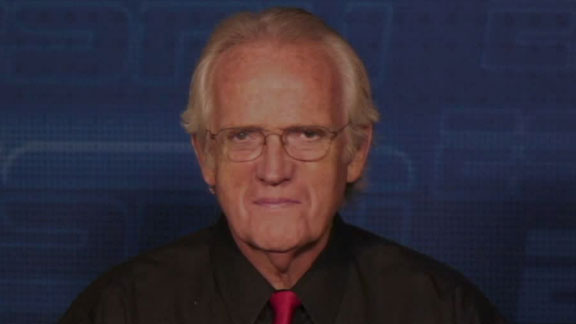 Legal Ramifications Facing Favre, Jets, NFL
Lester Munson on the legal ramifications of the allegations against Brett Favre
Legal Ramifications Facing Favre, Jets, NFL
Certainly there are some parallels to be drawn between the Brett Favre and Tiger Woods sex scandals.
The obvious similarities:
• Both are sports icons whose reputations have been tarnished by alleged infidelities.
[+] Enlarge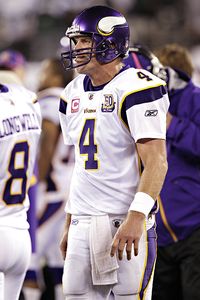 AP Photo/Kathy WillensThe allegations against Brett Favre could end his impressive consecutive-start streak.
• The cell phone was the weapon of mass destruction of their good names.
• Both Tiger and Favre cashed in on selling a family-friendly image.
• And now, each faces a daunting question: Will their personal troubles ultimately doom their athletic excellence?
Tiger has more or less admitted to his indiscretions without being specific; it's still unclear whether Favre sent inappropriate text messages and lewd photos to Jenn Sterger, who worked for the Jets when Favre was their quarterback in 2008.
There is one important distinction between these two examples of athletes in peril: Far as we know, Tiger had affairs with willing women who knew he was married. If the reports about Favre are true, he was harassing Sterger as well as, possibly, a massage therapist who also might have received improper texts from Favre while he was under contract with the Jets.
To me, this makes Favre's alleged actions far more reprehensible and potentially worse than what Tiger did. In no way am I condoning Tiger's infidelity. Nor am I ignoring the fact Woods' immaturity and reckless irresponsibility destroyed his family and cost him millions in endorsements.
But as tawdry as Tiger's exploits were, there's a very big difference between adults agreeing to an adulterous affair and the harassment Favre is being accused of.
If the NFL finds there is any merit to the allegations against Favre, he is at best a creep and at worst a sexual harasser who has embarrassed his family and made the Jets and the NFL vulnerable to lawsuits.
"We are going through that and we are making sure we understand all the facts," NFL commissioner Roger Goodell said at halftime of the Chargers-Raiders game on Sunday.
COMEBACK MISTAKE

He is embroiled in allegations that are tarnishing his reputation, and his team isn't playing very well. ESPNNewYork.com's Ian O'Connor suggests that maybe it wasn't such a good idea for Brett Favre to try to play this season. Column
Earlier this year, Goodell sent a strong message that misogyny is on the league's radar with his handling of the Ines Sainz situation and the suspension of Ben Roethlisberger.
Favre presumably is in the final chapter of his career. The game against the Jets on Monday night was his 289th consecutive start, an astounding achievement in the violent world of the NFL. How humiliating will it be if the streak ends because Favre has to serve a suspension for sexual misconduct?
Regarding his reputation, Favre told ESPN this: "It has always been important to me. That was one of the first questions I answered when I signed here [in Minnesota]. Sure, it is important to me; it has always been a concern."
There's a lot at stake here for Favre. He's spent considerable time creating distance from a troubled past that includes an addiction to a painkiller and alcohol abuse; and in recent years, Favre has generated a lot of sympathy from people because of his family struggles.
Few can forget how, on the same night of his father's death in 2003, he passed for 399 yards and four touchdowns for the Packers against the Raiders. And in 2004, Favre's wife, Deanna, was diagnosed with breast cancer. Although as of this moment Favre isn't guilty of any wrongdoing, it's difficult to feel sorry for him. He's been down this road before.
[+] Enlarge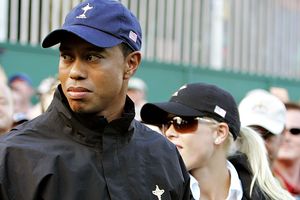 AP Photo/Alastair GrantThe Tiger Woods story might be a cautionary tale for Favre.
In Deanna's 2007 autobiography, "Don't Bet Against Me! Beating the Odds Against Breast Cancer and Life!" she wrote that she knew her husband had been unfaithful and that it nearly shattered their relationship.
This is the same woman who stood by Favre through his drug addiction and heavy drinking earlier in his career and their marriage. We can only imagine how much this latest alleged misconduct has disrupted Favre's household.
Still, no matter how this investigation turns out, this isn't the swan song anyone could have predicted for Favre. The Vikings are 1-3 and his season is a far cry from the 33-touchdown, seven-interception performance he had last year.
As we witnessed with Tiger, it can be a toxic combination when an athlete isn't winning at the same time his personal life is in shambles. Favre, the king of "Monday Night Football," had his moments against the Jets, overcoming a first half in which he completed just 3 of 7 passes for 31 yards to finish with 264 passing yards and three touchdowns. But with 1:30 left in the game he threw an interception that was returned 26 yards for a touchdown and sealed the win for the Jets.
No one knows what impact, if any, the NFL's investigation had on Favre's performance on Monday. No one knows where this investigation could lead, or the damage it might do to his family.
Tiger Woods, though, might have some idea.
Jemele Hill can be reached at jemeleespn@gmail.com.
ESPN.com, ESPN The Magazine
Co-host of ESPN2's "Numbers Never Lie" and His and Hers podcast
Columnist for ESPN.com
Columnist for Orlando Sentinel (2005-06)
Writer for The Detroit Free Press (1999-2005)
SPONSORED HEADLINES
ESPN TOP HEADLINES
MOST SENT STORIES ON ESPN.COM
ESPN FAN SHOP