Commentary
Irish coach: the weirdest job in sports
Cincinnati's Brian Kelly and every other candidate should be prepared for the peculiar.
Originally Published:
December 8, 2009
By
Tim Keown
| ESPN.com
So Cincinnati football coach Brian Kelly will sit down with Notre Dame officials on Tuesday, and by the end of the conversation he might be asking himself if he really wants to subject himself to the weirdest job in sports.
At this point, given the events of the past week, there's no other way to describe it. It's hard to surpass the eternal weirdness of being the head coach of the Oakland Raiders, but I'm thinking Tom Cable might even take a call from Notre Dame athletic director Jack Swarbrick and say, "You know what? I think I'm good."
[+] Enlarge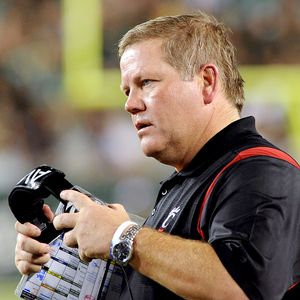 Al Messerschmidt/Getty ImagesIf Brian Kelly gets the job, he might have a few surprises awaiting him in South Bend.
First, there's the time warp thing. As soon as the Notre Dame job opens, everybody suddenly acts like it's 1975 again. It's football's version of one of those goofy Civil War re-enactments. Everybody pretends it's the greatest job in the world, completely forgetting they just spent the past five years (at least in Charlie Weis' case) telling the world how difficult it is to win at Notre Dame because: (A) academic standards are tough, (B) not enough top-tier athletes want to live in South Bend, Ind., and (C) no one between the ages of 17 and 23 has any memory of the Notre Dame glory days.
At this point, they might have to extend the demographic. They're reaching the point where many of the potential coaches won't be able to remember the glory days, either. Maybe one of the interview questions should consist of the AD's holding up a photo of Lindsey Nelson in a plaid jacket and asking the interviewee to identify him. And if the prospective new coach breaks into a slightly nasal rendition of "The Spartans failed to score on their previous drive, and we pick up the action with Clements bringing the Irish to the line at the 45," you hire him on the spot.
This is the ultimate hired-to-be-fired position in sports. As soon as someone accepts the position -- remember, this is immediately after it's been built up as the greatest job in sports -- the media and Notre Dame boosters and Notre Dame haters start looking for reasons why the guy should be fired.
(Kelly might also look at it this way: If he has a good year, there's a pretty good bet someone will step up and hand him a 10-year extension. Such is the potential adulation and compensation for the occasional nine-win season.)
And yet, over the past week, the parameters of the Notre Dame job went from strange to something directed by David Lynch. I have to be cautious about making too much of this since nobody in a position of power at Notre Dame has brought it up, but one of the hot topics on the Notre Dame message boards since the Cincinnati coach became the assumed front-runner is this: Should Kelly's apparent pro-choice stance remove him from consideration?
Seriously. And I know: Message boards are not exactly MIT graduate seminars, but it is being discussed. And after the protests against President Obama's commencement address at Notre Dame last spring, maybe it was inevitable that even the athletic department at America's pre-eminent Catholic university would find itself at the mercy of the one-note prattling from the hard-liners.
The only question is: Does a football coach want to put himself through that? How many jobs outside the Vatican, the Supreme Court and Planned Parenthood could a person's views on abortion be a consideration?
And how they know Kelly is pro-choice is unclear. He isn't known to include pro-choice literature in the Bearcats' pregame notes, though he did once volunteer for Gary Hart. Most news articles are quick to mention Kelly's bona fides as "an Irish-American Catholic," but that might not be enough. As a friend of mine -- Notre Dame grad, Irish-American Catholic himself -- says, "I couldn't care less whether he's Irish and Catholic. I like him as a coach."
[+] Enlarge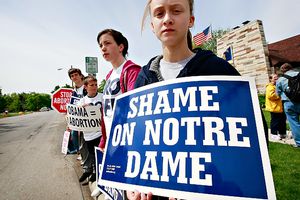 Scott Olson/Getty ImagesAnti-abortion protestors weren't happy about President Obama's appearance at Notre Dame.
Going in, Kelly should be aware of one fact: No matter how irrelevant the abortion issue might be, and even if it isn't brought up in any official capacity, you can be sure some group is going to show up and protest outside his door the day he moves into the office. And more than a few of them are bound to have the crazy eyes going.
Look, Notre Dame's decision-makers have every right to hire any coach they want, and they have every right to set the criteria as they see fit. They could bypass Kelly for his diet, for all I care. But as a Catholic, I find the intrusion of the doctrine-obsessed into everyone else's life a tiresome bore.
And if Notre Dame decides to go that route to appease the one-noters -- again, there's no indication it will -- it shouldn't stop with abortion. Why don't the Irish ask Kelly his stance on capital punishment? How does he feel about compassion for the poor and underserved in our country? What are his opinions on the clergy abuse scandal?
What charities does he support?
What are his positions on the wars in Afghanistan and Iraq?
Chances are they aren't interested in those answers, but at least they'll know how the rest of us feel.
Berkeley Junior Bears Update
Our favorite Pop Warner team made it to Orlando for the national championship tournament and won its first game. The only surprise: Someone scored on it this season for the first time in 13 games. On Sunday, the Bears defeated a team from Connecticut 34-8, after leading 28-0 in the first quarter.
Immediately after the game, coach Todd Walker told me, "We're going back to the hotel to watch the film and tighten things up before the next game."
The Bears play a team from Florida today. A win, and a win in the title game this weekend would make the Bears Pee Wee national champions.
ESPN The Magazine senior writer Tim Keown co-wrote Josh Hamilton's autobiography, "Beyond Belief: Finding the Strength to Come Back," which is available on Amazon.com. Sound off to Tim here.
SPONSORED HEADLINES
ESPN TOP HEADLINES
MOST SENT STORIES ON ESPN.COM