Commentary
Key to Roger Clemens' trial? Location!
The Rocket's whereabouts on a June day 13 years ago will play a critical role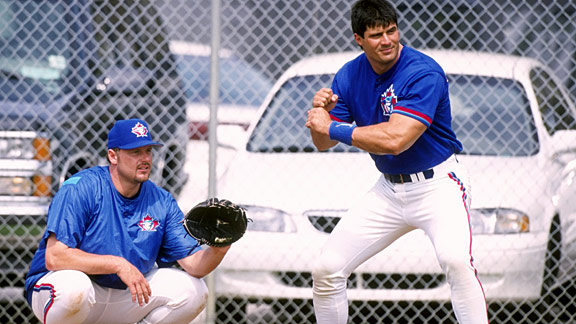 Getty ImagesRoger Clemens and Jose Canseco were together in March of '98. But what about that June party?
Verdict forms. Obstruction. False and misleading statements. And our favorite: unjust enrichment. All in a day's work when it comes to the sticky legal situations we encounter in this crazy sports world of ours.
By the way, maybe this is a good time for a reminder: You know there's nothing false and misleading about the view you get here from our Courtside Seat, right? (Unjust enrichment? Guilty as charged. We do get paid for this, after all!) Anyway, today we start with &
Party favors
Where was Roger Clemens on the afternoon and evening of June 9, 1998?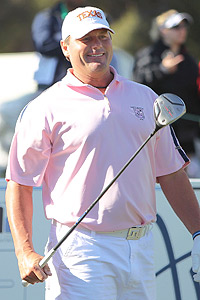 Chris Weeks/WireImageHere's proof that Clemens played golf on April 3, 2011. (It's the Michael Jordan Celebrity Invitational.) Too bad there isn't photographic proof that he played on June 9, 1998, too.
That's one of the questions jurors in Washington, D.C., will be required to answer as they consider the guilt or innocence of the great pitcher in a trial on charges of obstruction of Congress and perjury scheduled to begin on July 6.
If Clemens and his legal team can convince the jurors that he was on a golf course rather than at a party with his Toronto Blue Jays teammates at the South Florida home of Jose Canseco, they might have some hope of an acquittal in a trial that will shape Clemens' ultimate baseball legacy.
At the conclusion of what is expected to be a four-week trial, the jurors will be asked to determine whether Clemens was truthful when he swore to congressional investigators in February 2008, nearly 10 years after the party, that he skipped the gathering to play golf.
Clemens claimed he was on the golf course in response to assertions in the Mitchell report from his former personal trainer, Brian McNamee, that Clemens not only attended the party but also discussed steroid use and ordered drugs in poolside conversations with McNamee and Canseco.
The evidence concerning his absence from or presence at the party is a rare soft spot in what appears to be a powerful case against the pitcher. It offers Clemens and his lawyers their best opportunity to persuade the jury that McNamee cannot be trusted, and that he lied in his various descriptions of Clemens' use of steroids and HGH. If the Clemens legal team can persuade the jury that McNamee lied about the party, it is a step toward persuading the jury that Clemens has been telling the truth in his numerous public statements since the Mitchell report was published in December 2007.
The assertion that Clemens lied about the party is one of 15 specific "false and misleading" statements Clemens is alleged to have made during the congressional investigation into MLB's steroid era. The jury that decides Clemens' fate will be required to consider each of those 15 statements and reach a unanimous conclusion on its truth or falsity.
[+] Enlarge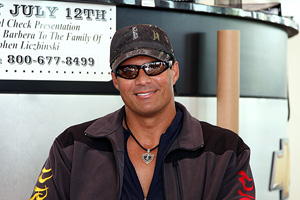 Bill McCay/Getty ImagesThe prosecution will attempt to discredit Canseco's testimony, just as the defense will attempt to discredit Brian McNamee's testimony.
In the verdict form the jurors will complete at the conclusion of their deliberations, they will be asked "agree" or "not agree" on whether Clemens was "at [Canseco's] house in south Florida on or about June 9, 1998."
The verdict form is a powerful tool for prosecutors. It will give the Clemens prosecutors 15 chances for a conviction on the obstruction of Congress charge. It is strikingly similar to the verdict form that was the basis of another jury's decision in San Francisco in April that Barry Bonds was guilty of "false and misleading" statements about his use of steroids.
Clemens and his legal team have put together some impressive evidence in support of their claim that he skipped the party. Rusty Hardin, Clemens' lead attorney, told investigators from the U.S. House of Representatives Committee on Oversight and Government Reform on Feb. 5, 2008, that he welcomed their queries on the party.
"If you hadn't brought it up, we would have brought it up," he said, according to a deposition transcript filed in the U.S. District Court in Washington. "There's no reason for us to lay behind the log on this."
Hardin, a remarkably successful trial lawyer, described for the committee staff the detailed investigation his investigators conducted after they reviewed the Mitchell report findings with Clemens.
Soon after Clemens told Hardin that the Mitchell report's account of his presence at the party was a "lie," Hardin went into action. First, he sent his investigators to Florida to talk with Canseco. Canseco told Hardin's investigators that Clemens never appeared at the party. In a statement to Hardin's investigators, Canseco said, "That's the only party I ever gave at my home there for the team. Roger was supposed to come and he didn't come. And I heard later that he was out playing golf."
But that was not enough for Hardin. He admitted to the committee staff that "people have different views" about Canseco and acknowledged that the Clemens team needed more convincing evidence that Clemens did not attend the party.
[+] Enlarge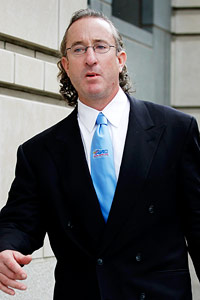 AP Photo/Manuel Balce CenetaUnlike Barry Bonds' personal trainer in his trial, Brian McNamee will be very visible during Clemens' trial.
Following up on a tip from Canseco's father, the Clemens-Hardin team viewed a TV broadcast of the Jays-Marlins interleague game on the next night and heard "two announcers laughing about the fact that Canseco had this party for the team the day before at his pool, and Roger didn't come." One of the announcers said during the broadcast of the game that he had seen Clemens on the golf course.
A check of Clemens' credit cards produced documentary proof that Clemens was on a golf course, Hardin added in his presentation to the House Committee staff. Even more persuasive, if it is proved in the trial, is Hardin's claim that McNamee himself told Hardin's investigators that Clemens did not attend the party. In his statement to Hardin's investigators, McNamee said that he asked Mitchell to remove the party from his report but Mitchell ignored the request.
In the hands of a lawyer as thorough and as skilled as Hardin, the conflicting accounts from McNamee of the party are the finest of gifts. He will pounce on the inconsistency, confront McNamee in numerous ways and argue to the jurors that if they cannot believe McNamee on the party, they cannot believe him on anything.
As Hardin told the committee investigators in the Clemens deposition, "Roger was never at the party, and the whole house of cards falls."
The problem for Hardin and Clemens is that the government's case is much more than a house of cards. In the Bonds trial, the personal trainer, Greg Anderson, refused to testify against Bonds, a major setback for the government. In the Clemens trial, the personal trainer, McNamee, appears to be looking forward to testifying, a major setback for Clemens.
In the pre-trial he-said/he-said battles of credibility and veracity between McNamee and Clemens, McNamee has come out ahead both before the House committee and in various public statements and news conferences. In the trial, Clemens' best chance for a victory will come if he can prove his whereabouts on the afternoon and evening of June 9, 1998.
Shufflin' off to court
In the most successful music video ever made by an NFL team, Walter Payton, with moves that would be the envy of anyone on "Dancing With the Stars," raps:
And we're not doin' this
Because we're greedy.
The Bears are doin' it to feed the needy.
[+] Enlarge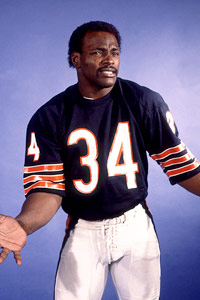 Paul Natkin/Getty ImagesWalter Payton was "Sweetness" in front of the footlights in the "Super Bowl Shuffle" video.
Now, normally at this point in the column, the view we provide from our Courtside Seat would include a link to the "Super Bowl Shuffle," the captivating video Payton and his Chicago Bears teammates made on the way to their triumph in Super Bowl XX in January 1986. But we aren't going to give you that link. We fear what might happen if we did anything that would allow you to enjoy the fabulous singing and dancing of those Bears. We would risk joining an ever-increasing list of people and companies caught in lawsuits over "Super Bowl Shuffle."
At the moment, there are two lawsuits pending over the video produced in late 1985. Lawyers involved in the litigation tell ESPN.com that more lawsuits are expected.
The litigation is the latest chapter in the checkered history of the video, which features the most-beloved sports team in the history of the Chicago market even though its 46-10 Super Bowl victory over the Patriots was 26 seasons ago.
The project was the result of a collaboration between wide receiver Willie Gault and a Chicago business executive named Richard Meyer. They persuaded several Bears stars (Jim McMahon, William Perry, Mike Singletary, Gary Fencik, Payton and others) to participate in a project that, as Payton sang, was supposed to help Chicago's neediest.
The video was a smash hit, selling thousands of copies, and was nominated for a Grammy, losing to Prince's "Kiss." But Meyer ran into trouble when a Chicago publication, reporting on the video, accused him of cocaine addiction. In the first of many lawsuits related to the video, Meyer sued for libel and lost in a jury trial in federal court.
Illinois authorities then questioned whether an appropriate portion of the profits had been given to charities. A settlement of the state's claim remains impounded, but several players have expressed their outrage over the possibility that as little as $120,000 went to charities.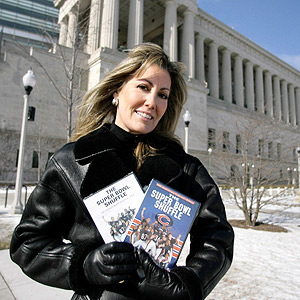 AP Photo/M. Spencer GreenJulia Meyer, outside Soldier Field in January 2007 here, is being protective of her "Super Bowl Shuffle" copyright.
And that was just the beginning. After Meyer's death in 1992, the ownership of the rights to the video passed to his widow, Julia. She has filed a series of lawsuits against broadcasters and publishers who have mentioned the video, claiming things like "commercial piracy," breach of contract, deceptive practices and "unjust enrichment."
In one embarrassing sequence, Julia Meyer wanted money damages for use of a photograph that was used in an album cover. The problem was that the photographer owned the rights to the picture and she had earlier lost to him in litigation over those rights.
In a 2010 lawsuit against Viacom, Julia Meyer wanted money damages because MTV had played 40 seconds of the video in a news report in December 2007 and VH1 had played 13 seconds from it in a feature on "One Hit Wonders."
In a lawsuit filed in 2011, Meyer appears to have a better claim than in some of her earlier efforts. Random House ignored the expiration of a license to sell the video along with a book on the '85 Bears and continued to market it. But sales were not good. Although Meyer's lawyers and the Random House lawyers refused to discuss the pending litigation, a source with knowledge of settlement negotiations told ESPN.com that the claim will settle for the grand sum of $30,000. The source wished to remain anonymous because of the delicacy of the negotiations.
Payton's delivery of the lyrics on "greedy" and "needy" was dazzling. All this time later, it appears as though there's still plenty of need and greed to go around when it comes to the "Super Bowl Shuffle."
Lester Munson, a Chicago lawyer and journalist who reports on investigative and legal issues in the sports industry, is a senior writer for ESPN.com.

Legal Analyst
Senior Writer and Legal Analyst, ESPN.com
13 years as investigative reporter at Sports Illustrated
Adjunct Instructor, Northwestern's Medill School of Journalism
SPONSORED HEADLINES
ESPN TOP HEADLINES
MOST SENT STORIES ON ESPN.COM