Commentary
'I sat next to Elvis'
A sportscaster's career was shaped by the drive of her sports executive father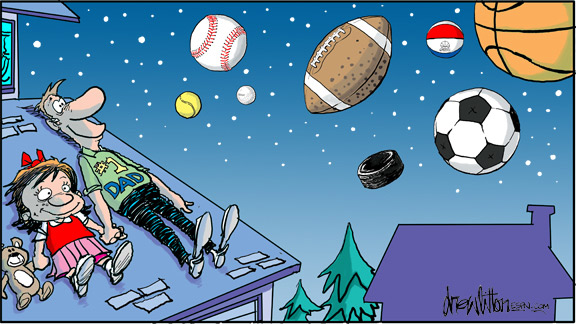 Drew Litton/ESPN.com
It's no surprise that I ended up in sportscasting. I lived this world, with my father, Mike Storen. Dad was a sports executive for most of my childhood. Just after I was born, we were living in Oak Park, Ill., and he was still in the Marine Corps. He had just finished helping launch the now-famous Toys for Tots program. As you might expect, he's very creative and a real go-getter. He also has always had a passion for sports. Dad went to Notre Dame (as I would many years later) and played on the football team for a while, before playing football for the Marine Corps in various places around the world. One day, he saw a want ad for a ticket salesman needed for the local professional basketball team, the Chicago Zephyrs. Dad -- without any appreciable experience but with a lot of charm and gusto -- went into their offices and promised that he would single-handedly sell a certain number of season tickets. And then, true to form, he did it. They had to hire him! Goodbye, Marines … hello, pro sports.
At that point, my childhood became a journey of cities, pro leagues and franchises. We followed Dad from Chicago to various cities and basketball teams like the Baltimore Bullets, Cincinnati Royals, Indiana Pacers, Kentucky Colonels, Memphis Sounds, Atlanta Hawks and baseball's Houston Astros. When I was in sixth grade, Dad was featured in a big Sports Illustrated spread as pro sports' hottest young executive.
When it wasn't a school night, the family would go to pro basketball games. Dad became commissioner of the ABA … and his creativity was evident everywhere, from the red, white and blue basketballs to the presence of cheerleaders at the games. He was instrumental in bringing big players to the league and created "Operation Kingfish," the master plan to lure the legendary Dr. J to play in the ABA. Players, who seemed like giants to me, were routinely in our house, along with owners like John Y. Brown as well as some of the all-time great coaches.
[+] Enlarge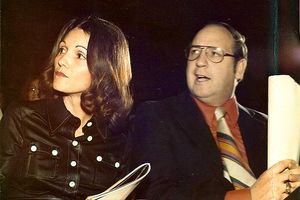 Courtesy of Hannah StormMike Storen (my father) with my mom (Hannah) at an ABA game in the '70's.
I loved the glamour and excitement of the games and, in particular, knowing the names of each and every one of the referees -- that's because my mom, a former basketball player, would yell at them from our front-row seats for making bad calls! Life was summed up with a variety of acronyms … the ABA, NBA, USBL, WFL, AFL, MLB … you get the idea. One of my dad's more memorable teams was a World Football League franchise trying to make it into the NFL as an expansion team, the Memphis Grizzlies. They had the famous trio of Csonka, Kiick and Warfield, all lured away from the Dolphins, on their roster, and Danny White as their QB and barefoot punter. I remember sitting next to Elvis at a game.
And I remember other things. Actually, lots of things. Like disgruntled fans putting "For Sale" signs in our front yard when the team wasn't doing well. Like my dad getting fired shortly after a move to a new town -- and having it splashed all over the newspapers. There was an article in the Atlanta Journal with a particularly sad-looking photo of my father and a quote from me saying, "I still love my daddy."
But mostly, I remember Dad always picking himself up, relentlessly positive and always pushing new ideas. He was a forward thinker -- willing himself to move onto the next thing. Losing seasons and front-office changes are so impactful for a sports family. It can mean a move, a loss of friends, having to adjust to a new town, again and again. And coming close to a championship and then losing, as the Indiana Pacers did when I was in grade school, can be particularly tough. That disappointment and heartache lingers for a long while. Those are all things I am very conscious of to this day in my career as a sports broadcaster, when we are doing stories about coaches or executives getting fired, or players getting traded, as if it's nothing. I don't make knee-jerk assumptions about the decisions franchises make, and understand a lot of the inner workings that fans never see. My family was profoundly affected by my father's job changes. To this day, I remain extremely careful when talking about anyone in sports potentially losing their job. It can be dangerous speculation, an all-too-quick reaction to whatever is taking place on the field. I think I have a great sensitivity in that regard because of my dad.
My father's peripatetic career also gave me critical perspective when it came to my own career choices. His overall sense of optimism is responsible for my not being afraid to enter a nontraditional career for women: sportscasting. There were virtually no female sportscasters on the air when I graduated from college in the early '80s. I wanted to be on television, and having been around sports my whole life, I knew how much fun it was. (Certainly better than covering local crimes and city council meetings.) Unfortunately, very few people thought much of my chances. I worked internships throughout college. In the summers I would wait tables and then work at TV stations for free, for college credits or just for the experience. At Notre Dame, I had a sports talk show on the local radio station and also did sports reporting for the local NBC affiliate. While my friends were all getting jobs in accounting firms and banks or going onto grad school after senior year, I had a very specific but unusual job in mind -- and no clear road map how to get there. Frankly, I also had no idea how much resistance I would encounter. I literally sent out hundreds of résumés and dozens of tapes and got back hundreds of rejections, even from very small markets. I was told everything from "I'll hire a woman to do sports over my dead body" to "My audience will never accept a woman sportscaster" to "Why don't you just try feature reporting?" I couldn't even get an agent to take me on. Quite simply, almost no one wanted a woman, even someone with experience, to work in sports at their station.
I lived at home for a few months after graduation because I had yet to find the job I wanted. During that time, I used to go on jogs with my dad. We would talk about my job hunt. (We didn't go very fast!) He reminded me that while there were only a few hundred TV stations in the country, there were thousands of radio stations. The important thing was get on the air in a paying job, and the odds were better in radio. So I shifted my strategy. I wrote and created some radio broadcasts and recorded a demo reel. Then I started answering want ads located in the back of trade magazines, like Broadcasting and Radio and Records. Lo and behold, I was offered two jobs. One at a news station in San Angelo, Texas, and the other spinning records at a heavy-metal rock station in Corpus Christi. Remember, I tend to go for fun … so I opted for the DJ gig, packed up my Tercel and drove off to South Texas to begin my career.
[+] Enlarge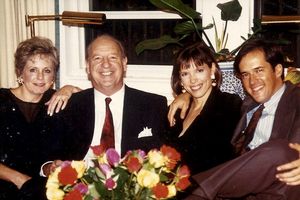 Courtesy of Hannah StormDad and his wife, Lynn, with me and my husband when we got engaged.
The station was licensed in the next county and right smack in the middle of farm country. My shift was over in the middle of the night, so I bought a CB in case of emergency. (By now you've probably realized there were no car phones or Internet when I got started.) Every night I actually had to get out of my car and chase the cows from the gate so that I could open it and drive through. Then, very quickly, I would get back out of the car and close it so no cows would get inside the property! And when the power went down, which it frequently did, I would have to go outside in the pitch black of the night and crank the generator by hand to get us back on the air. We played Scorpions, Def Leppard and Quiet Riot and I interviewed bands like Mötley Crüe, Heart and Black Sabbath. By the way, that's when I was given a new name. "Storm" sounded good on the radio. My real name is Hannah Storen, and Dad's name, Mike Storen, is still there on any old ABA basketball you might come across.
Turns out, Dad was right about that radio job. I was on the air -- and I loved it -- and the experience paid off. From there, I answered another want ad for a job in Houston as a weekend DJ and weekday sportscaster. I drove to Houston and parked myself in the reception area and waited for the program director to leave for lunch. When he did, I popped up, introduced myself and handed him my tape and résumé. I heard from him a week later and eventually was hired for the job. That was my first real sports job. To tell the stories of the others that followed would require many more pages. Suffice to say, my dad's legacy is alive and well.
During that very first gig in Corpus Christi, I distinctly remember doing a promotional event in a dive bar and thinking about where I wanted to go with my career. I wanted to host an Olympic telecast one day and then a morning network TV program. Again, I wasn't sure exactly how to get there, but I had a clear vision and the self-confidence to think that I could achieve my dream. My father's voice continued to resonate along the way. Dad used to say, "You're going to get a lot of no's … but you only need one yes. Just that one person to see you and believe in your potential. That's all you need." That was typical Dad: always optimistic and finding a way to get it done. The guy who worked his way up from ticket sales to ABA commissioner taught me principles that ring true today. Whatever my dreams have been -- to do an assignment that has never been done before, to make a film, to raise money and awareness for kids with debilitating birthmarks -- I felt I could accomplish those things with the same determination, hard work and positive attitude that my father had. Even when I lost my job at CBS News, I set up shop in my youngest daughter's bedroom and started Brainstormin' Productions and the Hannah Storm Foundation. And guess who was there, visiting me and enthusiastically making business charts and graphs that covered my entire kitchen table? My dad, of course.
My office is filled with sports memorabilia and balls of all shapes and sizes from my dad's journey. I still come across people, especially at basketball games, who ask about him … or tell a funny story about the "old days." His legacy as a sports executive is still evident to some, but his impact as a father is much more profound.
He has a daughter who soaked it all in, who dreamed of being a female sportscaster when there were none, who went on to host four Olympics and a morning TV news show, who wrote two books and now produces and directs films. My father taught me tenacity and gave me the courage to dream big.
That is exactly what I want to leave my children: the inner confidence to believe that you can follow your passion, the willingness to work as hard as you can to get it done and the imagination to see what others do not. So his legacy goes far beyond that of simply a love for sports. It's the love of a father for a daughter. My dad has made me want to be the same kind of parent he is: one who doesn't just talk about following your dream … but lives it in a such way that you inspire and enable your children to do the same.
Hannah Storm is a co-anchor of ESPN's "SportsCenter." A former host of CBS's "The Early Show," Storm is the author of "Go Girl!," a parenting guide for bringing up sports-playing daughters, and "Notre Dame Inspirations," a collection of reminiscences from Fighting Irish alumni, including Nicholas Sparks, Joe Montana and Regis Philbin.
For more stories about the athletic connections between parent and child, check out "Fathers And Daughters And Sports" and "Fathers And Sons And Sports" wherever books are sold."
SportsCenter anchor
Hannah Storm -- a trailblazing and award-winning sports and newscaster for the last 19 years with CNN, NBC and CBS -- joined ESPN in 2008 as a host for the 9am to 12pm weekday morning SportsCenter. Storm comes to ESPN from CBS News after five years as a host of The Early Show, covering numerous major news events.
SPONSORED HEADLINES
ESPN TOP HEADLINES
MOST SENT STORIES ON ESPN.COM