Discussion
Judge A-Rod 'from this day forward'
Huh? His cousin injected him with what? With "boli"? I'm confused. Is that a steroid or a pasta?
Sift through the rubble of Alex Rodriguez's latest fistfight with the truth and you're left with handfuls and handfuls of question marks. I know he admitted something; I'm just not sure what exactly.
But one A-Rod statement did make surprising sense. In fact, it made perfect sense.
"I screwed up big-time," said Rodriguez during his Tuesday confessional, "but the only thing I ask from ...

Read full story
A-ROD FACES THE MEDIA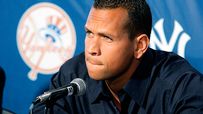 Alex Rodriguez arrived at Yankees camp Tuesday and answered questions about his admission of using performance-enhancing drugs during 2001-2003 with the Rangers.
NEWS
ANALYSIS
VIDEO
AUDIO
SPORTSNATION