Discussion
Owens' role model? Randy Moss
March 5, 2004. The topic is Terrell Owens. The expert is Dr. Harry Edwards, the noted sociologist and longtime consultant with the San Francisco 49ers.
"This young man has never had one iota of trouble with women, drugs, violence, anything like that," Edwards tells the Baltimore Sun. "You're not going to get that with Terrell. What you are going to get is the kind of behavior on the field that his generation celebrates. It's cultural. You're not going to change it. ... You just have to manage ...

Read full story
T.O. TO BUFFALO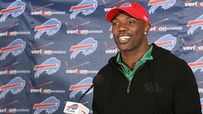 Terrell Owens, released by the Dallas Cowboys, signed a 1-year, $6.5 million with the Buffalo Bills on March 7.
NEWS AND FEATURES
ANALYSIS: BILLS SIGNING
PAGE 2
VIDEO: BUFFALO SIGNING
ANALYSIS: COWBOYS RELEASE
VIDEO: DALLAS RELEASE
AUDIO