Discussion
Will the future of football grow taller?
I have never actually met Ali Villanueva, but I think it is safe to assume that he is the kind of human one would not particularly enjoy encountering during hand-to-hand combat. In fact, a grizzly bear might be a preferable adversary. This is because Villanueva is 6 feet, 10 inches tall, and weighs in somewhere to the north of 280 pounds. He is also a cadet at the United States Military Academy at West Point, and a football player for the Army Black Knights. And it is here, on the football field, ...

Read full story
Could LeBron Play in the NFL?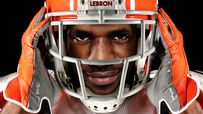 Could LeBron James make the transition from NBA MVP to impact NFL player? You might be surprised by what the experts say.
Story
MORE COVERAGE
PODCAST