Discussion
The first lottery draft still rates the best
Page 2 looks back at the best and worst of the lottery era
The first NBA draft lottery took place in 1985, with the seven non-playoff teams participating. The big prize in that year's draft: Georgetown center Patrick Ewing.
As we prepare for the 25th draft conducted under the lottery system, consider how much the NBA has grown: from 23 to 30 teams; from seven lottery teams to 14; from rumors of frozen envelopes to a complicated system of ping-pong balls.
Consider also: in 1985, Ewing was a polished college senior who had led Georgetown to ...

Read full story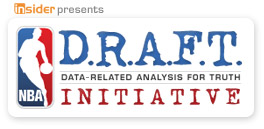 In the lead-up to the NBA draft on June 25, Insider digs deep with the D.R.A.F.T. Initiative. Make sure to check out our hubs for pick-based and team-based analysis, as well as the methodology behind our research.
THE D.R.A.F.T. INITIATIVE
MORE DRAFT COVERAGE