Discussion
NBA draft gallery: DeMar DeRozan
Updated:
June 26, 2009, 2:02 PM ET
By
LZ Granderson
| Page 2
PREVIOUS PHOTO | NEXT PHOTO
Ben Tobar on DeMar DeRozan's look: I like the seriousness of his getup. The intensity of his tie definitely draws attention to his face. Normally, when shopping for ties, guys fall in two categories -- Mr. Flash and Mr. Subtle. The goal is to be a hybrid of the two, bold but reserved. He does that.
PREVIOUS PHOTO | NEXT PHOTO
Read full story
2009 NBA Draft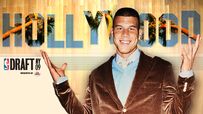 The 2009 NBA Draft is in the books.
Home
TODAY'S BEST
INSIDER: D.R.A.F.T. INITIATIVE