Discussion
Manny must be Manny -- right now
Down 3-1 in the NLCS, L.A. needs Ramirez to be more like the Phillies' Ryan Howard
PHILADELPHIA -- One of these days -- and it better happen soon, now that the Los Angeles Dodgers are one loss away from becoming National League Championship Series landfill -- it would be nice if Manny started being Manny.
Not the Manny Ramirez who has exactly one home run in 29 at-bats this postseason and only two RBIs in 16 at-bats against NLCS opponent Philadelphia Phillies. Not the Manny who might have been outsprinted to Shane Victorino's sixth-inning "triple" in the left-field corner ...

Read full story
NLCS GAME 4: PHILLIES 5, DODGERS 4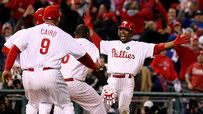 Jimmy Rollins drove home two runs with two outs in the bottom of the ninth to steal a win from the Dodgers and give the Phillies a commanding 3-1 NLCS lead.
STORIES
VIDEO