Discussion
ESPN Classic: Best of the decade
Originally Published:
December 22, 2009
ESPN.com
Need a break from relatives and kids and shopping malls and a 76th listening of "Jingle Bells"?
Then turn on ESPN Classic from Dec. 26 through Jan. 2 for a special presentation of the best games of the decade -- eight days and 192 hours of comebacks, championships and clutch plays.
Here's the complete schedule. Set your DVR now.
Saturday, Dec. 26
Midnight-2 a.m.: 2000 World Series, Game 5, Yankees versus Mets. Yankees win their third straight World Series title.
2 ...

Read full story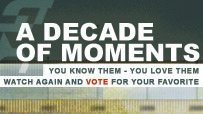 ESPN CLASSIC BEST GAMES: DEC. 26-JAN. 2
BEST OF THE DECADE
DECADE TRIVIA QUIZ
NHL
BASEBALL
NBA
SOCCERNET
HIGH SCHOOL SPORTS