Discussion
A legal look at talking about the past
Mark McGwire's steroids admission raises questions about his 2005 testimony
Originally Published:
January 11, 2010
By
Lester Munson
| ESPN.com
Mark McGwire's admission Monday that he was using steroids before, during and after his record-setting 1998 season raises questions about his testimony before a committee of the U.S. House of Representatives in March 2005. In an appearance that profoundly damaged his reputation, McGwire refused to answer questions about his use of steroids, saying repeatedly, "I'm not here to talk about the past." His statements to the committee were made under oath, and when compared with the admission he made ...

Read full story
MARK MCGWIRE COMES CLEAN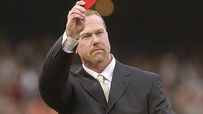 Mark McGwire admitted Jan. 11 that he used steroids on and off for nearly a decade, including during the 1998 season when he broke the then single-season home run record.
NEWS
ANALYSIS
VIDEO
AUDIO
SPORTSNATION
PAST LINKS