Discussion
Favre's now America's top 40
His performance in leading Vikings to the NFC title game is nothing short of remarkable
MINNEAPOLIS -- Mock him. Rip him. Despise him. But while you're at it, remember to respect him.
Brett Favre has earned at least that much, right?
If you're still wondering why Favre unretired for seemingly the billionth time, the Minnesota Vikings' 34-3 invasive surgery on the Dallas Cowboys is a nice place to start.
Scalpel, please.
Favre and the Vikings first cut out Dallas' heart, then Tony Romo's arm, and then removed the remaining body parts of the Cowboys from the ...

Read full story
2009 NFL PLAYOFFS: ROAD TO MIAMI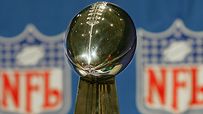 Who will supplant the Steelers as champions? The Colts and Saints will square off in Super Bowl XLIV on Feb. 7 in Miami.
COMMENTARY/BLOGS
CHAMPIONSHIP GAMES
Colts 30, Jets 17
Saints 31, Vikings 28 (OT)
DIVISIONAL ROUND
Vikings 34, Cowboys 3
Jets 17, Chargers 14
Saints 45, Cardinals 14
Colts 20, Ravens 3
WILD-CARD GAMES
Jets 24, Bengals 14
Cowboys 34, Eagles 14
Ravens 33, Patriots 14
Cardinals 51, Packers 45 OT