Discussion
A tale of two baseball cheaters
Why is it the best of times for Mark McGwire but the worst of times for Pete Rose?
Mark McGwire is back in. But Pete Rose is still out?
Major League Baseball continues its hit streak of hypocrisy.
How is it that McGwire receives a standing O from St. Louis Cardinals fans, but Rose still has his 68-year-old face pressed against MLB's window? McGwire not only goes directly from his self-imposed isolation tank to a big league coaching job, but he has Cards manager Tony La Russa running interference against anyone who thinks this is a bogus idea.
MARK MCGWIRE COMES CLEAN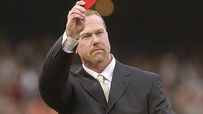 Mark McGwire admitted Jan. 11 that he used steroids on and off for nearly a decade, including during the 1998 season when he broke the then single-season home run record.
NEWS
ANALYSIS
VIDEO
AUDIO
SPORTSNATION
PAST LINKS