Discussion
Welcome to the Page 2 Wonderlic exam
Originally Published:
February 26, 2010
By
Toby Mergler
and Adam Watson
| Special to Page 2
The NFL scouting combine is upon us again, and brings with it more poking, prodding, running and gawking than the Westminster dog show.
But the combine has something Westminster doesn't: the famed Wonderlic aptitude test. Wonderlic questions are so abstract it's difficult to tell what (if anything) they have to do with football. Further, the correlation between test scores and NFL success -- reportedly, Dan Marino scored 16 and Mike Mamula got a 49 -- is scattershot at best.
Still, ...

Read full story
2010 NFL SCOUTING COMBINE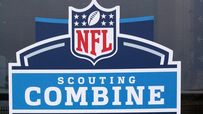 The NFL scouting combine runs Wednesday, Feb. 24-Tuesday, March 2 in Indianapolis.
NFL draft home page
|
Combine blog
COLUMNS/BLOG POSTS
SCOUTS INC.
PAGE 2