Discussion
Galarraga is perfect in our book
Updated:
June 14, 2010, 4:54 PM ET
Ray Allen broke a NBA Finals record, Rafael Nadal won the French Open and Ubaldo Jimenez banked his 11th win. But none of it was good enough to grab No. 1 this week in the "Cross-Sport Power Rankings."
This week's No. 1 spot was reserved for the man that was one correct call away from being the 21st member of the perfect game club. That's right, for the man who single-handedly ignited a plea for instant replay and made umpire Jim Joyce a trending topic on Twitter. For the man that ...

Read full story
CROSS-SPORT POWER RANKINGS 2010

Cross-Sport Power Rankings compares the best athletes across all professional sports. Check out the rest of our individual sport power rankings.
MORE POWER RANKINGS
WORLD CUP
LATEST NBA FINALS CONTENT
NBA PLAYOFF FEATURES
SERIES PAGES
NBA FINALS VIDEO
STANLEY CUP FINALS CONTENT
STRASBURG'S MLB DEBUT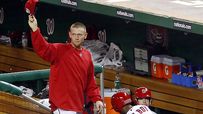 Washington Nationals' pitching phenom Stephen Strasburg lived up to the hype in his major league debut, striking out 14 batters in seven innings in a 5-2 victory over Pittsburgh.
Story
STORIES/FEATURES
FANTASY
BLOGS
VIDEO