Discussion
Student body
3-D rendering of Penn State's athletes
Updated:
October 6, 2010, 12:59 PM ET
ESPN The Magazine
There's something stirring about an athlete in motion -- the ferocity of a wrestler shooting on his opponent, the grace of a guard dribbling in traffic, the bravado of a gymnast dismounting the beam. But an athlete in stillness can be just as moving. We took a 3-D scan machine to Penn State, one of the nation's largest (325-plus scholarship athletes) and smartest (82% graduation rate) athletics programs, to capture the forms of one Lion from each of the school's 29 varsity sports. ...

Read full story
ESPN The Magazine: October 18, 2010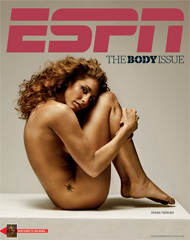 BUY YOUR FAVORITE BODY ISSUE COVER
Check out ESPN The Magazine's October 18, 2010 issue -- the Body Issue -- below.
Features
Video