Discussion
The power of belief
Examining the rise of performance jewelry
Updated:
October 15, 2010, 5:38 PM ET
By
Alyssa Roenigk
| ESPN The Magazine
Roll your eyes. Go ahead. Get it out of your system. Because when we tell you pro athletes such as Ryan Howard, Paul Pierce and David Ortiz believe, much as Wonder Woman did, that a bracelet gives them superpowers, you're going to think they've lost their minds. Or joined a cult. Or been paid off. Truth is, many pros are convinced that a colorful silicone trinket -- made by an upstart company called Power Balance -- makes them better. And it's not just Power Balance they're buying into. It's ...

Read full story
ESPN The Magazine: October 18, 2010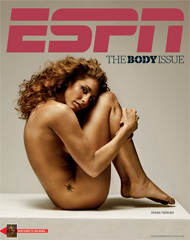 BUY YOUR FAVORITE BODY ISSUE COVER
Check out ESPN The Magazine's October 18, 2010 issue -- the Body Issue -- below.
Features
Video