Discussion
Edgar Renteria blasts to No. 1
Updated:
November 8, 2010, 10:19 PM ET
ESPN
A plethora of San Francisco players take over the Cross-Sport Power Rankings this week after putting up some giant World Series performances. The biggest of them all? Veteran Edgar Renteria, whose three-run blast off Cliff Lee was enough to give the Giants their first Commissioner's Trophy since 1954.
Rounding out the top five is the freakishly clutch Tim Lincecum, earned-runs-banisher Matt Cain, rookie pitcher extraordinaire Madison Bumgarner and speedy Oregon sensation LaMichael ...

Read full story
CROSS-SPORT POWER RANKINGS 2010

Cross-Sport Power Rankings compares the best athletes across all professional sports. Check out the rest of our individual sport power rankings.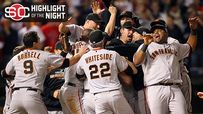 GIANTS 3, RANGERS 1