Discussion
Call me!
Horses don't care what you call them, but the name is a big part of the game
Updated:
November 18, 2010, 5:31 PM ET
By
Steve Wulf
| ESPN The Magazine
[Editor's note: Be on the lookout in this piece for a cavalcade of horses that have won a Triple Crown race or the Breeders' Cup Classic. One caveat: Not all the names we display have been capitalized. By one count, 39 mounts are mentioned. The answers can be at the bottom of the article.]
The Bard asked, "What's in a name?" Well, in horse racing, the answer is "everything": history, personality, pop culture, arts and letters, a kind of street sense and a mad play on words. A name ...

Read full story
ESPN The Magazine: November 01, 2010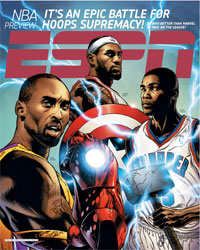 Check out the content from ESPN The Magazine's November 1, 2010 issue -- the NBA Preview.
Features
Video