Discussion
The wizards of odds
Self-help gurus promise to help athletes excel, but success is still a long shot
Updated:
December 1, 2010, 11:41 AM ET
By
Tim Keown
| ESPN The Magazine
A LONG TIME AGO, in a technological age far, far away, young athletes intent on improving their skills had to rely on primitive means of instruction. They might stand in a line with bats in their hands, as my high school baseball team once did, while someone pressed a button on a cassette deck. Out would come the mellifluous and educated strains of University of Arizona baseball coach Jerry Kindall, who would dedicate the next 15 minutes to making us better hitters. Those players near the machine ...

Read full story
ESPN The Magazine: December 13, 2010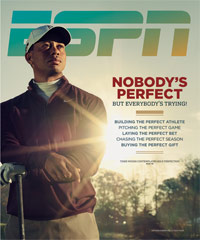 Check out ESPN The Magazine's December 13, 2010 issue -- the Perfect Issue -- below.
Features