Discussion
Ron Santo was all Cubs, all the time
Player/broadcaster devoted most of his life to North Side and loved every minute of it
Ron Santo, the single nicest and most courageous person I've ever met in sports, is dead. He was 70, his toupee was 30.
Santo was baseball's equivalent of the Black Knight in "Monty Python and the Holy Grail.'' (here's a YouTube clip -- you'll see what I mean.) He refused to admit defeat.
He was diagnosed with juvenile diabetes when he was 18. 'Tis but a scratch.
He had a heart attack and bypass surgery. I've had worse.
His difibulator accidentally shocked him. ...

Read full story
ESPNCHICAGO.COM'S COVERAGE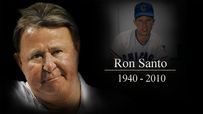 Commentary, Features and News
Related Videos
Related Podcasts
More links