Discussion
New year, new rules: Rule No. 13
Updated:
December 15, 2010, 1:49 PM ET
ESPN The Magazine
Rule No. 13: Decide once and for all, what a catch is
Stupidest. Rule. Ever. NFL Week 1 in Chicago, Lions wideout Calvin Johnson hauls in an apparent game-winning TD pass, falls to the ground, starts to get up and lets go of the ball. The refs rule it incomplete, saying Johnson failed to maintain possession through the entire process of the catch.
Entire process? As soon as a ballcarrier breaks the plane of the goal line by even one zeptometer (that's one-trillionth of a ...

Read full story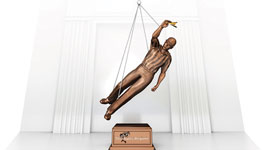 INDEX PAGE
FOOTBALL
BASEBALL
BASKETBALL
HOCKEY
SOCCER
GOLF
OTHER